What Is The Brit Method?
The Brit Method promises you can make fast, easy money with their magic software. However, a closer look reveals a dangerous secret you should know. Follow me to see the Devil in the details.

Product Name: The Brit Method
Product Cost: $250, plus as much as they can steal!
Product Owner: Cannot be determined
Opinion: Not Recommended
What Is The Brit Method?
There are several variations of the Brit Method with different sales videos and different spokespeople. Some push a different software called Copy Buffet. Regardless of the different sales videos, the scam is the same. Make no mistake. This is a scam.
In the Brit Method sales video, the narrator, promises you can make a lot of money fast with their special software. You can be sure the narrator is just an actor reading a script. Nothing he says is true.
Read the Earnings Disclaimer, and you will see that everything promised in the sales video is a lie.
The narrator also promises that this magic software will not cost you a penny. It's free. Why would anyone give away such a powerful software? Because the magic software is the bait that hooks you into the scam.
Incidentally, the magic software is junk. It will not make money for you. It will take your money. If you let it, it will take a lot of your money.
Is The Brit Method too good to be true? You better believe it!
The Brit Method is a scam of the highest magnitude. It's yet another binary options fraud from a hidden international organization that spits out "Method" scams by the dozens, including The Irish Method, The Aussie Method, The Singapore Method, The Kiwi Method, The Saffa Method, The Canuck Method and The Malay Method!
Is The Brit Method a Scam?
It's NOT free! The Brit Method sales video makes a big deal about how their magic software is free. Yes, the software is free, BUT you must deposit at least $250 into your trading account to begin trading. That's the first scam. It gets worse.
Fake Testimonials.
Beneath the sales video on The Brit Method website, you'll find several testimonials claiming they made a lot of money fast. However, the images are stock images taken from the internet. They are not real people.
You can easily prove this for yourself. Put your cursor on an image and left click your mouse. A menu will appear. Select "Search Google for Image." You'll find pages and pages of the same image used on countless websites.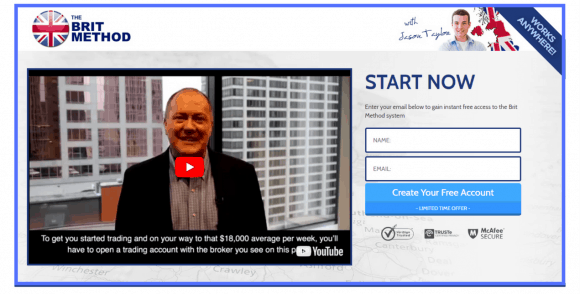 Also, many of the same testimonials appear on the other 'Method' websites.
Read the Disclaimer!
The Brit Method earnings disclaimer clearly, states they don't guarantee anything.
You can read the Brit Method earning disclaimer yourself if you scroll to the bottom of the webpage and click on "Disclaimer."
Read the disclaimer! The Brit Method does NOT guarantee you anything. In fact, they specifically tell you to seek professional investment advice before using their program.
In other words, they know you won't make money with their program, and they are legally covering their assets.
The Brit Method Software is Dangerous Junk.
There is nothing special about The Brit Method. It's just a sales video designed to get you to open an account with an unregistered broker and give them at least $250.
If you open an account with The Brit Method Broker, you will be assigned a so-called investment advisor. The investment advisor is not an advisor, and she is certainly not your friend. Her job is to talk you out of all of your money.
Once you deposit the $250, the so-called broker will manipulate the software to appear that you made a lot of money overnight. You didn't. They are trying to make you feel so greedy that you foolishly give them more of your money.
If you fall for their trick and believe you made a lot of money, your advisor will pressure you into depositing all the money you can get your hands on. They want $10,000 or more and will make you believe you could be a millionaire if you deposit thousands into your account. It's just a trick. You will not make money with The Brit Method.
If you give The Brit Method broker your money, you will NOT get it back. Money only flows one way with The Brit Method scam.
To better understand the danger of The Brit Method, you need to know the difference between a legitimately registered broker and unregistered brokers.
Unregistered Brokers.
In any country with a securities market, you will find a regulatory agency that enforces the laws of securities trading. In the US, that agency is the Securities Exchange Commission.
The SEC grants licenses to registered brokers that follow the law and a code of ethics. When a trader is cheated by a registered broker in the US, the SEC has the power to help the trader get his money back.
Unregistered brokers are not licensed or regulated. They do NOT follow the law or any code of ethics. Plus, they are usually based in countries that do not have any regulatory agencies.
When a trader is cheated by an unregistered broker, there is nothing anyone can do about it. Money lost to an unregistered broker is lost forever.
The United States SEC warns that unregistered brokers, like The Brit Method, manipulate their free software program to steal people's money and their identity.
An unregistered broker is actually not a broker at all. They do not broker trades. They just take people's money. Money only flows one way with The Brit Method scam.
Calling an unregistered broker, a broker is too kind. It's like calling someone who breaks into your house and robs you blind an uninvited guest.
The Brit Method will trick you into giving them $250. And they will manipulate the software so you will give them every dime you can lay your hands on.
How to Make Money Online the Right Way!
If you want to make money online, consider affiliate marketing. It's an easy and affordable business to learn, and as your skills improve, so will your income. Honestly, the earning potential of an affiliate marketer is unlimited and you can work from anyplace there is a connection to the internet.
The best place to learn affiliate marketing the right way is the Online Entrepreneur Certification Course. Enrollment is free. It won't cost a dime for you to start. And, you'll get everything you need, including one-on-one mentoring. No credit card needed.
To learn more about the Online Entrepreneur Certification Course, Click Here.

If you found this article helpful, please leave a message below. Thank you.