Are you tempted to buy from myluxurybags.ru because the prices are so low? Before you give them your money, there are a few things you should know.
Myluxurybags.ru is a Russian unsecured domain hosted in China; both countries are notorious for fraudulent websites. Also, Myluxurybags.ru only takes payment through money transfer, a strong indication of a fraudulent business. Caution advised.
Myluxurybags.ru has a horrible online reputation. A closer look reveals many red flags you should consider.
Is myluxurybags.ru Legitimate?
If you give My Luxury Bags your money, the most you can hope for is a cheap Chinese knock-off of the product you order.
However, there are many reports online of people never receiving anything after placing an order.
And, because My Luxury Bags only accepts payment through money transfer, you can never get your money back.
They get you because they promise a $950 Gucci handbag for $149.
If you believe you can buy a new authentic Gucci handbag for $149, you'll blindly jump through the hoops to send this Chinese business your money.
ScamAdvisor Warning
ScamAdvisor.com reports that myluxurybags.ru has a low trust rating and may not be safe.
Although myluxurybags.ru has a Russian domain suffix, the website is hosted in Beijing, China. Both Russian and China are known havens for fraudulent sites.
When researching the server that hosts myluxurybags.ru, I discovered a high percentage of websites hosted on the same server are suspicious. Bird of a feather flock together.
Fake Goods
At the top of the website, under the logo, My Luxury Bags claims to offer "Top Brands Online."
However, at the bottom of the website, in the footer, they clearly state they are selling "replica handbags, fake wallets, and accessories."
Stolen Images
The images of products on the My Luxury Bags website from other websites.
Because the pictures from other websites, it's possible that My Luxury Bags does not have the product in stock and may have no intention of shipping it to you.
Here's how you can tell the images on the website are stolen. Visit the site while in the Google Chrome browser. Put your cursor on an image and right-click.
A menu will open, select "Search Google for Image."
The images of Gucci handbags led to the Gucci website.
No Physical Address
My Luxury Bags does not have a physical address. The only contact information is an email address.
A legitimate company knows it must prove to its customers that it is a genuine company they can trust.
Contact information, including a physical address that can be verified, is essential.
The lack of a physical mailing address is a huge red flag and strongly suggests the business is fraudulent.
Money Transfer
My Luxury Bags offers three ways to pay them. Unfortunately, every one of the three methods is nothing more than transferring money to them.
It's the same as handing them cash. There is no paper trail, and there is no way you can get your money back if you're unhappy with the purchase.
Most legitimate enterprises will not accept money transfer. A company that operates honestly needs to track every dollar that comes into the business for tax reasons.
Merely permitting money transfers is seen as suspicious by the tax authorities and almost guarantees a tax audit.
A real business makes it easy to pay by credit card or debit card. That way there is a paper trail. Plus, when you pay by a credit card or debit card, your bank or credit provider can help you if you are unhappy with the purchase.
You don't have any security when purchasing from myluxurybags.ru.
Before making a money transfer to My Luxury Bags, remember, you are handing cash to a stranger in China. What could go wrong?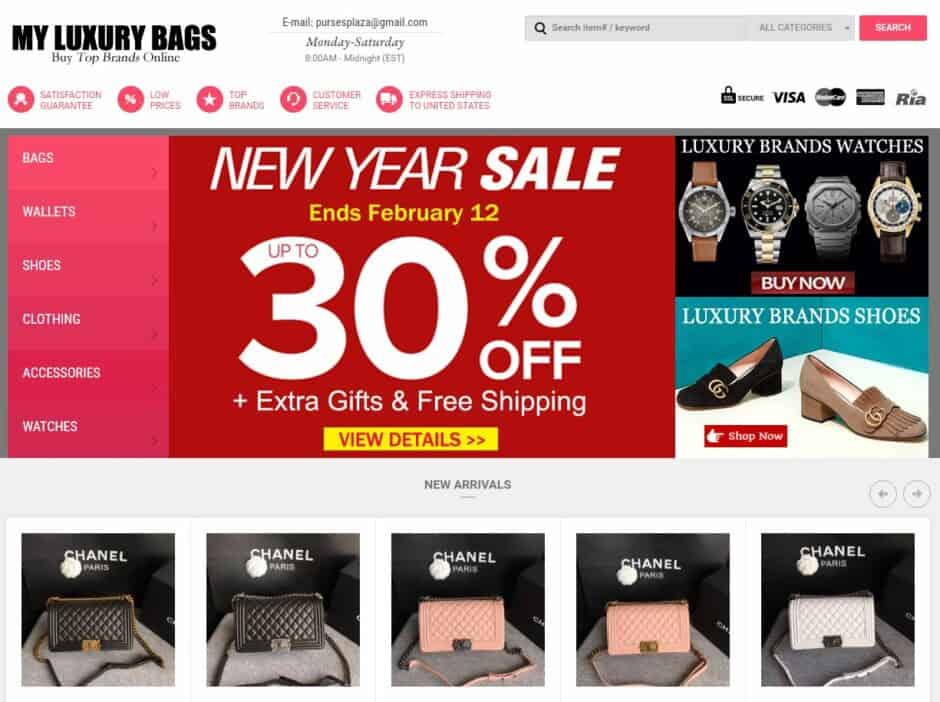 Online Complaints
There are many complaints online regarding My Luxury Bags.
We received one here at ScamAvenger.com, stating they had not gotten anything from the company after ordering a handbag for a couple of hundred dollars.
SiteJabber.com has 13 reviews of myluxurybags.ru. Ten of the reviews are harsh complaints that state nothing is sent after making a purchase.
Three of the reviews are five stars. However, the complaints are so prevalent and consistent that I suspect the positive reviews are fake.
Also, there are reports that the company behind myluxurybags.ru has operated under other domains such as Luxurybag.cn and luxurybrandshop.ru.
Luxurybrandshop.ru redirects to myluxurybags.ru. It's the same website.
The Last Word on myluxurybags.ru
Don't trust this website. If you try to do business with them, you'll probably just lose money.
Caution Advised!
If you lost money to My Luxury Bags or any other online company, read What to Do When You Get Scammed.