Can you really get a great deal on N95 masks at Emgeneral.com? Probably not. EM General is not what it appears to be. Here's why.
Emgeneral.com is a suspicious website hosted in China. It does not have a physical address and the images on its website are taken from other websites, suggesting it does not have the products it is selling. Caution advised.
A reader commented that they had been scammed by Emgeneral.com.
They had ordered several hundreds of dollars' worth of N95 masks but never received them and could not contact anyone at EMGeneral.
Here's is an excerpt from the reader's comment.
Upon viewing the website everything appeared to be fine as if it were a legitimate website. The one main thing that stuck out to me was the fact that they always want you to contact them via email.
When I called the number listed on the emgeneral website, it would always go right to a generic voicemail answering service which then said to contact them through email.
My employer and I both emailed emgeneral but never heard back from them. We ended up paying for the masks ($361.12) and were tricked into double ordering.
emgeneral uses false pictures on their website. A Google image search revealed the emgeneral "CEO" was actually some common model who's picture is online. – David
Emgeneral.com is a New Website.
EMGeneral is only about 6 months old. This is typical of scam websites because once their true nature is known they shut down and relaunch under a new name.
Where in the World is Emgeneral.com?
They don't say, but the EMGeneral phone number traces back to a mobile phone in China.
Legitimate online businesses know they must earn the trust of their customers and will go above and beyond to prove they are real.
Emgeneral doesn't even try. Their only hook is promising you a good deal on a product they don't have, and you won't get.
If EMGeneral Was Legit.
Probably not.
If EMGeneral was legit it would have a phone number that was answered by a person, preferable a native English speaker.
It would also have a mailing address, preferably a physical address too, such as an office or warehouse.
An establish business would also have a corporate identity such as Limited Liability Company or Inc.
A phone that is answered by a real person, a mailing address and a corporate identity are three ways to independently verify if a business is legitimate.
Emgeneral.com does not offer any way to verify they are legit. Therefore, we must assume they are not.
EMGeneral Just Wants Your Money.
Real businesses cherish each customer and strive to build a trusting relationship with everyone.
Real businesses want customer to come back and buy again and again. Scam businesses just want your money.
EMGeneral's behavior proves they are not interested in building relationships with their customers.
It's painfully evident that EMGeneral just wants your money.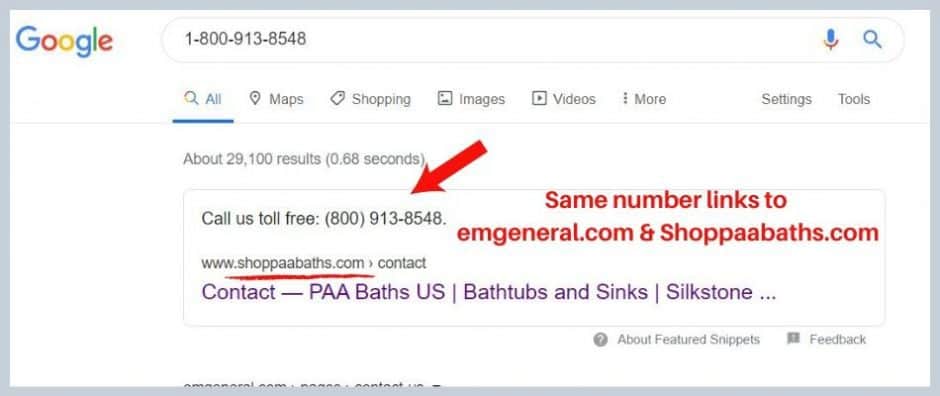 Phone Number Registered in China.
The first six digits of the phone number trace back to a mobile phone registered in Weinan, China.
The phone number listed on Emgeneral website, +1 (800) 913-8548 is also used by another suspicious website, shoppaabaths.com.
The shoppaabaths.com website is very similar to the EMGeneral website.
A curious thing about shoppaabaths.com is the contact page lists a physical address: 1620 Wilmette Ave, Wilmette, IL.
If you Google the address it goes to a house in a residential neighborhood.
Not surprisingly, shoppaabaths.com is a new website too.
Fake Images.
As David mentioned, the images of the CEO and company officers are all taken from other websites.
And if that isn't troubling enough, the images of the products are taken from other websites too.
This can only mean that emgeneral.com does NOT have the products they are selling. If they had the products, they could easily take pictures of them.
It appears that emgeneral.com is just a means of taking people's money.
If you order from them, it's doubtful you'll receive anything for your trouble.
Peculiar words and phrases.
If you're in the mood for some light entertainment, read the emgeneral.com FAQ.
The first answer begins with "We love you." I kid you not.
The second question about refunds has this peculiar phrase buried in the text, "Please don't ask for a refund before 5 weeks pass after the purchase."
5 weeks! Why 5 weeks? Because after 30 days your bank or credit card won't help you get your money back. Sneaky.
And then, after you wait 5 weeks, if EMGeneral then tells you they refunded your money, but you don't get it, their refund policy states;
If you haven't received a refund yet, first check your bank account again. Then contact your credit card company, it may take some time before your refund is officially posted.
Next contact your bank (again!). There is often some processing time before a refund is posted.
In other words, if you give EMGeneral your money, it's gone forever.
Read the EM General mission statement. You'll find it on the About page. It says;
Our mission is simple.  We will continue to update news expanding content as a way to help you plan and enjoy your next outdoor adventure, inspire, pioneer and spread the country lifestyle. 
What does that even mean?
The Last Word on EMGeneral.
EMGeneral, found at emgeneral.com, appears to be a fake website based in China that is designed to trick people out of their money.
If you order from EMGeneral you probably will only lose your money and get nothing in return.
Caution advised.