The Canuck Method promises a quick and easy way to make hundreds of thousands of dollars. However, a closer investigation exposes a troubling secret.
Product Name: The Canuck method
Website: canuckmethods.com
Product Cost: $250+
Product Owner: Cannot be Determined
Opinion: Not Recommended
Is the Canuck Method a Scam?
In the Canuck Method sales video, the narrator, Jake Mason, promises you can make hundreds of thousands of dollars within weeks, or he will pay you $10,000. Mason claims his method will quickly turn you into a millionaire. Don't believe a word of it.
According to Mason, all you have to do to start making hundreds of thousands of dollars is create a free account and click your mouse a few times. Does that sound too good to be true?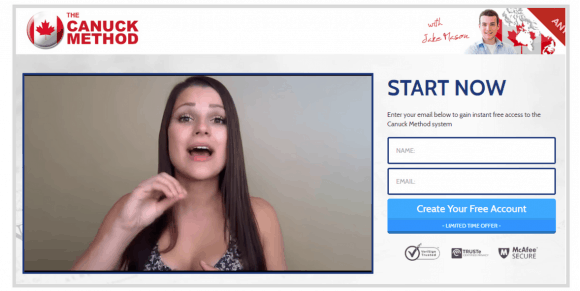 In the video, several people tell how they made hundreds of thousands of dollars with The Canuck Method. These same people gave the same testimonies for The Brit Method, The Aussie Method, The Singapore Method and The Malay Method! They are amateur actors from Fiverr.com and paid to read a script.
In the sales video, Mason logs into what appears to be a bank account with a balance of $12 Million. It's fake.
Is The Canuck Method too good to be true? You better believe it! The Canuck Method is a scam of the highest magnitude and extremely dangerous.
Jake Mason is Fake.
Remember in The Canuck Method video when Jake Mason guaranteed you'd make hundreds of thousands of dollars the first month, or he would pay you ten grand? He's lying.
Incidentally, Jake Mason is Jake Pertu in The Aussie Method and Jake Shen in The Malay Method and The Singapore Method. Do you see a pattern here?
Jake "The Snake" is a paid voice actor. His picture is a stock image of a male model. In other words, he is a promotional character created by the owner of The Canuck Method website.
Jake Mason is no more real than Ronald McDonald.
The Canuck Method Earnings Disclaimer.
You will not make hundreds of thousands of dollars your first month, and Jake will not pay you $10,000.
The Canuck Method earnings disclaimer states they don't guarantee anything.
You can read The Canuck Method Earning Disclaimer yourself if you scroll to the bottom of the webpage and click on "Disclaimer."
Dig into the first paragraph of The Canuck Method disclaimer, and you'll see this line, "THERE IS NO GUARANTEE."
Why is The Canuck Method a Scam?
To be clear. You will not make money with The Canuck Method; you will lose money and possibly go into debt.
There is nothing special about The Canuck Method. It's just a long sales video designed to trick you into opening a so-called "trading account" with an unregistered binary options broker and giving them at least $250. They will try to get a lot more money from you, but their scheme starts at $250.
The purpose of all the hype in the sales video is to get you to give your money to an unregistered broker.
To better understand the danger of The Canuck Method, allow me to explain the difference between a registered broker and an unregistered broker.
Registered Broker vs Unregistered Broker.
In any country with a securities market, there will be a regulatory agency that enforces the law as it relates to securities. In the US, this agency is the Securities Exchange Commission.
The SEC grants licenses to registered brokers that abide by the law and a code of ethics. In the US, if a registered broker cheats a client, the client can appeal to the SEC for help.
On the other end of the spectrum, there are unregistered brokers. Unregistered brokers are not licensed, and they are not regulated. Unregistered brokers do NOT follow the law or a code of ethics. And they usually are based in countries far from any regulatory agency.
If an unregistered broker cheats you, there is nothing anyone can do about it.
The United States SEC suspects that unregistered brokers manipulate software to create losing trades, steal people's money and their personal identity.
An unregistered broker is not a broker at all. They do not broker anything. Unregistered brokers, like The Canuck Method, just take people's money.
Calling an unregistered broker a broker is misleading. It's like calling a drug dealer an unregistered pharmacist.
If you sign up for The Canuck Method, you will be assigned a personal financial advisor who will lie to you until you to give them your money. And they will manipulate the software to trick you into giving them more money.
I assure you, you will not make money with The Canuck Method. You will lose money and possibly go into debt.
A Better Option.
Making money online is a lot like making money any other way. It takes skill and work. Thankfully, the internet permits you to leverage your efforts, so you can make more money more quickly online.
But, this doesn't mean you can get rich overnight. It means with the right training and support, and if you take action, you can be financially secure in years instead of decades.
And it's not hard. I'm confident anyone who can write an email and surf the web is capable of building a profitable internet business, IF they are properly trained and supported. That's why we recommend the FREE Starter Level of the Online Entrepreneur Certification.
The FREE Program will show you the basics of digital marketing and introduces you to a fantastic community of internet marketers who are eager to help you. When you sign up for the FREE TRAINING through this website, I'll mentor you one-on-one for FREE.
To Learn More, Click Here.
If you found this article helpful or have experience with The Canuck Method, please leave a comment below.