The Singapore Method promises to quickly and automatically earn hundreds of thousands of dollars. But, look closer, and you'll see how dangerous this method truly is.  Follow me as I reveal the Devil in the details.
Product Name: The Singapore Method
Website: thesingaporemethod.com
Product Cost: Minimum $250 deposit required
Product Owner: Cannot be determined.
Opinion: Not Recommended
What is The Singapore Method?
On the Singapore Method website, a sales video introduces the narrator, Jake Shen. Jake promises you will earn more than $100,000 in just a few weeks, or he will pay you $10,000. Don't believe it!
Jake claims he can turn anyone into a millionaire. All it takes is the Singapore Method software and a few clicks of the mouse. Jake promises his method is free and can be making you money within the hour. You just have to sign up to get your free copy of the Singapore Method software.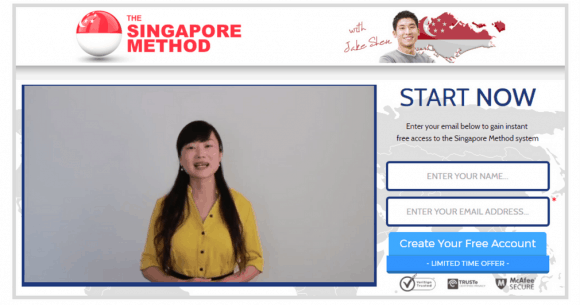 As if to prove the Singapore Method is real, a few excited people in the Singapore Method sales video tell how they made hundreds of thousands of dollars. These people are actors and paid to say that.
For added proof, Jake logs into one of his many bank accounts and shows a balance of over $12 Million. It's easy to fake a bank account page.
Is the Singapore Method a Scam?
You will not make money with the Singapore Method. If you try it, you will lose money and possibly go into debt.
The Singapore Method website is almost identical to the Malay Method website where the same Jake makes the same promises.
There is nothing special about the Singapore Method. It's just a sales video designed to get you to deposit a minimum of $250 with an unregistered binary options broker.
Unregistered means, not regulated, as in outside of the law. Unregistered brokers do not broker anything. They just take people's money.
The broker associated with The Singapore Method will try to trick you into depositing as much money as possible because they will keep every dollar you give them. You will not get it back. Every penny you give to the Singapore Method is gone forever.
The Singapore Method Earnings Disclaimer.
In the beginning of the video, Jake guarantees you will make at least a hundred thousand dollars in the first month or he will pay you $10,000 cash. As Granny would say, that's a boldface lie.
Jake is an actor. If you search for Jake Shen on the internet, you will not find him.
Scroll to the bottom of The Singapore Method web page and click on "Disclaimer." Take a moment to read the first paragraph, and you will quickly realize that The Singapore Method does NOT guarantee you will earn money.
All the hype and promises in the Singapore Method video are lies.
The Singapore Method Testimonials.
The testimonies are fake. With a little effort, you'll find most, if not all of the testimonies were given by amateur actors who offer their services on Fiverr.com. As you can see below, the same actors are in the Malay Method sales video saying the exact same thing. They did not make money with the Singapore Method. They were paid to read a script.
What is The Singapore Method, Really?
The Singapore Method will not make you money. The Singapore Method will rob you blind.
Giving money to an unregistered broker, like The Singapore Method, is throwing your money away.
Registered and Unregistered Brokers.
To understand how foolish it is to give The Singapore Method broker your money, take a moment to understand what an unregistered broker is and how it compares to a registered broker.
The Registered Broker.
In the US, a registered broker is licensed by the Securities Exchange Commission. Every country with a securities exchange has an agency like the SEC.
The point to remember is a registered broker must abide by securities laws and ethical guidelines to stay in business.
In the US, if a registered broker cheats you, you can ask the SEC to help you get your money back.
In a nutshell, a registered broker is legal.
The Unregistered Broker.
An unregistered broker is not legal. If an unregistered broker steals your money you won't get it back.
If you give money to an unregistered broker, like the broker for The Singapore Method, your money is gone forever.
Referring to an unregistered broker as a broker is misleading. They do not broker anything. They simply take people's money under the ruse of trading binary options. However, there is really nothing traded.
The software merely creates the illusion that there are trades.
The United States SEC warns that unregistered brokers are suspected of illegal activities including defrauding people of their money, stealing personal identities and manipulating software to create the illusion of losing trades.
If you open an account with The Singapore Method, you will be assigned a personal advisor. This person is really a professional telemarketer who will try to trick you into depositing a lot more than the $250 minimum.
You can learn more about registered and unregistered brokers at Binary Options Fraud.
The Last Word on The Singapore Method.
While the Singapore Method sales pitch is exciting, there is no magic software that will make you rich.
The organization behind The Singapore Method has also created The Brit Method, The Aussie Method, The Malay Method and more. Each so-called method leads back to an unregistered broker waiting to steal your money.
A Better Option.
Making money online is a lot like making money anywhere else. It takes skill and sustained effort. Thankfully, the internet permits you to leverage your efforts, so you can make more money more quickly online.
However, this does not mean you can get rich overnight. It means with the right training and support, and if you take action, you can be financially secure in years instead of decades.
And it's not hard. I'm convinced anyone who can send an email and research online is capable of building a successful online business, IF they are correctly trained and supported. That's why we suggest the FREE Starter Level of the Online Entrepreneur Certification.
The FREE course will show you the fundamentals of digital marketing and introduces you to an amazing community of internet marketers who are ready to help you succeed. When you sign up for the FREE TRAINING through this website, I'll coach you one-on-one at no cost.
For More Info, Click Here.
If you found this article helpful or have experience with The Singapore Method, please leave a comment below.