Home Job Position promises you can start making money immediately with their system. However, they warn there is a limited number of spots available in your area. Is Home Job Position a job? Follow me, and I'll show you the Devil in the details.
Product: A stupid eBook
Website: home-job-position.com
Product Cost: $97 plus upsells to $12,000!
Opinion: Not Recommended
What is Home Job Position?
Home Job Position appears to be owned by an organization hiding behind several corporate names such as Apply Knowledge, Essent Media, and Net Training. This organization was investigated by the FTC and is not permitted to do business in Utah, Oregon or Washington, DC. For simplicity sake, I'll refer to the elusive organization behind Home Job Position as Apply Knowledge.
In addition to hiding behind layers of corporate names, Apply Knowledge also hides behind dozens of websites promoting the same scam, such as Work at Home Revenue, Work at Home EDU, Home Profit System and Secure Job Position. Notice the similarities in the names.
A Home Job Position Review.
When you visit Home Job Position, you won't learn anything about the offer. Instead, you are told you can change your life and start making money immediately. The first page of the Home Job Position leads to a second page with even greater promises and deception. You are congratulated because there are a few "positions" available in your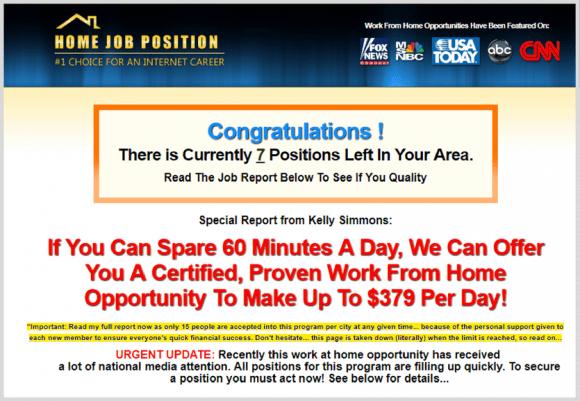 area. Home Job Position strongly implies that it offers you a job. However, it's not a job.
Home Job Position is Selling a Dream.
Home Job Position is selling a dream that all your problems will be solved with their system. They even promise you a "100% Risk-Free, Make-Money-Or-It's Free Guarantee." In a moment, I'll show you why the Home Job Position guarantee is meaningless, but for now, let me show you how incredibly dangerous the Home Job Position truly is.
Is Home Job Position a Scam?
If you fill out the form on the Home Job Position website, you go to a sales page with a very curious and incriminating term of phrase. It says, "If You Can Spare 60 Minutes A Day, We Can Offer You A Certified, Proven And Guaranteed Home Job To Make Up To $379/Day From Home!"
This exact phrase is quoted word for word in the FTC investigation of Apply Knowledge. You can read the FTC's press release of the investigation here.
If you click a get started button on the sales page, you will go to the order page. There you will discover that the Home Job Position system is nothing more than a stupid eBook that costs for $97. The eBook teaches link posting. Link posting is a mind-numbing, time-consuming, and ineffective way to make money online.
The eBook is worthless, but that is not the worse part of the scam. If you buy Home Job Position eBook, you are entering the Apply Knowledge a scam machine. These scammers now have your phone number and your credit card info. With this information, professional telemarketers will hound you with more worthless make money online offers.
In their investigation, the Federal Trade Commission proved that Apply Knowledge ultimately scams people for $12,000! The worthless $97 eBook is just the beginning of a much larger scam.
No Home Job Position Guarantee.
Home Job Position promises many things. There is even an official-looking guarantee that claims you have 60 days to try the system without risk.
However, take the time to read the Home Job Position Terms and Conditions, and you'll discover that there is no guarantee and Home Job Position does not give refunds. To make matters worse, the Home Job Position Terms of Service specifically states that there is no guarantee and that if you find fault with their product you and not the company will be responsible for fixing it. In other words, if you don't like Home Job Position, it's your problem, not theirs.
If you give Home Job Position your money, you will not get it back. Plus, Home Job Position will continue to try and get more of your money as fast as it can.
The Final Word on Home Job Position.
Home Job Position is not a job and it's not a position. It's a stupid over-priced eBook. However, the eBook is just the beginning of the scam.
In a press release, The FTC revealed that most people who bought into the Apply Knowledge scam did not make money. Instead, they suffered heavy credit card debt up to $12,000.
Two Kinds of People.
There are two kinds of people searching to make money online. One group, I call "Opportunity Seekers." The other group is entrepreneurs.
An opportunity seeker wants an easy, get-rich-quick gimmick. He does not understand how money is made and doesn't want to learn. Typically, an opportunity seeker chases after one so-called opportunity after another. These guys are easy marks for scams like Home Job Position who tell them what they want to hear and promise easy riches.
In contrast to the opportunity seeker, the entrepreneur understands that making money online requires a problem-solving mindset and the ability to offer value to people who are willing to pay for it.
A Better Option for YOU…
When you try to find a real way to make money online, you are faced with a world of rip-offs. It's a minefield of deathtraps for as far as the eye can see. That is why I'm devoted to helping people learn a safe and reliable way to make money online.
Making money online is a lot like making money off line. It takes skill and work. Thankfully, the internet allows you to leverage your efforts, so you can make more money more quickly.
However, this does not mean you can get rich quick. It means with the proper training and support, you can be financially independent in years instead of decades.
I'm confident anyone who can write an email and do a Google search can earn a full-time income from home when they are properly trained and supported. That's why I recommend the FREE Starter Level of the Online Entrepreneur Certification Course.
The FREE Starter Training will show you the basics of internet marketing and introduces you to a fantastic community of marketers who are ready to help you succeed.
When you sign up for the FREE TRAINING through this website, I'll mentor you one-on-one.
For More Info, Click Here.
If you found this article helpful or experience with Home Job Position, please leave a comment below.