Home Profit System leads to an old scam that pitches a worthless eBook for $97. The scam builds on misleading websites that suggest famous people and reputable news organizations endorse Home Profit System. That is all pure deception. Nothing good will come of getting involved with Home Profit System. Follow me as I expose the Devil in the details.
Product Name: Home Profit System
Website: homeprofitsystem.org
Product Cost: $97, plus endless upsells!
Product Owner: Cannot be determined
Opinion: Not Recommended
Is Home Profit System a Scam?
Everything about Home Profit System is fake. It is a masterpiece of deception that leads to a scam that will cost you at least $97.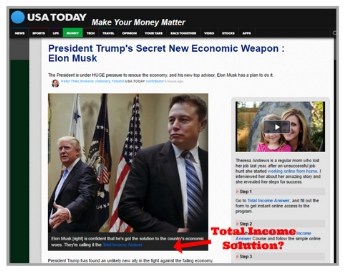 To fully understand how dangerous Home Profit System is, you must be prepared to trace a meandering route through an intermediary website to the final scam site.
This scam has been around a long time, and the scammer has learned to hide his sorry reputation behind multiple websites. Other sites he hides behind are Financial Health Reset, Auto Home Profits, and Ultimate Home Profits.
If you just follow the links from Home Profit System website, you may not notice you are passing through a secondary site to a third site.
Home Profit System Deception.
The deception begins with variations of the Home Profit System website. At least one of the Home Profit System sites is designed to look like a page from USA Today. It's not! It's just a cleverly designed advertisement trying to trick you into believing that President Trump and Elon Musk are endorsing Home Profit System.
In these fake news sites, the scammer is trying to convince you Home Profit System is legitimate. It's not. Nothing about Home Profit System is authentic. Neither is it backed by reputable news organizations, politicians or celebrities.
Every clickable link on the Home Profit System site takes you to a second website promoting "Total Income Answer."
What is Home Profit System?
Home Profit System is a bridge site or a pass-through site. There is no there, there. All Home Profit System roads lead to the Total Income Answer.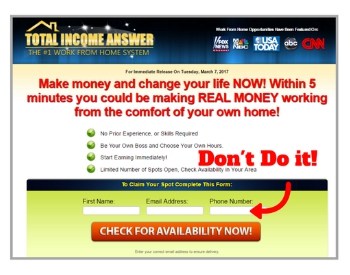 The Total Income Answer website wants your name, email address, and your PHONE NUMBER!
Please do not give them your phone number!
Home Profit System/Total Income Answer wants your phone number so their telemarketers can hammer you to buy more make money online junk that doesn't work and costs too darn much.
When they can't squeeze another cent out of you, they will sell your number on the internet. When your phone number is available online, it makes it easier for someone to steal your identity.
Does Home Profit System Work?
Wait! There's more. If you do give Home Profit System/Total Income Answer your information, you will arrive at a third site that looks like an order form.
Check out the URL field at the top. The URL is Ultimate Home Solutions. That is the scam!
Ultimate Income Solution wants to sell you a stupid eBook for $97. There is nothing of value in this ebook, although they claim it holds the secrets to making money online.
The eBook teaches an outdated and unworkable system of posting links. You will not earn money with it. You will only waste your time and money.
The Home Profit System Scam.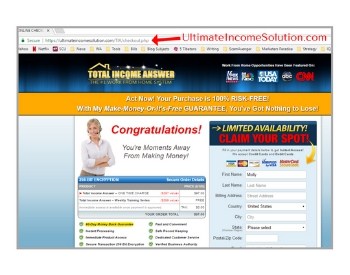 Unfortunately, the eBook is just the beginning of the scam. Once, they have your phone number, and email, the devils behind Home Profit System/Total Income Answer/Ultimate Income Solutions will hound you to buy more useless work from home junk.
Nothing these Devils have to offer will help you. It will only cost you money.
Home Profit System/Total Income Answer/Ultimate Income Solution is not about helping you make money. It's all about stealing as much of your money as they can. Please don't fall for it.
Read the Disclaimer!
Read the disclaimer on the Total Income Answer site. Buried in the first paragraph, you will see that all the promises of making money are a lie.
You will not make money with Home Profit System/Total Income Answer/Ultimate Income Solution. You will only spend money and possibly have your identity stolen.
There's a Better Way.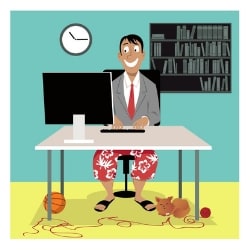 When you try to find a legitimate way to make money on the web, you are met with a ton of rip-offs. It's a minefield of deathtraps for as far as you can see. That's why I'm committed to helping anyone learn how to make money online the right way. And, I'll help you.
Making money online is a lot like making money anywhere else. It takes skill and work. Thankfully, the internet permits you to leverage your work, so you can make more money faster online. But, this does not mean you can get rich overnight. It means with the right training and support, and if you take action, you can be financially independent in years instead of decades.
And it's not hard. I'm confident anyone who can send an email and research online has the capacity for building a profitable online business, IF they are correctly trained and supported. That's why we promote the FREE Starter Level of the Online Entrepreneur Certification. The FREE Program shows you the basics of digital marketing and introduces you to supportive community of affiliate marketers who are ready to help you.
When you sign up for the Starter Training through this website, I'll mentor you one-on-one for FREE.
To Get Started, Click Here.
If you found this article helpful or have an experience with the Home Profit System, please leave a comment below. Thank you.