Work at Home EDU pretends to be an educational website that teaches how to earn money from home, but is Work at Home EDU a scam? My investigation reveals suspicious redirections and multiple layers of misinformation. Follow me as I expose the Devil in the details.
Product: Work at Home EDU
Product Website: workathomeedu.com
Product Cost: $97 for an eBook, plus unlimited upsells.
Product Owner: Cannot be determined.
Opinion:  Not Recommended
What is Work at Home EDU?
Work at Home EDU promises you a fast and easy way to make money from home. They even promise you could be earning money within 90 seconds with their amazing system. Do you believe it?
The Work at Home EDU website does not disclose how you will make money until after you give them your name and email address. Once they have your information, Work at Home EDU sends you to a second page. However, look at the top of the second page, and you will see you are no longer in the Work at Home EDU website. You are on the Total Income Answer website.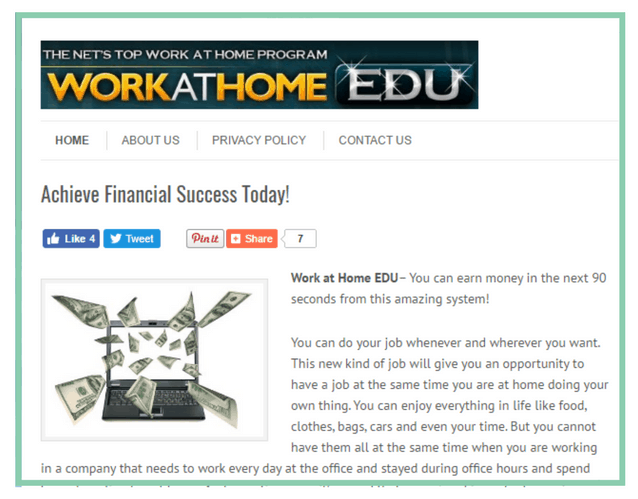 The Total Income Answer page guarantees you will make $397 an hour with their "Certified, Proven and Guaranteed Home Job." It almost sounds like they are offering you a job. They pretend there are limited openings in your area. But, they are not offering you a job.
The video even says something about work from home jobs. Did a major news network feature Work at Home EDU? No. A news network did NOT feature Work at Home EDU. The video has been hijacked and edited to create the illusion that Work at Home EDU is legitimate. It's not.
The unknown scammer behind Work at Home EDU uses the same video on dozens of other websites. You can watch the original video here.
Also, the news icons strategically placed on the Work at Home EDU website have nothing to do with Work at Home EDU. And, Work at Home EDU did NOT appear on Fox News, NBC News, USA Today or ABC.
The icons on the Work at Home EDU website is an attempt to establish credibility where there is none.
Is Work at Home EDU a Scam?
Work at Home EDU is selling a worthless eBook that promotes link posting. The eBook costs $97, but that is just the beginning. If you buy the eBook, Work at Home EDU will have your phone number and your credit card info. Expect telemarketers to hound you to buy more expensive make money from home products and services.
Nothing you buy through Work at Home EDU will earn you money from home.
The Work at Home EDU Guarantee.
Work at Home EDU wants you to believe there is no risk in trying their system. They want you to think you are protected by a "100% Iron-Clad Guarantee." You are not.
If Work at Home EDU gets your money, they are not giving it back.
If you don't like the Work at Home EDU ebook, or if you immediately see that it's nothing but junk, you cannot get a refund.
The refund policy states you must jump through several hoops before you are "eligible" for a refund. That's not the same as getting a refund.
I strongly suspect that even if you met these conditions, you would not get your money back.
The Last Word on Work at Home EDU
The only good Work at Home EDU reviews are affiliate sites trying to sell you down the river for a commission.
Work at Home EDU is selling you a dream of earning money online, but delivering nothing but smoke and mirrors. The Work at Home EDU product is worthless. Their guarantee is meaningless.
You will not make money with Work at Home EDU. You will only spend money. If the telemarketers get hold of you, you will spend a lot of money.
A Better Option.
When you try to find an honest to goodness way to make money on the internet, you are faced with a ton of lies. It's a minefield of deathtraps for as far as you can see. That's why I'm committed to helping anyone learn how to make money online the right way. And, I can help you too.
Making money online is a lot like making money anywhere else. It takes skill and work. Thankfully, the internet allows you to leverage your efforts, so you can make more money more quickly online. But, this doesn't mean you can get rich overnight. It means with the right training and support, and if you do the work, you can be financially independent in years instead of decades.
And it's not difficult. I'm confident anyone who can send an email and surf the web has the capacity for building a successful internet business, IF they are properly trained and supported. That's why we recommend the FREE Starter Level of the Online Entrepreneur Certification. The FREE Starter Training will show you the fundamentals of internet marketing and will introduce you to a supportive community of digital marketers who are eager to help you.
When you sign up for the FREE Starter Course through this website, I'll coach you one-on-one at no cost.
To Learn More, Click Here.
If you found this article helpful or have an experience with Work at Home EDU, please leave a comment below. Thank you.