Total Income Answer makes a lot of promises and, on some websites, pretends to be endorsed by Mark Cuban, Elon Musk, and Richard Branson. But, is Total Income Answer a scam? My investigation reveals a twisted story.
Product Name: Total Income Answer
Product Website: totalincomeanswer.com
Product Cost: $97, plus countless expensive upsells
Product Owner: Cannot be determined
Opinion: Not Recommended
Is Total Income Answer a Scam?
There are at least two different initial websites leading to the Total Income Answer sales funnel. One is a website with a Total Income Answer header; the other is a site that looks like a page from Forbes magazine. It's not. It's nothing more than a cleverly designed deception. This same scam is behind the websites Home Profit System and Total Income Investors.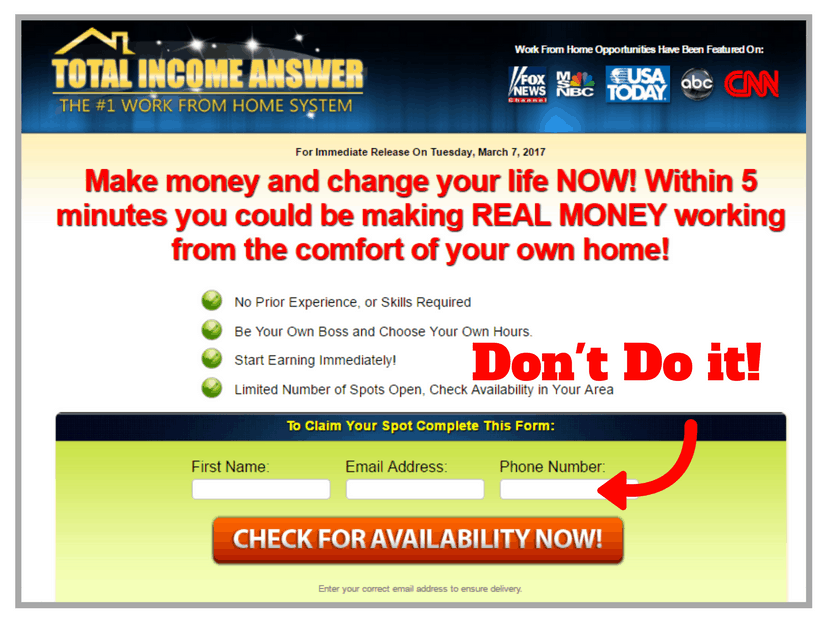 There are probably other variations of the Total Income Answer website out there too and they all lead to one place, the Total Income Answer order page. Don't fall for it!
The media icons on the page mean nothing. The apparent endorsement by Mark Cuban is NOT an endorsement. It is highly unlikely that Mark Cuban knows his name and likeness is being used to promote a scam.
Every clickable link on the Total Income Answer website leads to only one place, another Total Income Answer website that asks for your name, email and PHONE NUMBER!
Why do they want your phone number? So, their telemarketers can pressure you to buy one overpriced, worthless junk work from home product after another until you are either broke or wise up.
When they can't squeeze another dime out of you, they will sell your phone number to another telemarketing group, and the cycle will start over. Nothing good will come of getting involved with Total Income Answer.
A New Name to an Old Scam.
Total Income Answer is a new name for an old scam. This old scam has used a lot of names and websites in the past, but they all come back to the same source, Ultimate Income Solution.
When you visit the second Total Income Answer website, look in the URL field at the top of the page, and you'll see Ultimate Income Solution domain.
Regardless of the latest name they are hiding behind, the Ultimate Income Solution will try to sell you a worthless eBook for $97. They claim the eBook holds the secrets to working from home and making money online. It doesn't.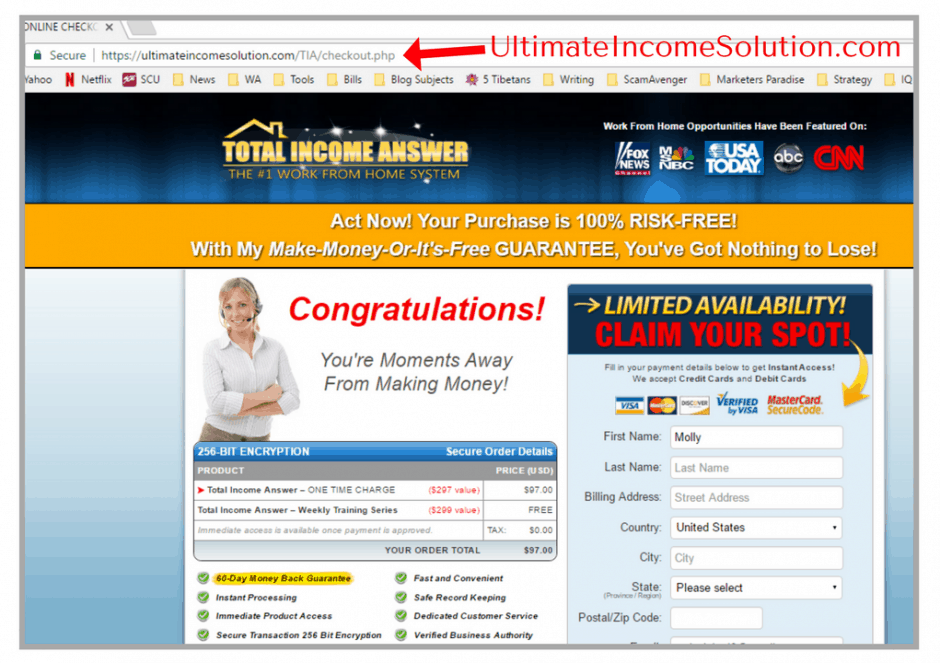 The eBook is nothing more than a very outdated system of posting links online. This method does not work, and you will not make money with it.
The Total Income Answer Scam.
Unfortunately, the eBook is just the beginning. If you buy the eBook, you will be hounded by telemarketers pressuring you to buy another crappy work from home product that is even more expensive. It won't work either, but once you buy it, you will be pressured to buy yet another, more expensive work from home product. It never ends, and you never make money with their methods either.
In spite of all the fake media endorsements, photo-shopped pictures, and spliced together video, Total Income Answer is not about helping you make money working from home. Total Income Answer is focused on one thing, and one thing only, robbing you blind!
Nothing Total Income Answer sells you will help you make money.
All the glitz and false promises are designed to get you excited and convince you that you can work from home and make lots of money with Total Income Answer. They are selling you a dream, and once you buy this dream, the hook is set. They will bleed you for every penny until you either go broke or wake up.
Read the Total Income Answer Disclaimer.
Read the Total Income Answer disclaimer, and you will see in the first paragraph you are not guaranteed to make money and that the examples given on their web page are not typical.
You will not make money with Total Income Answer. You will only spend money and possibly have your identity stolen.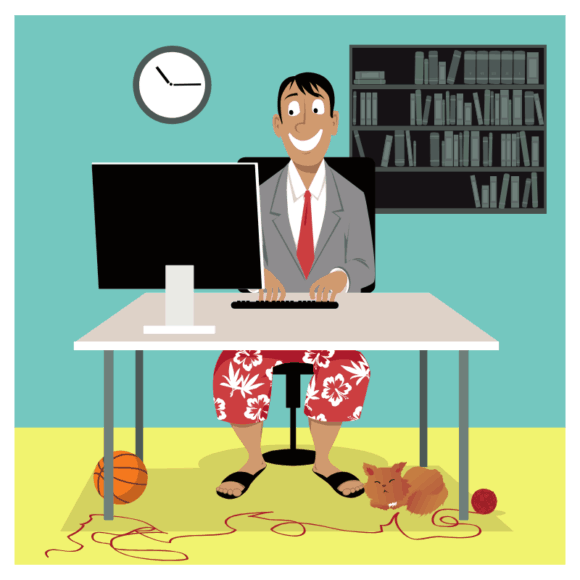 How You Can Really Make Money From Home.
When you try to find a real way to make money via the internet, you are faced with a world of false promises. It's a minefield of traps waiting to take your money for as far as you can see. That's why I'm devoted to helping anyone who wants to learn how to make money online the right way.
Making money online is a lot like making money off line. It takes skill and effort.
Thankfully, the internet allows you to leverage your efforts, so you can make more money faster online. But, this does not mean you can get rich overnight. It means with the right training and support, and if you do the work, you can be financially independent in years instead of decades.
And it's not hard. I'm convinced anyone who can write an email and research online is capable of building a successful internet business, IF they are correctly trained and supported. That's why I suggest the FREE Starter Level of the Online Entrepreneur Certification. The FREE Starter Course shows you the fundamentals of digital marketing and introduces you to an amazing community of internet marketers who are eager to help you every step of the way.
When you sign up for the FREE TRAINING through this website, I'll coach you one-on-one at no cost.
To Get Started, Click Here.
If you found this article helpful or have experience with Total Income Answer, please leave a comment below.