Richard Hefner, the founder, and CEO of GPS Trader App claims he has made 27 random people millionaires in the past three months and that he can make you a millionaire too. Unfortunately, there is more to the story. Follow me as I reveal the Devil in the details.
Product Name: GPS Trader App
Product Website: gpstrader.co
Product Cost: $250 plus as much as they can steal
Product Owner: Cannot be determined
Opinion: Not Recommended
What is GPS Trader?
When you visit the GPS Trader App website, you will meet, via video, Richard Hefner, the founder and CEO of GPS Trader App. Hefner announces early in the video that he has made 27 random people millionaires in the past three months and that he can make you a millionaire too.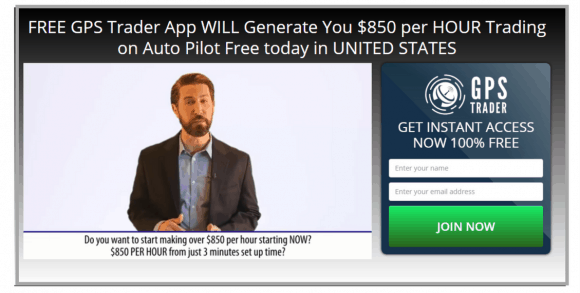 Hefner claims his software is the fastest and most powerful auto-trading software on the planet. He guarantees his software will make you $20,000 a day, every day for the rest of your life.
According to Hefner, the GPS Trader is 100% risk-free and that anyone using his software can make $20,000, guaranteed! If you act fast, you can have his magical software for free.
Mr. Hefner explains that for years he worked as a systems analyst with Garman, the multinational technology company known for its GPS navigational systems. During this time, his brother Josh became a successful binary options trader on Wall Street.
Josh used an auto-trading software to beat the market 74% of the time. He wanted to win more often and asked Richard to create a program that could win more consistently. Richard created the program that would later become GPS Trader App.
According to Hefner, GPS Trader App never loses. The worse it can do is break even on 3% of the trades. He guarantees you will make at least $850 an hour, $20,000 a day, every day, for the rest of your life.
If you believe that, call me. I have some ocean front property in Oklahoma I'd like to sell you.
What is GPS Trader, Really?
GPS Trader is not designed to make you money. GPS Trader is designed to rob you blind.
If you search online for Richard Hefner, you won't find the guy in the GPS Trader video. Spell the name correctly if you search for him. His last name is Hefner, with only one "f."
The only Richard Hefner I found was a gentleman who looked like an old hippy and played the ukulele. Not our man.
I suspect the man in the GPS Trader video is a professional actor. The video is designed to trick you into opening a binary options trading account with an unregistered broker and depositing at least $250.
Contrary to everything Richard Hefner promises, trading binary options is very, very, very risky.
Trading binary options with an unregistered broker is like handing your cash to someone who has just told you he will steal your money if you give it to him.
Let me explain the difference between a registered broker and unregistered broker.
Registered and Unregistered Brokers.
Concerning binary options, there are registered brokers and unregistered brokers.
The Registered Broker.
In the United States, a registered broker is licensed by the Securities Exchange Commission. A registered broker must abide by certain laws and ethical guidelines to stay in business.
Keep in mind that trading binary options with a registered broker is still very risky and not advisable. Registered brokers will tell you that trading binary options is speculative. In other words, it's gambling.
If a registered broker cheats you, you can ask the SEC to help get your money back.
The Unregistered Broker.
On the other hand, an unregistered broker operates outside of the law. If an unregistered broker cheats you, there is nothing you can do about it, and nobody can help you.
If you give your money to an unregistered broker, it is gone forever.
Calling an unregistered broker a broker is misleading. They are nothing more than a stranger taking your money.
The United States SEC has warned that unregistered binary options brokers are suspected of illegal activities including taking people's money, stealing identities and manipulating software.
To learn more about registered and unregistered brokers, go to Binary Options Fraud.
GPS Trader Review
The devil is in the disclaimer. Reviewing GPS Trader without exposing the dirty truth hidden in the disclaimer would be meaningless. As you can see, what GPS Trader pretends to be and what it actually is, are two very different things.
If you scroll to the bottom of the GPS Trader website, you'll see a link to their disclaimer. Before you give GPS Trader any of your information, or, Heaven Forbid, open an account with them, you MUST read the disclaimer.
Below is a screen capture of the top portion of the disclaimer.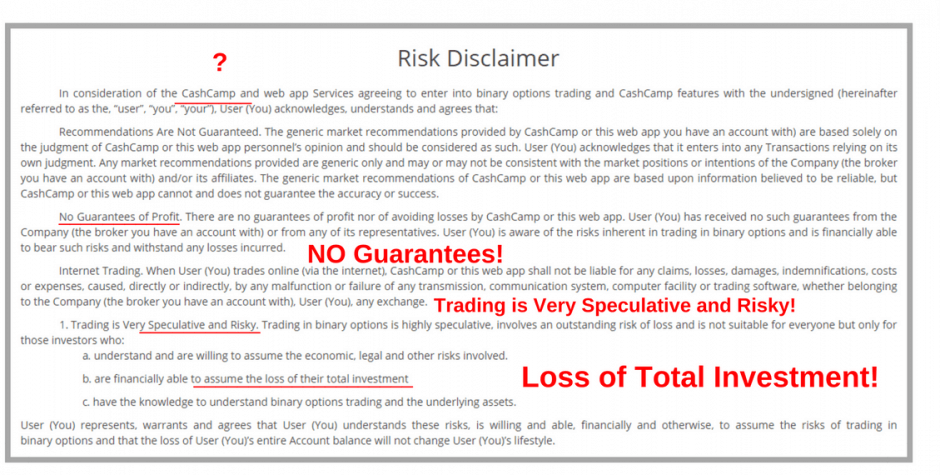 The first thing you will notice in the GPS Trader disclaimer is the name CashCamp. Who the heck is CashCamp and why is it mentioned in the disclaimer for GPS Trader?
CashCamp is a former binary options trading scam. It looks like they have changed their name to GPS Trader. It's interesting that Richard Hefner didn't mention that in the video.
Keep reading, and you will see that CashCamp/GPS Trader does not guarantee you anything. All those promises Richard Hefner made in the video about making $850 an hour and earning $20,000 a day are meaningless.
CashCamp/GPS Trader clearly states that trading is very risky and that you could lose your entire investment.
Why would you give your cash to someone who does not abide by the law and who has openly warned that you could lose all your money?
Is GPS Trader a Scam?
If you sign up with GPS Trader, you will automatically go to the second page of the website. On the second page, you will be told to activate your account with a minimum deposit of $250. You will also have to give GPS Trader your phone number.
Once you give GPS Trader your phone number, a friendly personal adviser or broker will call you. This person is NOT your friend.
It is the job of the personal adviser/broker to talk you into depositing all the money you can beg, steal or borrow. Under the pretense of making more money faster, they will try to get you to deposit $10,000 or more. That is the scam!
The Last Word on GPS Trader
Trading binary options is very risky. Professional traders working through licensed and registered brokers lose money all the time.
An amateur trading with an unregistered broker cannot win. It is foolish to give your money to an unregistered broker like GPS Trader.
You will not make money with GPS Trader; you will lose money and possibly go deeply into debt.
There is no magic software that will make you rich with a push of a button.
A Better Option for YOU.
I'm confident the internet is the best chance most people will have to be financially independent. And, I'm convinced that anyone who can write an email and surf the internet has the ability to build a profitable online business. The essential key to succeeding online is proper training and support at a fair price. This is why I recommend the FREE Starter Level of the Online Entrepreneur Certification Course.
The FREE TRAINING will show you the fundamentals of internet marketing and introduce you to a wonderful community of online marketers who are eager to help you.
Also, when you signup for the FREE TRAINING through this website, I'll coach you, one-on-one, for FREE.
To Learn More, Click Here.
If you found this article helpful or have experience with GPS Trader, please leave a comment below.