The headline of the Ice 9 website boldly promises "Earn $4,900 a week, easily with Silicon Valley's own Ice9 Software." But what is Ice9 Technology? Discover a dirty secret they don't want you to know.
Product Name: Ice 9 Technology
Product Website: ice9technology.com
Product Cost: $250, plus as much as they can get
Product Owner: Cannot be determined
Opinion: Not Recommended
Ice 9 Technology Review
When you visit the Ice 9 Technology website, you will meet the lead creator of the Ice 9 software, Aaron Palmer. The video appears to be a documentary shot in the Silicon Valley headquarters of Ice 9 Technology.
Aaron Palmer explains how he grew up in Silicon Valley and created his first software program when he was eight years old. He goes on to tell how Ice 9 is designed to access all financial data as it happens. By getting this data faster than anyone else, it is possible to have an insider's edge on the markets to consistently make winning trades.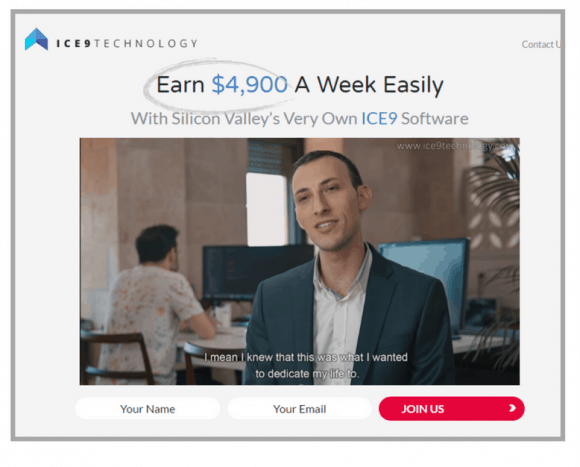 The headline of the Ice 9 website boldly promises "Earn $4,900 a week, easily with Silicon Valley's own Ice9 Software." As the video continues, you will meet Aaron's lifelong friend Steve Katz, Ice9 Marketing Director. Katz claims he is the one who talked Aaron into adapting his program to the stock market so people could use it at home to make millions of dollars from their living room.
As the video continues, you will meet a parade of characters who add credibility to the power of the Ice9 technology. John Farraday, former senior exec with CitiGroup and now CEO of Ice9 is credited with funding the development of Ice9 and turning it into a phenomenal Silicon Valley startup.
At the beginning of the Ice9 video and throughout, we see what appears to be endorsements from powerful people in lofty positions in the worlds of technology and finance.
The Ice9 video is one of the most convincing sales videos I've seen that promotes binary trading with an unregistered broker.
The Ice9 video is NOT a documentary about the launch of a new wonder technology that will make you rich. It's just a clever sales video. Every character in it is played by an actor reciting the lines of a script.
You will NOT make $4,900 a week with Ice9. If you try it, you will be very lucky not to lose money.
The Ice 9 Disclaimer & Website Agreement
If you read the Ice9 Website Agreement, particularly the paragraph about "videos," you will see that the video uses actors and demo accounts. And that the Ice9 video is intended for promotional purposes and should NOT be used for making decisions about getting involved with Ice9.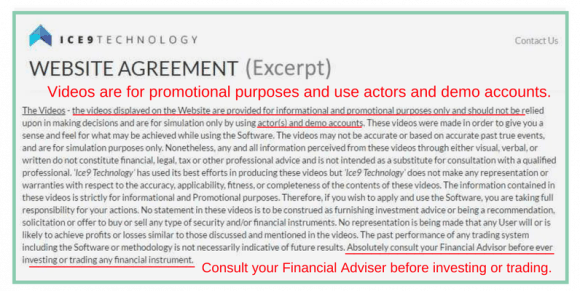 Read the Risk Disclaimer, and you'll see that Ice9 does not guarantee you anything and that trading binary options is very risky. The clincher is that Ice9 does not guarantee you won't lose ALL of your money. That's a clever way for Ice9 to cover their backside when you do lose all of your money to them!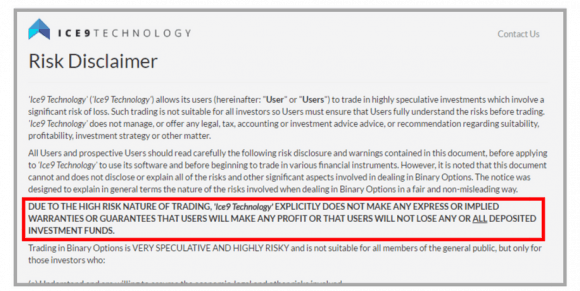 There's a reason they buried these details where you would have to search for them. The truth is, Ice9 is not about making you money. Ice9 is about stealing your money.
The Ugly Truth about Ice 9 Technology
At best, trading binary options is more like gambling than investing. Even the pros get burned.
But, we're not talking about a licensed and registered broker here. The broker associated with Ice9 is NOT registered. In other words, the broker associated with Ice9 is outside of the law and probably far outside of the United States.
The SEC has stated that unregistered brokers, like the one associated with Ice 9 Technology, are suspected of stealing people's money, stealing their identities and manipulating software to create losing trades.
If you lose money with Ice 9 Technology, and you probably will if you try it, there is nothing anyone can do to get your money back.
The Ice 9 Technology Scam
Let's pretend, Heaven forbid, that you think I'm some kind of nutjob and ignore my warnings. You believe Ice9 Technology is the answer to your prayers. Allow me to show you a glimpse of your future if you choose to get involved with Ice9.
On the first page of the Ice9 website, you take the bait and fill out your email address. Immediately, you are taken to a second website page where you discover they want more information, including your phone number. You also learn that to "activate" your trading account you must deposit $250.
You are so sure you're going to be soon making $4,900 a week that you give them your phone number, and you plunk down $250 you took from your Granny's cookie jar.
You get a call from an Ice9 personal broker who pretends to be your new best friend. Your new best friend encourages you to put a lot more money into your account. But there's no more money in Granny's cookie jar, so you play the $250. Within an hour, you're up hundreds of dollars! It's the easiest money you have ever made.
Except for the money you just made isn't real and you will never be able to take it out of your account. Ice9 just monkeyed with the software to create the illusion of making money. But you don't know that.
Suddenly, you're convinced you're on your way to making millions of dollars. Your friendly Ice9 personal broker tells you if you put more money into your account, you will make more money faster. So, you get a title loan on your beater, max out your mother's credit card and pawn Granny's dentures to come up with $10,000.
You put it all in your account and roll the dice. Within minutes you lose every penny. And your new best friend personal broker cannot be reached. That is the Ice9 Technology scam.
There is no magic software that will make you rich.
A Better Option for YOU.
Making money online is a lot like making money off-line. The more value you create, the more money you can make.
Fortunately, the internet permits you to leverage your efforts so you can make more money faster online. However, that does not mean you can be rich overnight. It means with the proper training and support, and if you do the work, you can be financially independent in years instead of decades.
And it's not difficult, but it does take effort. I'm confident anyone who can write an email and surf the web is capable of building a profitable online business, IF they are properly trained and supported. That's why I recommend the FREE Starter Level of the Online Entrepreneur Certification. 
The FREE TRAINING will show you the basics of internet marketing and introduce you to an amazing community of marketers who are eager to help you. When you signup for the FREE TRAINING through this website, I'll coach you one-on-one for FREE.
To Learn More, Click Here.
If you found this article helpful or have experience with Ice 9 Technology, please leave a comment below.