Megan Sanders, the former investment analyst for Deutsche Bank, New York, promises Charity Profits App is the fastest and easiest way to earn $4,000 day. A closer look reveals a different story. Follow me as I reveal the Devil in the details.
Product Name: Charity Profit App
Product Website: myprofitformula.net
Product Cost: $250, plus a whopper of a catch!
Product Owner: Cannot be determined
Opinion: Not Recommended
What is Charity Profits App?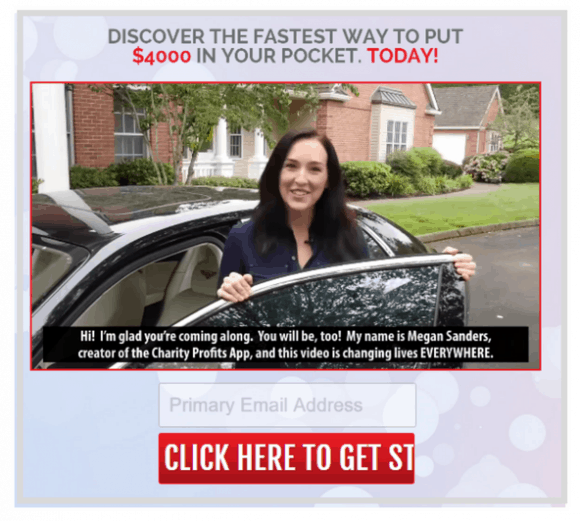 On the Charity Profits App website, we meet the lovely Megan Sanders, former investment analyst for Deutsche Bank, New York. Ms. Sanders promises her software is the fastest and easiest way to earn $4,000 today and every day for the rest of your life!
While parading through a luxury home, driving a luxury automobile and meeting at the Charity Profits App headquarters, Ms. Sanders tells us why she founded her company and what it means for you.
As the story goes, she was a cold and calculating financial analyst for Deutsche Bank in New York City, making hundreds of millions of dollars for wealthy clients and tens of millions of dollars for herself. Then, one day, while enjoying a luxury safari in Africa, a very sick little boy reached for Megan's water bottle. She later learned his name was Kabo.
Something in Kabo's eyes captured Megan's heart and she stayed in Africa to help him. Although she paid for Kabo's hospital bills, he eventually succumbed to his disease. Later, his grieving mother took her life.
Heartbroken, Megan vowed to find a way to help others. With the assistance of a colleague at Deutsche Bank, Megan adapted the high-frequency trading software she had used to make millions for her clients into a trading software anyone can use to become a millionaire.
Megan Sanders is giving her software away with one condition, that you give 5% of your earnings to charity. You see, according to Megan, she's crazy about helping people and guarantees you will earn $4,000 a day with her software.
It's a great story, isn't it? A real tear-jerker with a feel-good ending where you get to ride off into the sunset with a cool $4,000 a day. If only it were true. Now, let's get real!
Charity Profits App, the New My Profit Formula.
Charity Profits App is the latest offering from the same scammers who brought you My Profit Formula. Megan Sanders will not make you a millionaire. If you fall for her story, she will make you broke and possibly drive you into debt. If you search for Megan Sanders online, the only place you will find her is in the Charity Profits App sales video.
Megan Sanders, as portrayed in the sales video, does not exist. The promise she made about earning $4,000 a day with her software is meaningless. You won't earn $4,000 a day with her software. If you try it, you'll be lucky not to go into debt. In a moment, I'll explain how dangerous Charity Profit App truly is. For now, take a look at the Charity Profits App disclaimer.

In other words, Charity Profits App does not promise you anything except the extraordinary opportunity to lose all of your money. Canada, the US, and many other countries have blocked access to the Charity Profits App website. And for a good reason.
Is Charity Profits App a Scam?
Charity Profits App is trying to get you to open a binary options trading account with an unregistered broker and deposit at least $250 into that account.
Please understand, any money you give to an unregistered broker will probably be gone forever. That's the whole purpose of the lovely Megan Sanders and her Kabo sob story.
The woman who plays Megan Sanders in the sales video has been paid to convince you to trust her and to believe she will help you make your dreams come true.
If you get involved with Charity Profits App, the only real thing that will happen is you will really lose a lot of money.
The United States Securities Exchange Commission has specifically warned about unregistered brokers like Charity Profits App. The SEC warns that unregistered brokers are suspected of stealing money from their clients, stealing their client's identities and manipulating the software to produce losing trades.
Trading Binary Options is very risky. Professional investors describe binary options trading as speculative, in other words; it's a game of chance, like gambling. The SEC further warns that you should never invest money you cannot afford to lose.
The Charity Profits App Scam.
Getting involved with Charity Profits App is very dangerous and can be very expensive too. The broker behind Charity Profits App is probably in a country that does not regulate investing, so any money you give them is gone forever.
If you fall for Megan Sander's story and do as she says, the broker might make it appear as if you have made $4000 your first day. If this happens, it is because the broker has manipulated the software. The money is not real, and you cannot take it out of your account.
The reason the broker manipulates the software to make it appear that you made money is to trick you into depositing more of your money. Ultimately, they hope to get you to deposit $10,000 or more. If you do, it is gone forever, and there is nothing you can do about it.
Charity Profit App is not designed to MAKE you money. It is designed to TAKE your money.
The Last Word on Charity Profits App.
Charity Profits App is a resurrection of an earlier scam called My Profit Formula which also tricked people into opening accounts with an unregistered broker.
There simply is no free app that will earn $4,000 a day.
A Better Option for You…
While there is no magic software that will earn $4,000 a day, it is possible to earn money online. Millions of people make money online every day. In fact, I'm convinced that the internet is the greatest chance most people have to be financially independent. The trick is to get the right training and support.
In my experience, anyone capable of surfing the internet and writing an email is capable of becoming financially independent with an online business. The place to begin is the FREE Starter Level of the Online Entrepreneur Certification Course.
The FREE TRAINING will show you the basics of internet marketing and introduce you to a wonderful community of marketers who are eager to help you. Also, when you signup for the FREE TRAINING through this website, I'll mentor you one-on-one for FREE.
To learn more about the Online Entrepreneur Certification Course, Click Here.
If you found this article helpful or have experience with Charity Profits App, please leave a comment below.