The Money Academy promises you can make thousands of dollars a week without lifting a finger and that there are teams of professionals to help you do it, but is The Money Academy a scam? My investigation exposed details you should know. Follow me as I expose the Devil in the details.
Product: The Money Academy
Product Website: themoneyacademy.org
Product Cost: $49/mth plus upsells to nearly $30K
Product Owner: Concealed
Opinion:  Not Recommended
Update: The Money Academy and MOBE were shut down by the FTC. To learn more, read What is MOBE About?
Is The Money Academy a Scam?
The moment you land on The Money Academy website, a video begins to play, streaming images of luxury and wealth, beautiful women, yachts, private jets, gold bullion, exotic vacation homes, and stacks of money.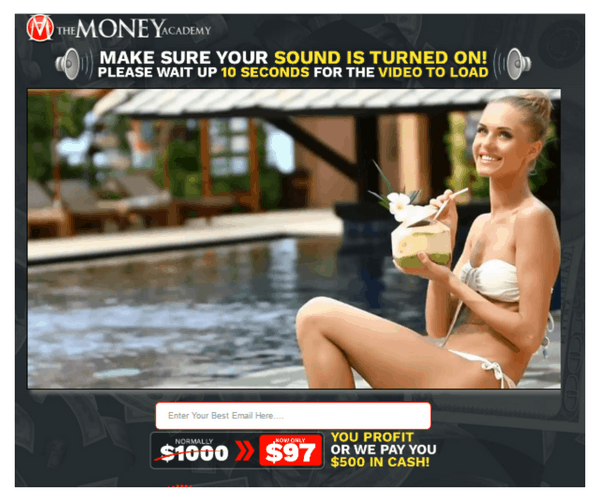 Then, the testimonials begin. One excited person after another tells how they made thousands of dollars a week with The Money Academy.
Then, the narrator explains how the people in the video are just ordinary folk like you and me and that they are making money hand over fist with The Money Academy. The narrator promises you can make thousands of dollars a week too, without lifting a finger because other people will do the work for you.
The Money Academy Guarantee.
He goes on to say you are guaranteed to earn at least $500 in cash, just for watching the video. More on this in a moment.
But, $500 is chump change compared to what you will be making with The Money Academy, or, so the narrator says. He even promises you'll be earning 5 and 6 figures a month with his help. In fact, he promises you are about to get checks up to $5,500 every week!
The Money Academy Deception.
The Money Academy claims you can now live the life of your dreams. If only it were true. Unfortunately, The Money Academy is pure deception. Deception is the hallmark of a scam.
The images of luxury in The Money Academy video are standard fare for a scammer. It's an attempt to make us feel greedy for the pig in a poke they are selling.
When we feel greedy, we cannot think rationally. So, by making us greedy at the beginning of the video, we are more likely to fall for the empty promises and fake testimonials that follow.
What is The Money Academy?
When you click on The Money Academy disclaimer, you go to the MOBE disclaimer. Now we see the true identity of The Money Academy.
The Money Academy is just a landing page for an affiliate of MOBE, otherwise known as My Online Business Education. MOBE is a very expensive multi-level marketing company which may be a pyramid scheme.
MOBE has 21 levels and each level is more expensive. As a member of MOBE, before you can sell a specific level, you must first purchase that level. The price of the different levels start at $49 and goes up to nearly $30,000!
The MOBE Guarantee.
MOBE does have a $500 guarantee. They guarantee you will earn money with their system or they will pay you $500. But, read the fine print and you'll see that before you are eligible for the $500 you must first purchase all 21 levels. That will cost you about $50,000!
The Scheme.
Here's what you must do to make money with The Money Academy/MOBE. You will first have to buy in at some of the levels. Your personal MOBE coach/telemarketer will push you to buy at the highest level you can afford, perhaps costing you several thousands of dollars.
Then to make money you must refer people to the so-called coaches who are really just aggressive telemarketers. The Money Academy/MOBE telemarketers will try to persuade your referrals to buy into the MOBE scheme and purchase levels of membership too.
Then they must refer people to the telemarketers and the cycle repeats. It's a lousy way to make money and doesn't work for most people.
The MOBE earning disclosure states that 95% of their members make less than $100 a month. And, that is after they paid thousands to buy in and pay a minimum of $49 a month membership fee.
In other words, most members never break even.
The Money Academy video is a lie.
To be clear, The Money Academy and the heavy behind it, MOBE, intend to squeeze as much money OUT of you as they can before they let you make a dime. And, after you have spent thousands of dollars, you have only a 5% chance, at best, of making more than $100 a month!
That's as good as it gets.
The Last Word on The Money Academy.
Scroll to the bottom of The Money Academy website and read the tiny print at the bottom. Buried in that paragraph, you'll find the only true thing on the entire page. It says, "The typical purchaser does not make any money using this system."
A Better Option for You…
When you try to find a legitimate way to make money online, you are met with a world of con artists. It's a minefield of deathtraps for as far as the eye can see. That's why I'm committed to helping people learn how to make money online the right way. And, I can help you.
Making money online is a lot like making money off-line. It takes skill and work. Thankfully, the internet allows you to leverage your work, so you can make more money faster online. But, this does not mean you can get rich quick. It means with the right training and support, and if you do the work, you can be financially secure in years instead of decades.
And, it's not hard. I'm confident anyone who can send an email and research online has the capacity for building a profitable online business, IF they are correctly trained and supported. That's why I promote the FREE Starter Level of the Online Entrepreneur Certification Course. The FREE TRAINING shows you the basics of affiliate marketing and will introduce you to a fantastic community of internet marketers who are ready to help you every step of the way.
When you sign up for the Starter Training through this website, I'll coach you one-on-one for FREE.
To Learn More, Click Here.
If you found this article helpful or have an experience with Money Academy, please leave a comment below. Thank you.