Is Bitcoin Millionaire Club a Scam? Or, can you really make a guaranteed $13,000 a day on autopilot? Bitcoin Millionaire Club founder Steve Banks tells a good story, but is there any truth to it? Follow me to see the Devil in the details. Red flags ahead!
Product Website: bitcoinadvertising.co
Product Cost: Minimum $250 Deposit.
Product Owner: Cannot Be Determined.
Ranking:  NOT Recommended.
Is Bitcoin Millionaire Club a Scam?
When you visit The Bitcoin Millionaire Club website, you are greeted with a sales video that appears to be narrated by the 'so-called' genius behind Bitcoin Millionaire Club, Steve Banks. He tells you it's your turn to become a bitcoin millionaire and promises you can soon make $550 an hour and earn a guaranteed $13,000 in just 24 hours. The beauty of his system, he claims, is you can get started for free.
As the video continues, we learn that Mr. Banks was once a software developer at a big Wall Street investment company where he developed software that can make money flipping bitcoin ads without ever owning a bitcoin ad.
What is a bitcoin ad and why would you want to flip it? He doesn't say.
Fake Testimonials?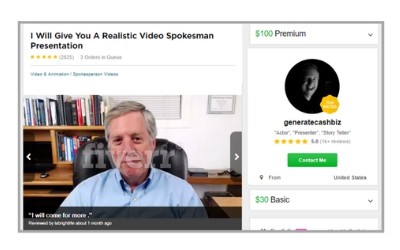 While I was watching the sales video, the first character to give his testimonial seemed like an old friend. I've seen him so many times on other websites giving testimonials for other make money online products.
He's a veteran Fiverr.com actor. His Fiver name is "generatecashbiz." He's a darn good actor too, but he's just saying what he's paid to say. If he really was a millionaire, I doubt he'd still be working on Fiverr.com.
More Fake Stuff.
The Bitcoin Millionaire Club website has several testimonials and pictures of happy members. At least some of these images are from other websites.
Check out the image on the Chris Hadid testimonial. That image is not Chris Hadid. That is the French author Jean-Edouard Gresy. You can easily prove this yourself by searching Google images for Jean-Edouard Gresy.
Most of the other testimonial images are taken from elsewhere on the internet too. If put your cursor on any image, right-click, and select "Search Google for Image," you will find all the places that image has been used online. (You must be in Google Chrome for this to work).
Why can't Mr. Banks put real testimonials from real Bitcoin Millionaire Club members on his website? Wouldn't you be happy if you were a millionaire making $13,000 every day?
The truth is, Real Bitcoin Millionaire Club members aren't millionaires, and they aren't happy. Real Bitcoin Millionaire Club members lost money, suffered profound humiliation, and they don't want to talk about it.
Read the Earning Disclaimer.
Wait! There isn't one.
Companies use the Earning Disclaimer to legally protect themselves. It's where you can find the details of their offer.
I'm sure Bitcoin Millionaire Club has an Earning Disclaimer. They just don't want you to see it. If you read their disclaimer, you would know that you that they are not what they pretend to be.
The Bitcoin Millionaire Club a Scam.
The Bitcoin Millionaire Club has nothing to do with bitcoin. It only uses the name to cash in on the bitcoin mania.
If you join the Bitcoin Millionaire Club, you will not trade bitcoin or bitcoin ads, and you certainly won't own bitcoin. Bitcoin Millionaire Club is just another garden variety auto-trading scam using deception to take people's money.
The Magic Software.
The Bitcoin Millionaire Club trading software is just a simple program that creates the illusion you made money when you didn't.
Before you join the Bitcoin Millionaire Club and begin trading, you must give them your phone number. When you do, you'll be contacted by a person who introduces themselves as your personal financial adviser or something similar.
This person is not a financial adviser. They are a professional telemarketer who will make a very large commission when they scam you. This person is probably a sociopath. It is their job to gain your trust. Trusting them would be a huge mistake.
The Small Scam.
You adviser will talk you through the process of opening a trading account and depositing $250 into that account. This is the small scam.
When you deposit money into your account, you are not really putting it into a trading account. You are merely giving your money to a stranger in another country. You will never get it back.
The Great Illusion.
Once they have your $250, the software goes whir, the lights flash, and numbers start to climb in one of the columns creating the illusion that you are making money.
Within the first hour, it will appear that you have made more than $500. Within the first 24 hours, it will appear that you have made more than $13,000 because that is what they promised.
To be clear, you did not make money. You lost $250; you just don't realize it yet. Your very real money is already in someone else's pocket.
The numbers in your account are just numbers. You can't take them out, and you can't spend them.
The Big Scam.
Here's where the Bitcoin Millionaire Club scam becomes diabolical.
If you fall for the small scam and believe you made $13,000 in 24 hours, your adviser will step you up to the big scam. She'll tell you that if you deposit $10,000 into your account, you could be a millionaire in 90 days.
When you deposit $10,000 of your very real, hard earned money into your trading account, they close the trap. They immediately lock you out and keep the money.
That's the Bitcoin Millionaire Club scam.
There is No Magic Software.
No one is going to give you free software that will make you wealthy. Such software does not exist.
When someone claims you can quickly and easily make a lot of money with the push of a button, they are trying to scam you.
Making money, either online, or offline, usually requires that you offer something of value in exchange for the money you want. In other words, you must exchange a product or service for it. This simple principle is the foundation of entrepreneurship.
As an online entrepreneur, you can automate much of the exchange process, so sales are made around the clock, even when you sleep.
A Better Option for YOU…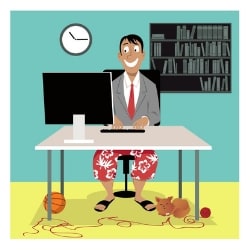 When you try to find a real way to make money on the web, you are met with a world of scams and over-priced junk programs. It's a minefield of deathtraps for as far as the eye can see. This is why I'm devoted to helping people learn how to make money online the right way, and why I recommend affiliate marketing.
Making money online is a lot like making money off line. It takes skill and work. Thankfully, the internet permits you to leverage your efforts, so you can make more money more quickly online. However, this doesn't mean you can get rich overnight. It means with the proper training and support, you can be financially secure in years instead of decades.
And, it's not difficult. I'm confident anyone who can write an email and research online has the capacity for building a profitable affiliate marketing business, IF they are correctly trained and supported. That's why I recommend the FREE Starter Level of the Online Entrepreneur Certification Course.
The FREE Starter Training shows you the fundamentals of internet marketing and will introduce you to a fantastic community of online marketers who are ready to help you build an online business that will change your life.
When you sign up for the FREE Starter Course through this website, I'll personally mentor you at no cost.
To Learn More, Click Here.
If you found this article helpful or have experience with Bitcoin Millionaire Club, please leave a comment below.