A reader asked if the doTerra business opportunity was legitimate. I won't answer that directly. However, in this DoTerra Review, I will present a step-by-step process to evaluate the opportunity, so anyone can determine if it's right for them.
Can you make money with doTerra? According to the doTerra Earning Disclaimer, most deTerra distributors do not make money, and only 1% of doTerra distributors earn more than $27,500 a year before deducting the cost of products and business expenses.
doTerra Sells a Dream.
According to the doTerra website, doTerra uses "a direct selling model…as opposed to mass marketing." This model creates an opportunity "for individuals and families to achieve their dreams of financial independence."
As we move forward with this evaluation of the doTerra opportunity, it is essential that you do not become so blinded by the dream of financial independence that you forget to think objectively.
Aspiring to be financially independent is admirable. However, if you get lost in La La Land, you'll never be financially independent.
Moving forward, stay objective, look at the facts and make an informed decision.
What do You Want from doTerra?
Before you buy the dream of financial independence as presented by doTerra, I urge you to take an objective view of the opportunity.
Be sure you understand what is required to succeed with doTerra, what it will cost, how long it will take to earn a positive cash flow and what you can expect along the way.
Determine a Milestone.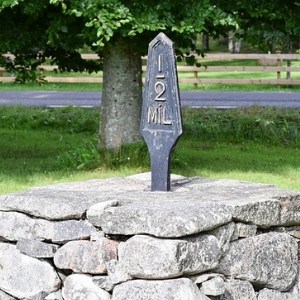 The dream of financial independence is a big dream, and it can be difficult to define. Before deciding if the doTerra opportunity is right for you, take time to determine a smaller goal that might lead to financial independence once you achieve it.
Think of your smaller goal as a milestone goal. If you reach it, you'll know you're on your way toward financial independence, but if you miss it, you'll know you are off track. And, perhaps doTerra is not the right vehicle for you.
It's important that this smaller, milestone goal is meaningful to you. However, I suggest that if you join doTerra as a distributor that one of your early goals be for your business to pay for itself as soon as possible. In other words, as a doTerra Wellness Advocate, you earn more than you spend on products and business expenses.
Assets and Liabilities.
Until your business pays for itself, it's a liability that is taking money out of the family budget.
Fortunately, doTerra has some information on its website that will help us determine how quickly your doTerra business will be earning more than it costs. I'll dive deeper into that in a moment.
Do You Need to Make Money Quickly?
Are you in a financial bind right now? Do you need an opportunity so you can make money right away? If that is the case, be very sure that doTerra can deliver.
The doTerra Opportunity Costs Money.
The doTerra opportunity costs money. If money is already a problem for you, be sure you understand what doTerra will cost you and how quickly you can expect to start earning more than you're spending on your business.
You Must Pay to Get Started.
As a doTerra Wellness Advocate, you will be expected to purchase a starter kit and commit to buying a minimum volume of products each month through auto-ship.
Starter kits range in price from $150 to $3,666.67.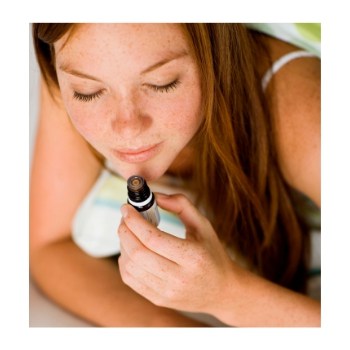 Also, as a Wellness Advocate, you will be expected to purchase a minimum of 50 Personal Volume (PV) worth of product each month. For the rank of Manager and above the minimum requirement is 100 PV a month.
I did not find how much 50 PV is in dollars. However, I assume that 50 PV equals $50 and 100 PV equals $100.
If you're considering the deTerra opportunity, someone probably approached you about it. Ask them about PVs and get a solid understanding of how much the opportunity will cost you.
There may be other expenses associated with being a doTerra Wellness Advocate too, such as meetings and training materials. Be sure to ask about these as well.
Two Heads are Better than One.
Consult with someone who is not associated with deTerra and whose judgment you trust. Show them this article and analysis. If you are married, I strongly encourage you to consult with a friend or relative in addition to your spouse.
Your spouse should be part of the decision process, but you need the perspective of someone outside the marriage to help make the proper decision.
Cool Your Jets.
More than anything, do not decide to join doTerra while you're excited or emotional. That rarely works. Instead, sleep on it, consult with a friend and wait until you are in control of your thoughts before deciding.
doTerra has been around for years. It's not going anywhere. You can afford to take as long as you need to decide if doTerra is right for you.
You will probably lose more if you join doTerra prematurely and then discover it isn't for you than if you don't join and later change your mind.
After you properly evaluate doTerra with the help of this article, you can make an informed decision.
If you chose to avoid the opportunity, you could do so knowing you took a good look at it. On the other hand, if you chose to pursue the opportunity, after a thorough analysis, you'll know what it takes to succeed.
Read Why Affiliate Marketing is Better than MLM.
Time and Money.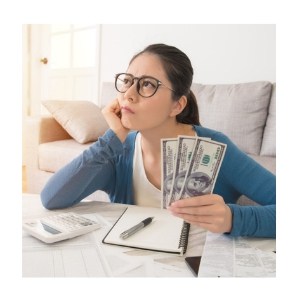 The doTerra opportunity takes time and money. If you chose to pursue the doTerra opportunity, you would be investing time, money and energy into your business. Your doTerra business may not show a positive cash flow for months or years.
Can You Afford the Opportunity?
Can you afford to put money into your doTerra business each month without seeing a return?
Shifting Priorities.
Your priorities will need to be adjusted so you can give your new business the attention it needs. You'll probably have to take time away from something else. Finding time for a business can be difficult if you have a family.
Do you have the time?
Direct Selling is Difficult.
Selling is difficult and time-consuming, particularly direct sales where you meet face to face with a prospect. Just sharing the doTerra products may work sometimes, but letting things happen naturally probably won't result in many sales.
Crowded Niche.
The Essential oils niche is very crowded. There is competition from other direct selling companies, online, certified aromatherapists and health food stores.
The Top 1%.
If you look at the doTerra Income Disclaimer, you'll see that the distributors who make the most money are Leaders in the ranks of Silver and above. The Leaders represent the top 1% of doTerra distributors and earn an average of $27,557 per year or more, (before business expenses and the cost of products is deducted).
Building large sales organizations requires a specific skill set beyond just selling, and it takes a lot of energy. Those who succeed at this level in direct sales have strong leadership, recruiting and management skills.
If your dream of financial independence includes earning $27,557 a year or more as a doTerra distributor, you'll need to achieve the rank of Silver at least. Only 1% of all doTerra Wellness Advocates achieve the rank of Silver or above. Achieving the higher ranks means you must master leadership, recruiting and management.
Of these three skills, I would guess that recruiting is the most important because without recruiting you can't build an organization and without an organization you can't reach the top 1%.
Because there is such a large turnover in every sales organization, recruiting is non-stop while you're building your business.
doTerra Earnings Disclosure Summary.
Now that we've established that you'll need to be in the top 1% of doTerra distributors if you want to earn more than $27,557 a year on average, a closer look at the doTerra Earning Disclosure may be in order.
A careful reading of the doTerra Earnings Disclosure Summary reveals that very few Wellness Advocates make money.
The information you need to understand is not in the chart. It's in the text above the chart. In the screen capture below, I've underlined in red the details I think are most important. You can see the original doTerra Earnings Disclosure Summary here.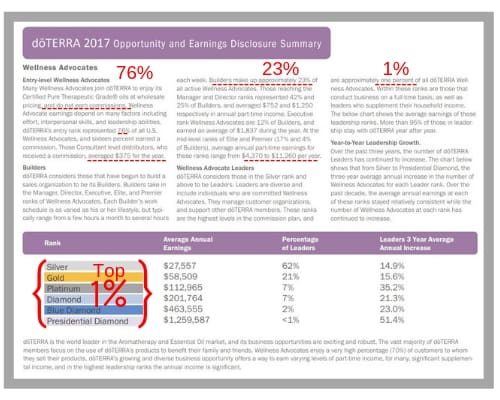 The doTerra Earnings Disclosure Summary can be difficult to understand. It often speaks of percentages of percentages which is confusing. For this reason, I'm going to interpret the numbers for you. Fortunately, we can ignore most of them and still understand what is going on.
Please do not take my word for any of this. Refer to the original document on the doTerra website. Get another person who isn't associated with doTerra to go over these numbers too.
If you hope to succeed with doTerra, you want a clear understanding of what the odds are before you join.
Starting at the Top: The 1%
The most obvious impact of the Earnings Disclosure is the big numbers in the chart. These big numbers are earned by the top 1% of ALL doTerra Wellness Advocates. The percentages you see beside these numbers is the percentage of the 1% (not the percentage of all Wellness Advocates. Confusing I know).
Look at it another way. In the paragraph above the chart that says, "Wellness Advocate Leaders," it says "doTerra considers those in the Silver rank and above to be leaders…These ranks are the highest levels in the commission plan and are approximately one percent of all doTerra Wellness Advocates."
Now, look at the chart again, more than half of the highest ranks in doTerra earn an average of $27,557 per year. Is that enough for you to be financially independent? If we turned these figures on their head, we could see that 99.62% of all Wellness Advocates earn an average of $27,557 or less per year.
That's starting at the top. Let's start at the bottom and see who is making what.
Starting at the Bottom: The 76%
When you join doTerra, you'll be starting at the bottom like everyone else. You'll be an entry level Wellness Advocate. An Entry Level Wellness Advocate is first and foremost a customer. At this level, you will probably spend more buying doTerra products than you earn in commissions.
You'll have to buy an Enrollment Kit that costs between $150 and $2,750. My advice is never put more into a business than you need to. Start small with a $150 Enrollment Kit. You can see the full selection of enrollment kits on the doTerra website.
After purchasing an Enrollment Kit for a minimum $150, you'll also be required to enroll in auto-ship and spend a minimum of $50 each month on doTerra products.
With these expenses in mind, take a look at the first paragraph above the chart in the doTerra Earnings Disclosure. The heading is "Wellness Advocates," and the subheading is "Entry-Level Wellness Advocates."
In that paragraph, we learn that 76% of all doTerra Wellness Advocates are Entry Level. Many of the Entry-Level Wellness Advocates join doTerra to purchase products at wholesale and do not earn commissions. However, a few do earn a commission. Of the few who earned a commission, they averaged $375 for the year.
When you deduct the cost of their Enrollment Kit and the minimum monthly product purchases, none of the Entry-Level Wellness Advocates earned more in commissions than they spent on products.
Another way to look at it is 76% of all doTerra Wellness Advocates did not have a positive cash flow in 2017.
In other words, as an Entry-Level Advocate, expect to lose money.
A Look at the Middle Ranks: The 23%
Above the Entry-Level Wellness Advocates, you'll find the ranks of Builders. doTerra describes the Builders as Wellness Advocates who have begun to build a sales organization. These include the ranks of Manager, Director, Executive, Elite and Premier.
These ranks make up 23% of all doTerra Wellness Advocates.
According to the Disclaimer, Managers and Directors earned on average $752 to $1,250 for the year. Again, this is before deducting the cost of products and other business expenses. Managers and Directors are required to purchase a minimum of $100 of product each month.
When you consider that Managers and Directors spent a minimum of $1,200 on products each year, they either lost money or barely broke even.
In the Builders ranks above Managers and Directors, we find Executive Wellness Advocates who earned on average $1,837 for the year. Subtract $1,200 for the minimum cost of 12 months of product and we can see that on average a doTerra Executive Wellness Advocate earned $637 for the year.
Above the Executive Level, we find the ranks of Elite and Premier. These ranks averaged $4,370 to $11,260 for the year. If we deduct $1,200 for the minimum cost of buying products as required to stay qualified, the income range is cut down to $3,170 to $10,060.
Another Chart.
We covered a lot of ground, and much of it involved mind-numbing numbers. In the table below, I use the same information doTerra makes available in their Earning Disclaimer, but I organize it differently.
I hope that in the chart below you can see the small percentage of Wellness Advocates who achieve financial independence through doTerra.
Financial independence might mean different things to different people. However, many entry-level jobs pay $24,000 to $60,000 a year, so I would not consider the Silver and Gold ranks as achieving financial independence.
It would probably take reaching Platinum, Diamond, Blue Diamond and Presidential Diamond to achieve financial independence. Those ranks combined make up less than ½ of 1% of all Wellness Advocates.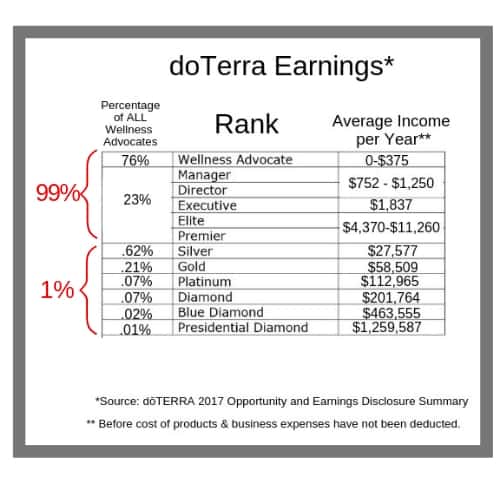 Meet Jon Taylor.
In the 1990s, Jon Taylor rose in the ranks of a popular MLM company. In his own words, he achieved the upper 1% of distributors in his company. However, he did not make money.
If you are considering the doTerra opportunity, I recommend you first read about Jon Taylor's experience in the industry. You can read his story here.
Jon Taylor's Research.
Mr. Taylor researched 300 direct selling companies, including doTerra. He found that less than 1% of the distributors earned more than they spent on products. This is pretty close to what we discovered when we looked at the dōTERRA 2017 Opportunity and Earnings Disclosure Summary.
I imagine if we could accurately subtract the cost of doing business and the cost of buying doTerra products, the income numbers on the doTerra Earnings Disclosure would more closely align with Taylor's findings.
Five Questions.
To help people evaluate an opportunity like doTerra, Mr. Taylor created five questions. I've reproduced these questions below. You can read more about evaluating a direct marketing company here.
As you evaluate the doTerra opportunity, use the questions below as a guide. The person who wishes to sponsor you may have the answers to these questions or someone in their upline.
The Last Word.
Success with doTerra requires heavy recruiting. Unfortunately, recruiting can strain personal relationships to the breaking point and destroy the trust that took years to build. No one wants to be just a means to an end.
Our closest relationships are more valuable than money. And, success is not measured by how much we have in the bank, the house we live in, or the cars we drive.
Success must be more balanced than that. Otherwise, we lose more than we gain.
Striving for financial independence is an honorable goal, but it's not worth losing friends and loved ones.
Related Posts:
Why Affiliate Marketing is Better than MLM
How to Evaluate an MLM Company
If you found this review of the doTerra opportunity informative or if you have insights that might be helpful to others, please leave a comment below. Thank you.