The Complete Profit Code website promises you can start making money in 5 minutes and replace your job in a few weeks. Don't believe it. There's a lot they aren't telling you. Follow me to see the Devil in the details.
Product: Complete Profit Code
Company: APPLY KNOWLEDGE, LLC
Website: completeprofitcode.com
Product Cost: $97 plus upsells to $12,000!
Opinion: Not Recommended
Is Complete Profit Code a Scam?
Complete Profit Code is one of many websites leading to a very expensive scam run by Apply Knowledge (aka Essent Media, Net Training, YES International, Coaching Department, and perhaps other names). This same company is behind Total Income Answer, Auto Home Profits, Home Profit System and a slew of other dodgy websites.
Complete Profit Code is nothing but a landing page. There is no Complete Profit Code product. When you click to learn more about the offer, you arrive on an entirely different website!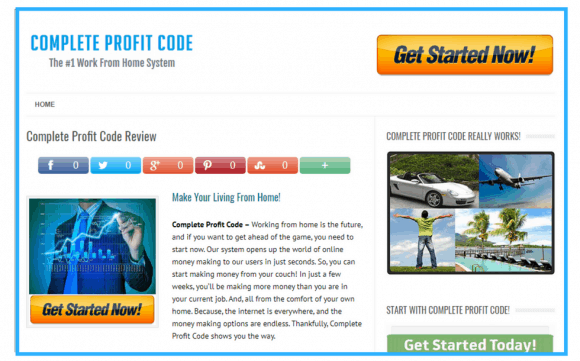 Selling the Dream.
Complete Profit Code and the websites linked to it are trying to sell you a dream, a dream that you can make a lot of fast, easy money online. They know if they can hook you with this dream, they can sell you more worthless make-money-online products.
Bait and Switch.
The actual offer is buried under three layers of websites and at least two "bait & switch" maneuvers.
There's a reason why Apply Knowledge hides the offer behind the Complete Profit Code website. The FTC served Apply Knowledge a restraining order, seized its assets, and is seeking to "put a permanent stop to the operations and return money to consumers." (Source: FTC Press Release. To read the legal papers of this case, go here.)
How to Get Scammed.
If you want to get scammed, visit the Complete Profit Code website and fall for its promise that you can make money in 5 minutes and replace your job in a few weeks. Then click the "Get Started Now" button and arrive at a different website.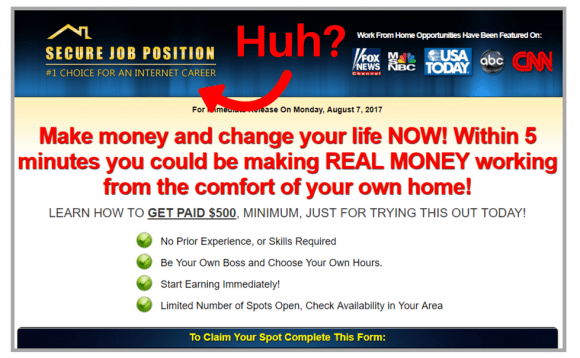 The second website is "Secure Job Position" at www.secure-job-position.com. This second website also promises you can start earning immediately. Plus, it guarantees you can earn a minimum of $500 for trying the program. That's a lie. It also implies that this is a work from home job with limited positions in your area. It's not a job.
You will notice that the website features the logos from several reputable news agencies. You can be sure these agencies have nothing to do with Complete Profit Code.
The Dangerous Part.
On the Secure Job Position website, before you can learn more about the program, you must give them your name, email address, and phone number. Don't do it! If you give them your phone number, you are inviting legions of telemarketers to hound you day and night with expensive make-money-online offers. You can bet your boots these offers will NOT make you money.
It's worth noting that neither website explains what Complete Profit Code is. So far, these guys are selling a pig in a poke.
Deeper into the Beast's Lair.
If you fill in the form on the Secure Job Position website, you go to a very long sales page. This sales page promises "If You Can Spare 60 Minutes A Day, We Can Offer You A Certified, Proven And Guaranteed Home Job To Make Up To $379/Day From Home!"
This hype is meaningless drivel. This exact promise is quoted, word for word, in the FTC case against Apply Knowledge.
There's a ton more hype about making lots of fast, easy money, plus a bunch of testimonials. Much farther down the page, we learn that Complete Profit Code is, wait, they switched on us, this web page is just a long sales pitch for something called "The Secure Job Position System."
The Secure Job Position System is nothing more than the old link posting scam that's been around for ages. It's an eBook that costs $97.
Save your money. You don't need a $97 eBook to show you how to post links. The FREE Online Entrepreneur Certification Course will show you how and it won't cost you a dime.
The truth is, just posting links on the internet will not make you money. The trick is getting the right people to see the links. In other words, you must also know how to drive traffic. Learning how to drive traffic can take months to learn and years to master.
A Worthless Guarantee.
On the Complete Profit Code/Secure Job Position websites, you are promised and guaranteed many things. There is even a fancy guarantee certificate promising you have 60 days to try the system, and if you don't make money you can get a refund. However, if you read the Terms and Conditions, you will see that there is no guarantee and you will not get a refund.
The Final Word on Complete Profit Code.
Nothing about Complete Profit Code or Secure Job Position System will make you money. According to the FTC, if you purchase the $97 eBook that is merely the first level of the scam.
After you purchase the eBook, telemarketers will try to sell you expensive online coaching. They will pressure you to put all of the expenses on your credit card. Ultimately, they will try to pressure you into buying additional services like website design and accounting services of dubious value. In all, the scam can cost you $12,000.
According to the FTC, most people who got involved with the Apply Knowledge scam did not create a functional business but instead incur heavy credit card debt.
A Better Option for YOU…
When you try to find a legitimate way to make money online, you are faced with a world of lies and misinformation. It's a minefield of deathtraps for as far as the eye can see. That is why I'm committed to helping people learn how to make money online the right way.
Making money online is a lot like making money off-line. It takes skill and work. Thankfully, the internet allows you to leverage your work, so you can make more money more quickly.
But, this doesn't mean you can get rich overnight. It means with the right training and support, and if you take action, you can be financially independent in years instead of decades.
And, it's not difficult. I'm confident anyone who can send an email and surf the web is capable of building a successful internet business, IF they are correctly trained and supported. That's why we recommend the FREE Starter Level of the Online Entrepreneur Certification Course.
This FREE Starter Course shows you the fundamentals of internet marketing and will introduce you to a fantastic community of marketers who are eager to help you succeed.
When you sign up for the FREE Starter Course through this website, I'll coach you one-on-one at no cost.
To Learn More, Click Here.
If you found this article helpful or have experience with Complete Profit Code , please leave a comment below.