Big Profit System claims to have a turn-key, cannot fail, system you can use to make multiple checks ranging from $500 to $10,000 every week without a website, without selling anything and without speaking to anyone. However, there's a lot they're not telling you. Follow me to see the Devil in the details.
Product: A so-called "Business in a Box."
Price: $1,280 to $20,280.
Owner: Cannot be Determined.
Opinion: Not Recommended
Big Profit System.
Big Profit System claims to be an automated business in a box that will earn you multiple checks of $500 to $10,000 each week with only a few hours work. On the Big Profit System website, you'll see people showing off lots of checks as proof the system works.
In fact, that is mostly what the Big Profit System website is about, showing off how much money you can make and constantly promising that it's so easy anyone can do it.
Big Profit System promises you don't have to speak to anyone. You don't need a website, and you don't need to sell anything.
According to Big Profit System, practically all you have to do to make these big commission checks is lead people to the "Success Coaches." The "Success Coaches" do all the selling for you and send you the commission checks. What's not to like?
A Big Profit System Review.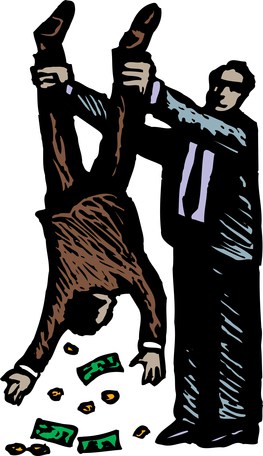 Unfortunately, the Devil is in the details, and here's where it gets ugly. But first, let's establish a known point for our comparison. As we get into the Big Profit System details, I'll be throwing some big numbers at you.
To fully appreciate the insanity of these big numbers, it will be helpful to compare them to something real.
A known point is a kind of like the artificial horizon on an aircraft pilot's instrument panel. The artificial horizon lets the pilot know where he is in relation to the ground. When visibility is impaired, this instrument can mean the difference between life and death.
Likewise, a realistic understanding of what it costs to make money online can serve as our "artificial horizon" when we compare the price of Big Profit System to a legitimate online marketing training program. When you're blinded by the Big Profit System promise of making a lot of money on autopilot, a reality check can mean the difference between throwing away thousands of dollars on nothing and safely dodging the Big Profit System bullet.
Here's our affiliate marketing point of reference. In the real world, outside of Big Profit System, it costs about $50 a month to get the training you need, all the tools you need and all the support you need to build a profitable online business capable of producing multiple income streams.
Remember $50. That is our point of reference, our artificial horizon, as we explore Big Profit System.
Is Big Profit System a Scam?
Big Profit System has five levels. Each level is more expensive than the level beneath it. Also, each level offers a digital product.
To join Big Profit System, you must buy a membership level. When you purchase a level, you are then authorized to sell that level.
The minimum level costs $1,280. However, Big Profit System has several built-in incentives to encourage you to buy at the highest level which costs $20,000, plus a $280 affiliate fee.
If you buy in at the $20,000 level, you will be given a website and authorized to sell all levels.
Once you buy into Big Profit System, your job will be to drive people to your Big Profit System website. This will start them through the same sales funnel you went through. Like you, a visitor will be encouraged to call a "Success Coach" and buy into Big Profit System just as you did.
Obviously, the "Success Coaches" are not coaches at all. They are professional telemarketers hell-bent on getting their commission.
If your recruit buys into Big Profit System, they, in turn, will get a website and will be authorized to promote Big Profit System. The only thing Big Profit System promotes is Big Profit System.
When someone joins through your website, you get half of the money as a commission, minus the $280 affiliate fee.
If someone joins at the first level, which costs $1000, plus the $280 affiliate fee, you get $500. If they join at the top level, which costs $20,000, plus a $280 affiliate fee, you get $10,000.
Remember our point of reference? In the real world, it only costs $50 a month to build a profitable online business generating multiple streams of income. It's insane to spend a penny more and ludicrous to spend $20,000 for a business that looks more like a pyramid scheme than a business.
The Federal Trade Commission states pyramid schemes promise large profits based on recruiting others into their program, not on the sale of goods to the public. Some schemes may pretend to sell a product, but the product is grossly overpriced and used merely as a device to hide the illegal pyramid structure. (Source)
The Final Word on Big Profit System.
It would take a legal investigation and a court hearing to determine conclusively if Big Profit System is a pyramid scheme. However, based on the FTC's definition, Big Profit System may indeed be one. (More on pyramid schemes)
Consider that it is impossible to determine who owns Big Profit System. Legitimate businesses work hard to establish brand recognition and to build relationships with their client base. Scams, on the other hand, hide their identity and burn through their market just as Big Profit System is doing.
What if you spent $20,280 to join Big Profit System and the next day the company vanished? It could happen.
A Better Option for YOU…
When you try to find a legitimate way to make money on the web, you are met with a ton of scams. It's a minefield of traps waiting to take your money for as far as the eye can see. That's why I'm committed to helping anyone learn how to make money online the right way, with a safe and reliable strategy.
Making money online is a lot like making money anywhere else. It takes skill and work. Thankfully, the internet permits you to leverage your work, so you can make more money more quickly.
However, this does not mean you can get rich quick. It means with the proper training and support, you can be financially independent in years instead of decades.
And, it's not difficult. I'm convinced anyone who can send an email and research online has the capacity for building a successful online business, IF they are correctly trained and supported. That's why I recommend the FREE Starter Level of the Online Entrepreneur Certification Course.
This FREE course shows you the fundamentals of online marketing and will introduce you to an amazing community of internet marketers who are eager to help you every step of the way.
When you sign up for the FREE TRAINING through this website, I'll mentor you at no cost.
To Learn More, Click Here.
If you found this article helpful or have experience with Big Profit System, please leave a comment below.