Can you really make over $200,000 a month with One Bitcoin a Day? In the One Bitcoin a Day video, Justin Hagan shows you how to use his highly advanced cryptocurrency algorithm to earn tons of cash on autopilot. However, dig a little deeper and you'll see how much you can really earn. Keep reading to see the Devil in the details.
Product Website: onebitcoinaday.co
Product Cost: Minimum $250 Deposit.
Product Owner: Cannot Be Determined.
Ranking:  NOT Recommended
What is One Bitcoin a Day?
Interest in cryptocurrency trading borders on the hysterical. Thanks to the astronomic rise of Bitcoin and other digital currencies, people from all walks of life are now attracted to cryptocurrency trading in the hopes of making a quick buck. Still, most potential investors know very little, if anything, about cryptocurrencies, and this makes programs like One Bitcoin a Day seem like a fantastic way to earn some quick cash without having to do a thing. Do you think that is really possible?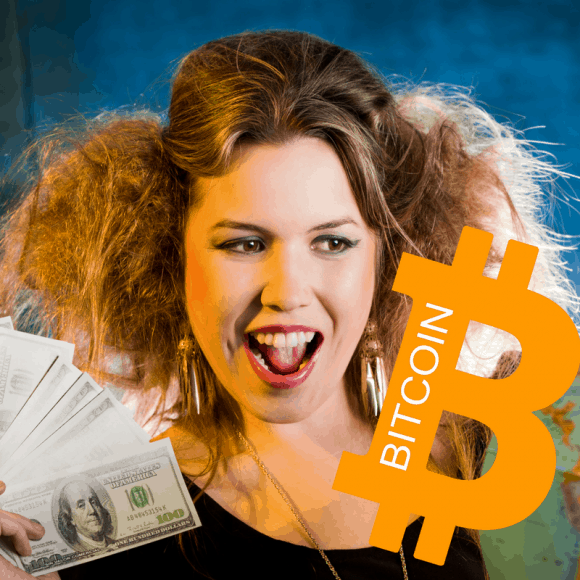 Like many other similar programs, this one attempts to hook people with a video telling them how the program will enable them to make a least one whole Bitcoin per day without working for it. In fact, the video claims that the program will allow you to earn one Bitcoin in only 15 minutes just like the program's founder, Justin Hagan.
This program relies heavily on Hagan to sell customers on its effectiveness and trustworthiness. Some sites even claim that he is a well-known billionaire featured on Forbes' list of the 300 richest people in the world. The only problem is that Justin Hagan doesn't exist.
According to the One Bitcoin a Day sales video, after signing up for the program and paying an initial deposit, users can take advantage of a special algorithm that automatically buys and sells cryptocurrencies for maximum profits.
Although the price of bitcoin has fluctuated wildly in recent months, at the time of this writing, one bitcoin is worth more than $8,000. This means that this cryptocurrency auto-trading software promises you the ability to make over $240,000 a month. The only problem is that there is very little evidence of how or if the program actually works.
Is one bitcoin a day a Scam?
Before signing up for any investment program, it is always important to fully read through the terms and conditions. In this case, the T&C provides a number of details that immediately reveal it to be a scam. For starters, it clearly states that the video is fake and only meant to advertise the 'potential' of its third-party signals trading software. In fact, it actually says that the video is for entertainment purposes only and that there is no guarantee of success.
Furthermore, it goes on to tell how the software is actually a type of Forex and binary options signals auto-trading software, which means it has very little to do with cryptocurrencies. This type of signals trading software is quite commonly used in Forex and binary options trading scams, which promise huge earnings but in reality, are simply a way to steal your money.
When you watch the video again closely, you will also see numerous other clues that the program and Justin Hagan are fake. Despite the British accent used for the voiceover, the video's numerous grammatical errors and low production value aren't the type of thing you'd expect from a company that apparently earns millions upon millions of dollars a year.
How the One-Bitcoin-a-Day Scam Works.
After you sign up for the One Bitcoin a Day program, you will be prompted to make a minimum initial deposit of $250 with Metainvesting. Unfortunately for you, Metainvesting is an unregulated trader, and this means that all you're doing is putting your money in their pockets.
The purpose of One Bitcoin a Day is to entice people to give $250 to Metainvesting in the hopes of earning huge profits almost instantly. Unfortunately, some people are enticed by the video or the supposed live feed of trading results and end up registering. At this point, the apparently trustworthy Justin Hagan will again reappear to explain how he will activate your account and then manage it for you.
This type of managed account is fairly common when using a licensed, regulated broker and allows the broker to completely control the account and make trades on your behalf. However, managed accounts have strict regulations and contingencies that must be met before you can withdraw your money. This means that your withdrawal access will be automatically restricted if you're unable to meet the requirements.
Many auto-trading scams work in exactly this way through managed accounts. The fact that you are unable to control your account means it will be impossible for you to meet the withdrawal requirements, which in turn means that you will have no way of getting your money back once you've made a deposit. In essence, you will find that your withdrawal access has been restricted as soon as you realize it's all a scam and try to get your money back.
In fact, you will usually see that your account is beginning to lose money immediately after you've made your deposit in spite of the claims that you'll earn an entire Bitcoin every day. The problem is that your account will immediately be blocked as soon as you realize this and attempt to withdraw your remaining money, which means you'll lose your $250 or however much you put down as an initial deposit.
A Better Option for YOU…
When you try to find an honest to goodness way to make money via the internet, you are faced with a world of con artists. It's a minefield of deathtraps for as far as the eye can see. That is why I'm committed to helping people learn how to make money online the right way.
Making money online is a lot like making money off line. It takes skill and work. Fortunately, the internet permits you to leverage your work, so you can make more money more quickly online.
However, this doesn't mean you can get rich overnight. It means with the right training and support, you can be financially independent in years instead of decades.
And it's not hard. I'm convinced anyone who can write an email and surf the web is capable of building a successful internet business, IF they are properly trained and supported. That's why we promote the FREE Starter Level of the Online Entrepreneur Certification Course.
This FREE TRAINING shows you the basics of affiliate marketing and introduces you to a fantastic community of internet marketers who are ready to help you every step of the way.
When you sign up for the FREE Starter Course through this website, I'll mentor you one on one at no cost.
For More Info, Click Here.
If you found this article helpful or have experience with One Bitcoin a Day, please leave a comment below. Thank you.