One Click Payday promises to set you up with an account that will automatically make money for you. All you must do with the One Click Payday system is click your mouse, sit back and collect commissions. As you might imagine, there is more to the story. Follow me to see the Devil in the details.
Product: One Click Payday
Price: $37 plus upsells
Website: oneclickpayday.biz
Owner: Kathy Evans (Probably a pseudonym)
Opinion: Not Recommended
One Click Payday.
Anytime an offer promises you can make quick, easy money without working, you know there's catch in there someplace. It's no different with One Click Payday.
What's worse, One Click Payday is so evasive and obscure, it is impossible to learn the details of the program before you buy it. In other words, One Click Payday is selling a pig in a poke. Never buy anything unless you are certain of what you will get.
Is One Click Pay Day a Scam?
When you visit the One Click Payday website, you are immediately promised a weird hack that siphons money into your account. However, watch the video as closely as you wish and study the website and you will not find a clue about this so-called "weird hack."
The truth about the hack is it's nothing more than copywriting. There is no weird hack.
The word scam gets thrown around the internet a lot. Some people think any product that disappoints is a scam. I disagree. I like the Merriam-Webster's Learner's Dictionary definition of a scam. They say it's when deception is used to take people's money. Let's see if One Click Payday uses deception.

Meet Kathy Evans.
A woman voice narrates the One Click Payday sales video. She introduces herself as Kathy Evans as if that really is her name. She claims to be the founder of One Click Payday. The narrator sounds like a professional voice actor, but for the sake of clarity, we'll play along and call her Kathy.
Kathy explains in the video how she is setting up your account and how in moments you'll see how money is being funneled into it. In fact, she promises that with her system, all you have to do is click your mouse, sit back and collect commissions. Do you think this is too good to be true?
The sales video then shows a parade of excited people claiming they've made thousands of dollars with Kathy's One Click Payday. I immediately recognized one of the people in the video testimonials as the Fiverr video spokesperson 'godfather.' I've seen him on so many dubious websites I feel like I know him.
The Truth About This Program
The One Click Payday sales video does not reveal any details about their system. And, they give you no reason to buy other than their vague promises of making a lot of money on autopilot.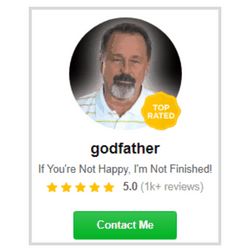 The website claims your purchase is guaranteed by ClickBetter's 60 Money Back Guarantee. If you try to order One Click Payday, you are taken to what appears to be a ClickBetter order page.
However, when I checked ClickBetter's marketplace to see if they offered One Click Payday I could not find it in their inventory. On the ClickBetter website, there is nothing to suggest ClickBetter is promoting or guaranteeing One Click Payday.
Also, when I searched for an affiliate program associated with One Click Payday, I could not find one. If ClickBetter ever promoted and guaranteed One Click Payday it isn't now.
It looks to me like the people behind One Click Payday have stolen ClickBetter's guarantee and order images to create a false impression that ClickBetter backs their product. I don't think it does. In other words, One Click Payday is not guaranteed by Click Better.
The Old False Scarcity Trick.
During the sales video, Kathy reminds us that there are only 45 spots left for One Click Payday. Without it, you won't make millions of dollars.
This is a hollow attempt to make us feel greedy for the pig in a poke they are selling. We don't really know what the heck it is.
To learn more tricks scammers use, read How to Really Make Money Online and Never Get Scammed.
Terms and Conditions
If you take the time to dig through the terms and conditions, you'll discover that when you purchase One Click Payday you are actually joining The Easy Internet Plan, a junk product filled with upsells. It's the rebirth of a now-defunct program called Easy Marketers Club.
Also revealing in the terms and conditions is the admission that once you make your purchase you will be directed to several steps to complete your order. This sounds like you'll be subjected to multiple upsells before you receive what you paid for. None of this sounds good.
You Won't Make Money.
All the people in the One Click Payday sales video who claim they made money are paid to say that. They are just actors. They did not use the system.
Honestly, if the system was as good as they claim it to be, why would they have to pay people to make fake video testimonials?
The Last Word on One Click Pay Day.
All you need to know about One Click Payday can be found buried in the paragraph at the bottom of the website. It says, "The typical purchaser does not make any money using this system." In other words, everything promised in the sales video is false.
Programs like One Click Payday, aka Easy Internet Plan, are designed to take money from people who don't know how to make money online the right way. You won't make money with this program. You will only lose money.
How to Really Make Money Online.
It is possible to make money online. Millions of people do every day, but they don't do it with junk programs like One Click Payday. And they don't do it with anything that claims to be easy and automatic. Any offer that promises quick easy money is probably a scam.
If you are struggling to find a legitimate place to learn how to make money online, I recommend The Online Entrepreneur Certification Course. It's the first step to building an honest to goodness online business. The first 10 lessons are free, no credit card needed.
To learn more, Click Here.
If you found this article helpful, or have experience with One Click Payday please leave a comment below. Thank you!