According to Ms. Wallace, the Wiki Trader software uses a highly-advanced algorithm to earn tens of thousands of dollars per day on autopilot. However, if you read the Wiki Trader Disclaimer, you will discover there's more to the story. Follow me as I reveal the Devil in the details.
Product: Wiki Trader
Product Website: wikitrader.co
Product Cost: $250+
Product Owner: Cannot be determined
Opinion: Not Recommended
Is Wiki Trader a Scam?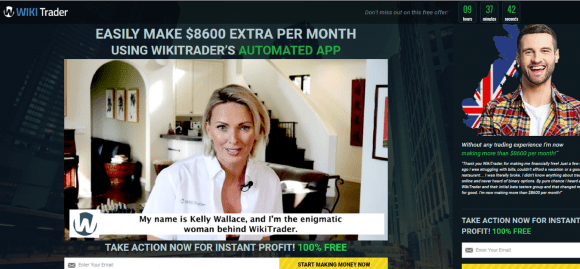 When you visit the Wiki Trader website, a sales video immediately begins, and Kelly "Boobs" Wallace greets you with a brilliant smile and abundant sexuality. Ms. Kelly describes herself as the enigmatic woman behind Wiki Trader.
It's interesting that about midway down the website Reed Wallace is said to be the founder of Wiki Trader. Reed is not mentioned again in any of the sales material, which is rather strange since he's the founder.
In the sales video, Ms. Wallace tells how the average user earns $12,000 a day with Wiki Trader, and many have become millionaires within a year.
According to Ms. Wallace, the Wiki Trader software uses a highly advanced algorithm and does all the work to earn tens of thousands of dollars each day. It is said to work 24/7, even while you sleep.
Throughout the video, we witness numerous images of wealth and luxury. Beginning with the mansion where we first meet Ms. Wallace, to her luxury car, to the private jet that flies her to the Wiki Trader Headquarters.
Ironically, the rear license plate of Ms. Wallace's luxury car is identical to the rear license plate on the stretch limo that meets her at the airport.
At the Wiki Trader headquarters, we meet the computer geeks who created the Wiki Trader software. We know it's the Wiki Trader Headquarters because there is a sign about the size of a shoebox beside the door that says, "Wiki Trader." It probably cost the director all of $5.
The geeks tell us the program is the most advanced software of its kind. They claim it is self-learning and creates the market, but that it's really complicated too.
They also say that the Wiki Trader software is the only binary options system based on artificial intelligence and operates with 100% precision on auto-pilot.
At the end of the video, Ms. Wallace guarantees you will earn $5,000 by the end of your first day if you use the Wiki Trader software. On the second page of the website, there is a written guarantee of over $7,000 in profits each day.
Don't you believe it!
Behold the Wiki Trader Deception.
The first thing you must know about Wiki Trader is that the sales video is for entertainment purposes only. All the promises and guarantees of making money are meaningless. You will NOT make money with Wiki Trader. You will be lucky not to be driven into debt.
Read the Wiki Trader Disclaimer, and you can see they openly admit the video is fiction. They also admit that they don't guarantee you a darn thing. They don't even recommend you trade binary options!
The second thing you must know about Wiki Trader is the website is considered High Risk by ScamAdviser. The owner of the Wiki Trader website is concealing their identity and their true location. Hiding their identity and location is typical of online scams.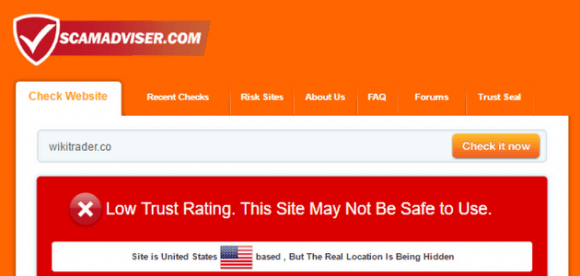 What is Wiki Trader, Really?
Wiki Trader is actually trying to get you to put money into the account of an unregistered binary options broker. At this point, it is essential to understand there are two kinds of brokers facilitating binary options trades.
There are registered brokers and UNregistered brokers. Wiki Trader wants you to sign up with their UNregistered broker which would be a very foolish thing to do
Registered brokers are registered with the United States Securities Exchange Commission (SEC). The registered brokers must follow specific rules, or they will lose their legal status. If they screw you over, you can appeal to the SEC to get your money back.
On the other hand, unregistered brokers are not regulated by anyone and are probably in a country who doesn't care what they do. If an unregistered broker screws you over, there is nothing you can do about it. You're screwed, blued and tattooed!
The SEC warns that unregistered brokers are suspected of stealing people's identities, stealing money out of accounts and manipulating software to force losing trades. (SEC)
The entire charade of the Wiki Trader sales video is designed to trick you into depositing at least $250 into the account of an unregistered broker. They will try to get you to deposit much more, maybe as much as $10,000. If you do, you are throwing your money away. It is doubtful you will ever see that money again.
The odds of making money with Wiki Trader is practically zero. If you think you made money with the software, it is doubtful the broker will let you remove it.
Your winnings are really not there. The broker simply typed some digits into your account to make it look like you made money.
By creating the illusion that you made money, the broker hopes to seduce you into putting all of your money into the account to the point of maxing out your credit card and borrowing from friends and family.
Once the broker thinks you have put all of your money into the account, you will quickly lose it all. That is what the software is truly designed to do.
The Last Word
Trading binary options is not investing. Trading binary options with a legitimate broker that is registered with the SEC is more like gambling than investing. And that's as good as it gets.
Trading binary options with an unregistered broker like Wiki Trader is foolish. If you try to make money with Wiki Trader, the odds are extremely high you will quickly lose every penny and may even go deep into debt.
The Wiki Trader software is free, but it will cost you dearly.
A Better Option for You.
Here's what I recommend. It's not as exciting as magical software that spits out $12,000 a day while you're goofing off, but what I recommend is real. That's a huge advantage. And, what I recommend works.
The truth is, the internet is probably your greatest chance to be financially independent, but you will need to build a legitimate business. It's not difficult, but it does require proper training, support, and commitment.
The place to start is the FREE starter level of the Online Entrepreneur Certification Course. The FREE starter course will show you the fundamentals of online marketing and introduce you to a community online marketers who are eager to help you.
Also, when you signup for the FREE tarter course through this website, I'll mentor you, one-on-one for FREE.
To Learn More, Click Here.
If you found this article helpful or have experience with Wiki Trader, please leave a comment below.