In The Lexington Code sales video, you meet Michael Lexington, Chief Operating Officer of The Lexington Code. Mr. Lexington claims to have a special software that will make you rich, but closer examination reveals a crazy twist.
Product: Lexington Code
Product Website: lexingtoncode.com
Product Cost: $250 plus as much as they can squeeze out of you.
Product Owner: Cannot be determined
Opinion: Not Recommended
Is the Lexington Code a Scam?
Visit the Lexington Code website, and you will see a professionally produced video of London with a sweeping panoramic of the skyline, people far below in the streets and a man in a business suit sipping champagne on the balcony of high-rise luxury apartment.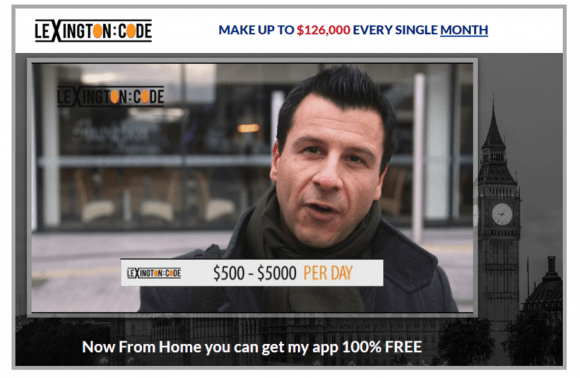 As the video continues, the character who moments earlier sipped champagne introduces himself as Michael Lexington, Chief Operating Officer of The Lexington Code.
Mr. Lexington holds a brown envelope up to the camera and explains it contains the legal verification of every trade The Lexington Code software has made in the past five years. The image of a fancy looking certificate appears on the screen as some sort of authentication that he is telling the truth.
Lexington promises you'll be able to earn $126,000 every month with his software and that he's giving his software away for free to the first 25 people. He explains that he needs beta testers. Although, in his charming British accent, he says he needs "bee-ta" tester.
Lexington claims that his trading software is the most advanced available anywhere and was designed by an actual rocket scientist. A moment later, after we see Mr. Lexington drive through the streets of London in a luxury car, we meet the young rocket scientist responsible for creating The Lexington Code software.
His name is Barry Storyk, and he's the lead programmer for The Lexington Code. He looks to the camera and explains in complete gibberish how The Lexington Code will make you rich.
Read The Lexington Code Disclaimer.
The truth is, The Lexington Code sales video is mildly entertaining, but it is NOT real. Michael Lexington is not real, at least not that Michael Lexington and the young rocket scientist, Barry Storyk is not real either. They are actors.
The crazy thing about The Lexington Code video is it encourages you to trade binary options, but when you read The Lexington Code Disclaimer, you will see that The Lexington Code does not recommend binary options. How crazy is that?
The Lexington Code Disclaimer clearly states that the sales video is for entertainment purposes only and that Michael Lexington, Barry Storyk and all the other lovely characters are actors straight out of central casting.
The Lexington Code wants to entertain you out of your hard-earned cash.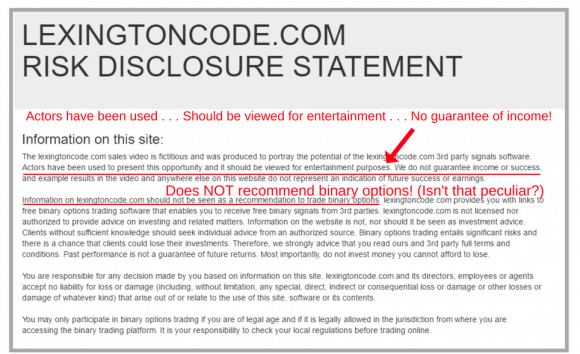 What the Heck is The Lexington Code?
The Lexington Code is trying to trick you into opening a binary options trading account with an unregistered broker and depositing at least $250.
To understand how dangerous this is, you need to know there are registered brokers in the world and there are unregistered brokers in the world.
The registered broker is licensed and bonded and follows the laws governing securities trading and a code of ethics. The unregistered broker ignores the law and thinks ethics are for losers.
To my knowledge, I have never met an unregistered binary options broker face to face, although, if I keep exposing their scams one might come knocking on my door.
The thing you need to know is an unregistered broker does not have a soul, and they do not care if they destroy your finances, your relationships or your life. If you try to make money with The Lexington Code, you will be ruined and extremely humiliated.
The United States Commodity Futures Trading Commission issued an alert warning that unregistered binary options brokers, like The Lexington Code, are known to steal people's money, steal their identities and to monkey with the software, so you lose your trades and lose your money to them!
The Lexington Code Scam.
When you give The Lexington Code your email, you go to a second page where they want more of your information. Specifically, they want your phone number.
Then, our good friend, Michael Lexington while sipping champagne, explains how you could be making thousands of dollars within the next 24 hours. To get started, open an account with The Lexington Code broker, the unregistered broker, the stranger without a soul, and deposit at least $250.
Because you gave The Lexington Code scam machine your phone number, you will get a call from someone claiming to be your private investment advisor.
While this person will pretend to be your new best friend, they are the embodiment of evil. Their mission is to take as much of your money as possible. They will even talk you into mortgaging your house and borrowing money from friends and family.
If you deposit the $250, you will be encouraged to use the auto-trade feature of the software. If you do, you will make several thousands of dollars by the following morning. At least it will appear as if you did, but you will not be able to take this money out of your account because it's not real.
Your personal financial adviser, the embodiment of evil, merely typed some numbers into the dummy software to make it appear that you earned money. You didn't.
If you believe you can make thousands of dollars overnight, your advisor will encourage you to put as much money as you can into your account so you can make more money faster. They will try to trick you into getting money from friends and family, cashing out your retirement accounts, mortgaging the house, putting your entire paycheck into the trade and getting a title loan on your car.
Your advisor's goal is to get $10,000 out of you. So, let's imagine that somehow you did manage to scrape together $10K and put it into your Lexington Code account.
Once The Lexington Code scam machine has your money, it will lock you out of your account, and your personal adviser will ignore you. Your money is gone forever. That is the Lexington Code scam.
Sadly, it gets worse because The Lexington Code now has enough of your personal information and your credit card number to steal your identity and max out your credit card.
A Better Option.
Making money online is a lot like making money anywhere else. It takes skill and sustained effort. Fortunately, the internet permits you to leverage your efforts, so you can make more money more quickly. But, this doesn't mean you can get rich quick. It means with the proper training and support, and if you take action, you can be financially independent in years instead of decades.
And it's not hard. I'm confident anyone who can write an email and research online is capable of building a profitable internet business, IF they are properly trained and supported. That's why I recommend the FREE Starter Level of the Online Entrepreneur Certification.
The FREE Program will show you the basics of online marketing and introduces you to supportive community of digital marketers who are ready to help you. When you sign up for the Starter Course through this website, I'll coach you one-on-one for free.
To Learn More, Click Here.
If you found this article helpful or have experience with The Lexington Code , please leave a comment below.