In most cases, an online offer to trade binary options is a scam. But, there is at least one exception, which I'll discuss in a moment. For now, let me tell you how to recognize the scams.
How to recognize a binary options scam:
If an online binary options scheme does not name the broker or makes huge promises about fast, easy money, it's a scam.
If watching the sales video of a binary options trading offer makes you feel greedy, it's a scam.
If there are testimonies from people who claim to have made lots of fast, easy money, it's a scam.
If the binary options offer is not registered with the Securities Exchange of the country where you live, you are not protected by the law and should consider it a scam.
The Binary Options Scam.
Scam brokers hide behind websites that make outrageous promises of easy wealth with special software. Please understand, no special software will make you rich.
A legitimate binary options broker won't promise you anything. I do not recommend trading binary options, but if you want to trade them, go with NADEX. NADEX is a registered exchange in the United States and has an abundance of training material.
Please understand that trading binary options, even with NADEX, is risky.
What are binary options?
A binary option is essentially a bet. It is a wager that an asset will perform in a specific manner within a particular time frame. When you trade a binary option, you wager that the value of an asset will increase or decrease when expected. You DO NOT own the asset.
NADEX explains it on their website like this: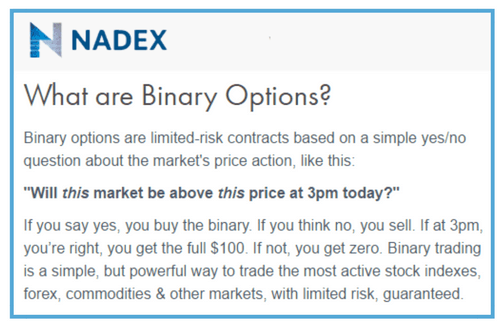 "Limited-risk" does not mean there is no risk. It means you cannot lose more than the money you have in the trade. Remember, losing ALL of the money you have in the trade is a real possibility.
Trading binary options is a dangerous game. The US Commodity Futures Trading Commission has this to say about binary options: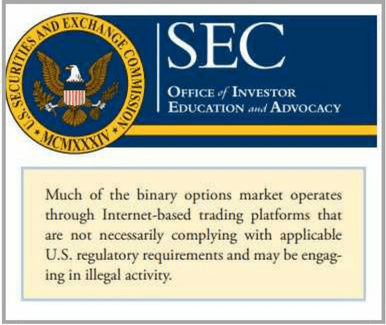 Is Binary Options a Good Way to Make Money?
Typically, binary options websites will suggest trading binary options is investing. It's not. Trading binary options, at best, is nothing more than a game of chance. That's as good as it gets. And, that's IF you trade with a licensed exchange like NADEX!
If you get involved with an unregistered broker, you are giving your money to a criminal in another country and expecting it to end well. It won't. Any money you give an unregistered broker is gone forever.
The Binary Options Subculture.
It's not surprising that gamblers are attracted to binary options trading. It might be that a gambling addict gets the same high by trading binary options with the added benefit of deluding herself that she's investing.
Binary Options Scams.
In spite of all the software, theories, systems and pseudo-science surrounding binary options, I estimate you will lose money 75% of your trades with a legitimate binary options broker.
Based on my two years of investigating online scams, I'm convinced you will 100% of your trades with an unregistered broker. You cannot win. An unregistered broker is just somebody in another country taking your money.
The Scammer's Song and Dance.
Many binary options scam websites are similar. Most people find these sites when they are searching for ways to make money online. A typical story is that some special person has developed a magic software that can make anyone rich on auto-pilot.
Just push a button, and the money will pour into your account. They guarantee it! At least, that's the sales pitch.
If you get involved with a binary options scam, you will be directed to a second page where you are told to open a free trading account and deposit at least $250. They might even tell you your money is safe and can be withdrawn anytime. That's a lie.
Once a scam binary website has your money, they are not giving it back.
Assuming you did open a trading account with a scam broker and deposited $250, within a day, it will appear that you've made a lot of money.
Maybe it looks like you've made a $1000 or $10,000. You haven't. The scammer has just typed some numbers into the software. You will never be able to take this "money" out of your account.
The game the scammer is playing is to convince you that the special software can make you rich. They will tell you that if the software can turn $250 into $10,000 imagine what it can do if you put all of your money into the account. The scam is for you to scrape together all the money you can beg, steal or borrow and put it into your trading account.
The moment you deposit all of your money into the fraudulent broker's account, you will be locked out, and your money will be gone forever. You'll be left broke and humiliated. If you borrowed the money you gave the scam broker, it might take years to pay it back.
A Better Option.
Making money online is a lot like making money anywhere else. It takes skill and effort. Fortunately, the internet permits you to leverage your work, so you can make more money faster online. But, this doesn't mean you can get rich quick. It means with the right training and support, and if you take action, you can be financially independent in years instead of decades.
And it's not hard. I'm confident anyone who can send an email and surf the web has the capacity for building a profitable online business, IF they are correctly trained and supported. That's why we suggest the FREE Starter Level of the Online Entrepreneur Certification.
The FREE Starter Course will show you the fundamentals of affiliate marketing and introduces you to an amazing community of affiliate marketers who are ready to help you succeed. When you sign up for the Starter Course through this website, I'll mentor you one-on-one at no cost.
To Learn More, Click Here.
If you found this article helpful or have experience with binary options, please leave a comment below.