Blast4Traffic presents itself as an instant bulk email and advertising service and claims to give you access to over 70 million targeted buyers a month. That's doubtful. If you could get 70 million visitors to your website for $34.50, you probably shouldn't. Here's why.
Product: Instant Bulk Email & Advertising Service
Website:  blast4traffic.com
Price: $34.50 one time payment
Owner: Can Not Be Determined
Opinion: Not Recommended.
Blast4traffic Review.
Blast4Traffic claims they can send your email message to more than 70 million inboxes every month. Don't let the big numbers blind you to what is happening with Blast4Traffic. Even if Blast4Traffic succeeded in delivering your email to millions of inboxes, it won't help your business. It could harm your business.
It is impossible to deliver high-quality, targeted traffic at such volume and such a low price.
Time or Money.
Quality, targeted traffic is valuable. Because the market balances supply and demand, there will always be a price to pay to attract high-quality, targeted traffic to your offer.
You can pay for traffic with money or you can pay for it with time.
Economics 101.
Remember the theory of Supply and Demand from your economics class? Me neither, but I looked it up and it goes something like this; the greater the demand for a product, the greater the price will be. In other words, the market automatically balances price and demand.
It's the same in the website traffic market. Not surprisingly, the higher the quality of traffic and the more targeted it is, the more valuable that traffic is.
The Google Keyword Planner shows the market value of a visitor for specific keywords. Most marketers would be tickled pink to get a high-quality, targeted visitor to their website for 50 cents.
If a high-quality visitor costs 50 cents each, what kind of visitor do you get for $34.50 per 70 million?
Why We're Not All Rich.
If it was possible to get millions of high-quality, targeted visitors to our product offers at such a low price, we'd all be rich. Unfortunately, cheap traffic does not covert. That's why we're not all rich and I feel really bad about it too.
As Good as It Gets.
Whenever you use a traffic generation tool like Blast4Traffic you are probably doing more harm than good for your business. When low-quality traffic comes to your website, the visitors typically stay on your site just long enough to see what it's about and then they click off.
Imagine sending millions of low-quality visitors to your website in a single blast. How does that look to Google and Bing? The search engines will see millions of visitors bouncing off your site in seconds.
To the search engines, it looks like your site is uninteresting and irrelevant. The rank of your website in the search engines will suffer. That's as good as it gets with traffic generation tools.
Woefully Out of Date.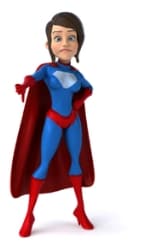 The Blast4Traffic website is nearly 17 years old and it looks like it too. On the internet, technology goes bad faster than sushi.
Two details evident on the Blast4Traffic website suggest how woefully out of date their system might be. The website is not secure, and it is not mobile responsive.
At first, the link between an outdated website and the Blast4Traffic service may not seem to matter. However, if Blast4Traffic doesn't maintain their website, do you think they maintain their service?
As of this writing, 30% of the top million websites use Hypertext Transfer Protocol Secure (HTTPS), and the number is rapidly growing. Without getting technical, https provides some assurance that you are communicating securely with the website and that hackers have not hacked into the communications stream and created a clone website.
No HTTPS!
On a practical level, adding https to a website is easy and inexpensive. Conscientious webmasters add https to their sites to protect their visitors.
Not Mobile Friendly.
The design of the Blast4Traffic website appears to be at least ten years old. It is not mobile friendly. Over 50% of internet traffic comes from mobile devices. Even a neophyte webmaster can create a mobile friendly website. Plus, there are services online that will make an existing website mobile friendly with just a few clicks of a mouse.
Nobody's Home.
Why isn't Blast4Traffic updated, secure and mobile friendly? Either nobody's home or they don't care. Do you think they will deliver the goods they promised?
Blast4Traffic Complaints.
I found a forum thread in Warrior Forum that discusses Blast4Traffic. The forum thread dates back to 2009, but as I mentioned earlier, not much has changed with Blast4Traffic.
The images below are screenshots from that thread. You can see that the two marketers gave Blast4Traffic an extensive try and were disappointed.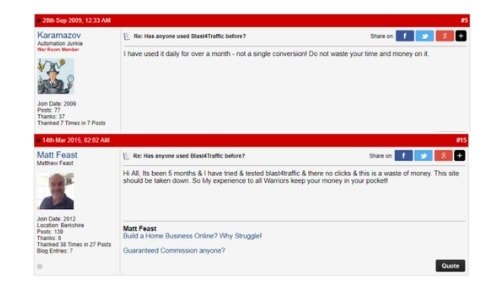 Good News.
Two good things about Blast4Traffic is it's cheap and it's guaranteed. If you want to try Blast4Traffic, it only costs $34.50. There are no upsells, but there are ads inside the members area for other services.
Blast4Traffic is a ClickBank product and backed by ClickBank's famous 60-day refund policy.
The Last Word on Blast4Traffic.
Blast4Traffic is a dud. It appears to me that Blast4Traffic targets inexperienced and poorly trained marketers. Cheap traffic is not the answer.
Who cares how cheap traffic is if it doesn't convert? Instead of cheap traffic, you want traffic that makes more money than it costs.
The Holy Grail of Internet Marketing.
Finding quality traffic that makes more money than it costs is the perpetual challenge facing every internet marketer.
Generally speaking, a marketer can either buy advertising, which costs money, or create content that attracts visitors through Search Engine Optimization (SEO), which costs time.
Where to Start.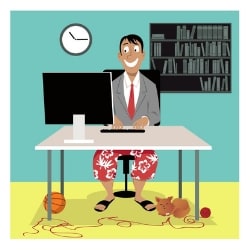 Because paying for traffic can get expensive in a hurry and because it can cost hundreds of dollars to test a campaign, I recommend that new marketers focus on learning SEO first.
Making money with SEO is a slow start. It can take months of work before money begins to flow in, but it is a very forgivable process. If you screw up, it will only cost you your time.
If you screw up buying traffic, it can cost hundreds of dollars.
Building on Success.
Building a profitable website based on SEO has another huge advantage. You can use the profits to fund paid ad campaigns instead of taking money from the family budget or the kids college fund.
Learn for Free.
If you haven't made money online, or if you aren't making the money you hoped for, I encourage you to build an online business based on Search Engine Optimization. The FREE starter level of the Online Entrepreneur Certification Course will show you how. I'm also available to help you at no cost.
To learn more, Go Here.
If you found this article helpful or have experience with Blast4Traffic, please leave a comment below.