Ultimate Home Profits claims to be the most popular income generator on the internet and the top work at home program available. Those are big claims. However, a little investigation reveals a much different story. As I will show, the deception begins at the top, shuffles through a clever side-step and then blinds you with brilliant hyperbole. Keep reading to see the Devil in the details.
Product Name: Ultimate Home Profits
Product Website: ultimatehomeprofit.com links to autohomeprofits.com
Product Cost: $97 and upsells
Product Owner: Could not be determined
Opinion: Not Recommended
What Is Ultimate Home Profits?
On the Ultimate Home Profits website, it claims that Ultimate Home Profits is the top work at home program and the most popular income generator available. And, it claims that by just working an hour a day you can create multiple, automatic streams of income. In the business, that's called marketing. Grandma would call it a bold-faced lie.
You are encouraged to "apply" immediately because there are "limited positions" in your area. That's another whopper.
The truth is, if you click on any of the application forms, you are taken to a different website, the AutoHomeProfits website. Why is AutoHomeProfits hiding behind the website of Ultimate Home Profits?
AutoHomeProfits is probably hiding behind Ultimate Home Profits to protect it from the inevitable bad reviews and scam reports Ultimate Home Profits will attract.
In other words, when Ultimate Home Profits can no longer serve their scam, the owners will ditch it and create a new website to direct people to the scam site AutoHomeProfits.
The Ultimate Home Profits system is NOT the top work at home program, and it is NOT the most popular income generator either. In fact, it is nothing. It does NOT exist. You cannot buy it.
If you try to buy it, you will be sent to the AutoHomeProfits website where, after a lengthy sales page full of empty promises you can buy The Auto Home Profit System for $97.
The product will supposedly teach you how to make money by posting links online. That's an old scam. You will not make money posting links.
Ultimate Home Profits & Auto Home Profits are lying to you.
The only truth I could find on the website was at the very bottom in tiny letters and buried in the middle of text so you wouldn't find it unless you searched for it. More on that in a moment.
The news network icons at the top of the page are meant to make you think Auto Home Profits was featured on these esteemed networks. It wasn't. There is absolutely no association between these networks and Ultimate Home Profits or Auto Home Profits.
The video on the Auto Home Profits website of Patricia Feeney talking about her successful home-based business was stolen and edited to make you think she succeeded with the Ultimate Home Profits/Auto Home Profits system. She didn't. She's a distributor for Market America. Below is the original uncut version of the same video.
The Only Thing You Need to Know.
The thing you need to know about Ultimate Home Profits and Auto Home Profits is at the bottom of the page. Scroll all the way down, past all the fake testimonies and the fake story about the fake Shelly Davis and her fake millions.
Look closely, and you'll see this line;
"The typical purchaser does not make any money using this system."
That's all you need to know.
The Ultimate Home Profits/Auto Home Profits Guarantee.
Their guarantee is worthless. It's backed by ClickBetter, a questionable company with a questionable reputation. ScamAdvisor.com gives Clickbetter a "Low Trust Rating."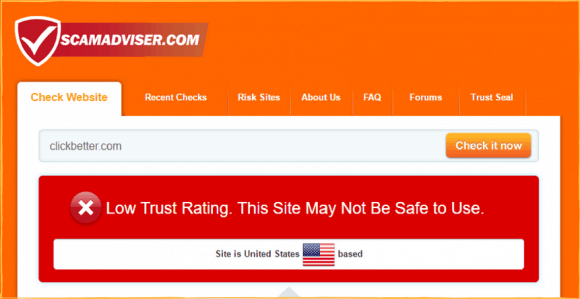 The Last Word on Ultimate Home Profits.
There are dozens, if not hundreds of websites like these. Many of them lead back to the same company hiding behind layers of corporate names.
Their scam is to sell you the dream of making lots of money and living large. If they can get you to buy this dream, they can empty your bank account and max out your credit cards.
Purchasing the Auto Home Profits system is just the beginning. If you buy it, you will be pitched more expensive programs until either you quit, never to see your money again, or your credit card is maxed, and the scammers can't squeeze another penny out of you.
Searching for a Way to Make Money Online?
If you are searching for an honest way to make money online, you won't find it with Ultimate Home Profits, Auto Home Profits or any website that promises you'll easily make millions. However, you can make money if you get the proper training. We recommend the FREE starter level of the Online Entrepreneur Certification Course. To Learn more, Go Here.
If you found this article helpful or have experience with Ultimate Home Profits, please leave a comment below.