When you join The Super Affiliate Network, you are NOT joining a community that wants to help you. When you join The Super Affiliate Network, you enter a privately own marketplace controlled by Misha Wilson and his so-called coaches. The image of shooting fish in a barrel comes to mind.
Product Website: thesuperaffiliatenetwork.com
Product Cost: $1 (30 Day Trial) then $37/mth, plus multiple upsells.
Product Owner: Misha Wilson
Opinion: NOT Recommended!
What is The Super Affiliate Network?
Good grief. The Super Affiliate Network sales video is an hour long. An hour of industrial strength hype and ballistic BS so powerful, it broke my BS meter.
The entire video gives you nothing of value, only implied guarantees and promises of making lots of money while living the laptop lifestyle. Misha, the founder of The Super Affiliate Network, repeatedly claims you can make huge commissions without lifting a finger. That's a lie.
All the testimonials and claims of income are meaningless without also showing how much it cost to make that money. You won't see that.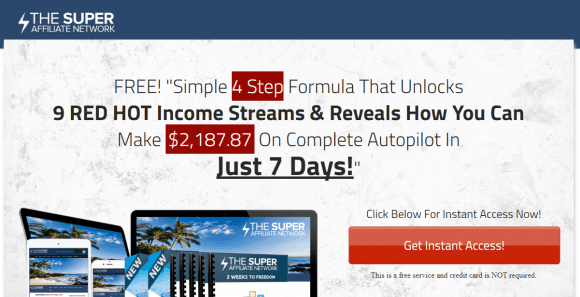 You would think that in a sales video that lasts an hour, there would be a few morsels of valuable content or at least an explanation of what they're selling. Not a peep.
Essentially, it is nothing more than Misha Wilson teasing the listener with promises of making big money while relaxing on the beach. Misha Wilson is selling a pig in a poke.
Rule #1.
Recently I reviewed a near clone of The Super Affiliate Network, My Super Affiliate Mentor. It's also owned by Misha Wilson. It has a 30 minute sales video. In that review. I pointed out a simple rule of thumb for assessing a sales video and how bad it will hurt you if you buy the product.
Here's the rule, tattoo it on your forehead and remember it forever. "The longer the sales video, the less valuable the product and the more it will cost."
Is The Super Affiliate Network a Scam?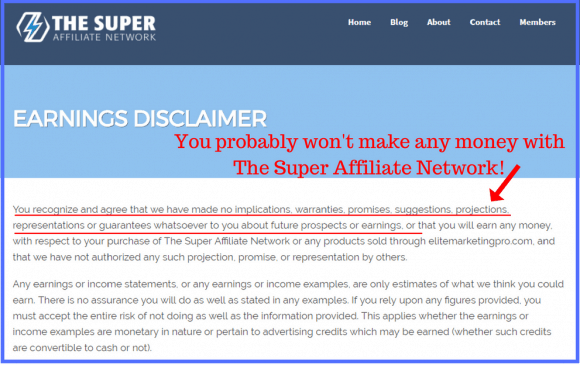 On the surface, it appears that Misha Wilson is selling membership to his online marketing community where the training focuses on building email lists. You can try his program for $1 for the first month. Thereafter, it's $47 a month. Or, you can skip the $1 trial and join for $37 a month.
In what should be a simple process of joining The Super Affiliate Community, you can see the manipulation. Why not have a free trial and after that charge a straight $37 a month? Why complicate it? Why play games?
The truth is, the entry fee is just the beginning. It's just the ticket to the show. If you stick around, it gets very expensive.
Although that painfully long sales video promises you will have everything you need to build multiple streams of income while chilling on the beach, once you're inside The Super Affiliate Network, you will be "encouraged" to purchase upsell after upsell. That's why you are assigned a personal coach. It's the coach's job to push you into buying more stuff.
Here's a secret about The Super Affiliate Network coaches. They aren't really coaches. They're telemarketers.
Don't Be a Fish in a Barrel.
When you join The Super Affiliate Network, you are NOT joining a community that wants to help you. When you join The Super Affiliate Network, you enter a privately own marketplace controlled by Misha Wilson and his so-called
coaches. The image of shooting fish in a barrel comes to mind.
If you believe Misha has the answer to making money online, you will remain fixed in his controlled marketplace and let the coaches talk you into buying one expensive upsell after another.
Why would you trust someone who is trying to fleece you at every turn? That's a lousy way to start a business.
The Super Affiliate Network Refund Policy.
The Super Affiliate Network promises they will refund your money if you're unhappy with the program. However, read the refund policy fine print, and you'll see it is much more complicated, and you will have to jump through a bunch of hoops before you are "entitled" to a refund.
Don't expect to get your money back.
Rule #2.
Here's another rule. Tattoo it on your head beneath the last rule and remember it always, or just write it on a post-it. "The first rule of business is to STAY in business."
The reason most businesses fail is they run out of money. This happens in a couple of ways. Either the owner didn't have enough money to start with, or she foolishly blew the budget before profits were made.
You can't stay in business if you throw your money away on scams and telemarketers masquerading as coaches.
The most successful internet marketers I know started on a shoestring, rarely spending more than $50 a month until profits were coming in consistently. The FREE Online Entrepreneur Certification Course will show you how to do this.
Do you think The Super Affiliate Network wants to help you succeed when they push you into violating the first rule of business? No, they just want to get as much money out of you as possible.
Can the methods taught in The Super Affiliate Network make money? Yes, but you will probably run out of money and motivation before you see results. In addition to the many upsells you are expected to purchase, you will also have to pay for traffic. Buying traffic is expensive and is usually not profitable at first.
There's a better way.
Instead of diving into The Super Affiliate Network and hemorrhaging money until your spouse locks you out of the house, why not learn how money is really made online?
Building a business, either online or off, takes time, commitment and sustained effort. You can throw a lot of money at your business and hope for the best, or you can save your money, roll up your sleeves, and get to work.
The Get to Work Model.
For someone who isn't afraid of work, the strategy for making money online is really very simple. All you do is build
a website, create content for your website and promote products that will help your visitor solve a problem.
When it's earning profits, you can invest some of those profits back into your business by buying traffic. This is how you leverage your business and eventually make the big bucks.
You don't need a coach, and you don't need to spend a lot of money. You just need to learn how to do it right and then do the work.
The totally FREE Online Entrepreneur Certification Course will walk you step-by-step through building an online business based on the simple strategy I outlined above. You'll also get a free website, hosting, training, support, and one-on-one mentoring.
Click Here to enroll for free. No credit card needed.
I'm here for you,