Bitcoin Code inventor, Steve McKay, invites you to  "Ride the Wave of Bitcoin and earn a guaranteed $13,000 in exactly 24 hours." That's a huge promise. But, what is The Bitcoin Code? Can you really make $550 an hour on autopilot? Join me as we look at the Devil in the details.
Product Website: thebitcoincode.com
Product Cost: Minimum $250 Deposit.
Product Owner: Cannot Be Determined.
Opinion: Not Recommended.
What Is The Bitcoin Code?
If you visit The Bitcoin Code website, you are greeted with a sales video presumably narrated by the so-called genius behind The Bitcoin Code, Steve McKay, and told to "Ride the Wave of Bitcoin and earn a guaranteed $13,000 in exactly 24 hours." That's big talk from a man that doesn't exist. However, there's a lot the fictitious Mr. McKay isn't telling us. Let's take a look at the Devil in the details.
Is The Bitcoin Code a Scam?
Continue to watch The Bitcoin Code sales video, and you'll be treated to several testimonials. These testimonials might seem genuine, but I seriously doubt it. At least one is Fiverr actor klevitt70. He's paid to endorse The Bitcoin Code.
Think about it. Steve McKay claims to be the 100 Million Dollar Man and a maker of millionaires. He promises you a 'life-changing' investment opportunity that will make $550 an hour on autopilot and a millionaire in 90 days, but he pays a Fiverr actor forty bucks to fake an endorsement.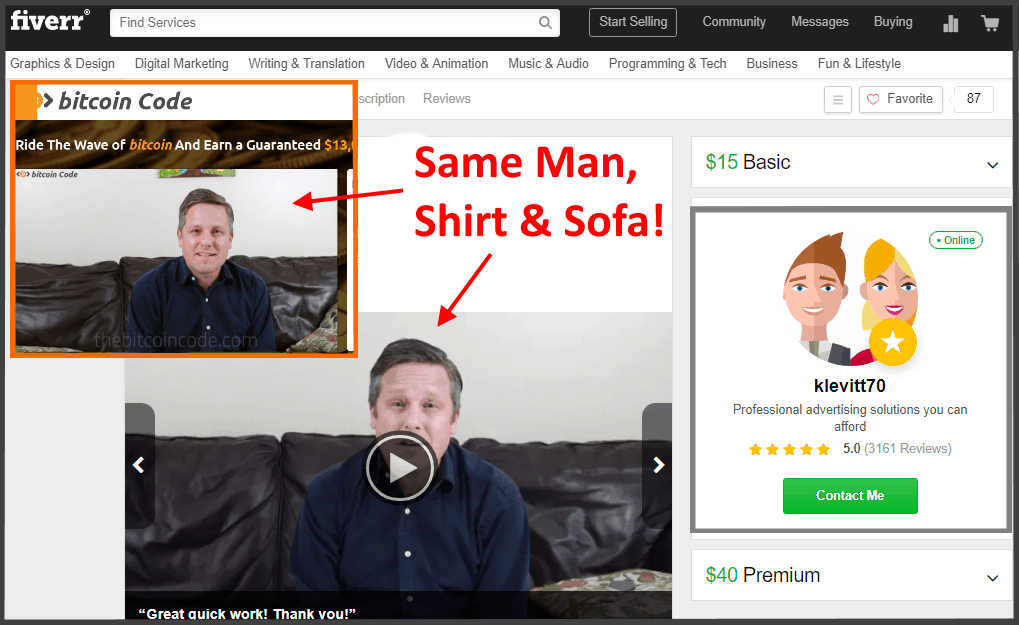 More Fake Stuff.
The Bitcoin Code website is littered with testimonials and pictures of happy members. The images are either stock photos or were stolen from the internet.
Check out the image and testimonial of Chris Hadid. Does he look like Chris Hadid? No. That's not Chris Hadid. That's the author Jean-Edouard Gresy from Amazon.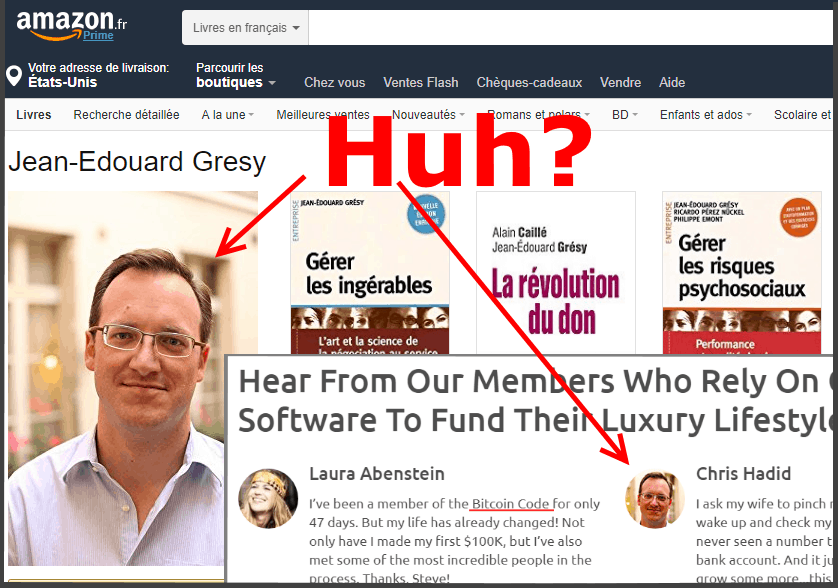 If you want to learn a new internet trick, search google for the images on The Bitcoin Code website. It's easy. It's like proving someone's a liar without having to deal with their crazed self-righteous indignation.
Here's how you do it. Put the cursor on an image, right-click, and select "Search Google for Image." Viola! Proof positive Steve McKay is a big fat fibber.
Why can't Mr. McKay put real testimonials from happy Bitcoin Code members on his website? I'd be happy if I could make $13,000 every 24 hours. He can't put real testimonials on his website because there are none. The real Bitcoin Code members are not happy and they're not rich and they don't want to talk about it. Where their bank account used to be there's nothing left but a smoking crater.
Always Read the Disclaimer! Oh, Wait. You Can't!
Buried in the disclaimer, you might find the truth about The Bitcoin Code or any other website. However, just because a website has an earning disclaimer doesn't mean it's not a scam. On the other hand, if they DON'T have a disclaimer you can bet your last nanobyte it IS a a scam.
There's a lot of frustrated creative writers in the world, and many of them make a living writing highly creative and misleading disclaimers for scam websites. Apparently, Mr. "Millionaire Maker" McKay couldn't afford to hire a creative writer because The Bitcoin Code does NOT have a disclaimer.
If you click on "Disclaimer" at the bottom of the page, you are sent back to the top of the sales page, and the sales video starts over. Click on anything at the bottom of the page, and you will be trapped in the perpetual loop of a parallel universe.
In other words, there ain't no stinking disclaimer, and if there ain't no stinking disclaimer, it's a scam.
The Bitcoin Code a Scam.
It's all fun and games until somebody loses money. The Bitcoin Code is a binary options scam, just one of the thousands infesting the internet like fleas.
If you join The Bitcoin Code, you will not own bitcoin; you will not trade bitcoin, you won't even trade binary options. All that will happen is you will give your money to a stranger in a foreign country, and they will keep it.
How The Bitcoin Code Gets Your Money.
Everything about The Bitcoin Code is designed to trick you into giving them your money, lots of your money. If they can get it, they want it all.
The Bitcoin Code software our genius Steve McKay spent a year of his life inventing is nothing but an empty box with a few flashing lights. The software is free for a reason. That's how they trick you.
Before you can begin trading with The Bitcoin Code, you must give them your phone number, open a trading account and deposit a minimum of $250. When you do, you'll get a call from a treacherous telemarketer pretending to be your devoted trading advisor.
When you deposit $250 into your account, the software goes whir, the lights flash and numbers start to get bigger in one of the columns.
It looks like you're making money. You're not. It's just an illusion. You may as well be watching a digital clock. It's just numbers. Your money is resting snug as a bug in the scammer's bank account. Never to be seen again.
If you fall for the illusion, it gets worse, much worse. Twenty-four hours later, your Bitcoin Code account has grown to over $13,000! Just like they said it would. You might even believe you'll soon be a millionaire.
The treacherous telemarketer cleverly disguised as your personal kind-hearted trading advisor suggests you put all the money you can find into your trading account so you can be a millionaire by next Thursday. She suggests perhaps a cool $10,000.
When you deposit all the money you have in the world, including the money your spouse hides in the litter box, you get locked out of your account, and your kind-hearted personal trading advisor does not answer your calls. Your money is gone forever. That's The Bitcoin Code scam.
One More Thing You Need to Know about The Bitcoin Code.
The FTC and the SEC consider The Bitcoin Code an unregistered binary options broker. An unregistered broker is a business that presents itself as a binary options broker but is not registered with any governing agency. In other words, their behavior is not restricted by laws or ethics.
They can do as they darn well please. The FTC and the SEC have warned that unregistered brokers are known to steal the identities of their clients, manipulate software to force losing trades, lock clients out of their accounts and steal their client's money.
Go here to read the FTC's warning about unregistered brokers.
Go here to learn more about binary options scams. 
There's No Such Thing as Magic Software.
As long as you believe there is some magic software or secret code to making money online, you will be vulnerable to internet scams. There are thousands of scams like The Bitcoin Code ready to take every dime you can beg, steal or borrow. If you fall for them, you will lose money and probably go into debt.
A Better Option for YOU…
When you try to find a real way to make money via the internet, you are met with a ton of false promises. It's a minefield of traps waiting to take your money for as far as the eye can see. This is why I'm devoted to helping anyone learn how to make money online the right way.
Making money online is a lot like making money any other way. It takes skill and effort. Thankfully, the internet permits you to leverage your work, so you can make more money more quickly.
However, this doesn't mean you can get rich quick. It means with the right training and support, and if you do the work, you can be financially independent in years instead of decades.
And it's not difficult. I'm convinced anyone who can write an email and surf the web has the capacity for building a successful online business, IF they are correctly trained and supported. That's why we suggest the FREE Starter Level of the Online Entrepreneur Certification Course.
The FREE TRAINING will show you the fundamentals of internet marketing and introduces you to a supportive community of online marketers who are eager to help you succeed.
When you sign up for the FREE TRAINING through this website, I'll mentor you, one-on-one, at no cost.
For More Information, Click Here.
If you found this article helpful or have experience with Bitcoin Code, please leave a comment below.