My Millionaire Mentor claims that Ryan Matthews became a millionaire within a year and he's now offering to help others become millionaires. But what is My Millionaire Mentor? Our investigation reveals a secret so carefully hidden; you may not see until it's too late. Follow me as I expose the Devil in the details.
Product: My Millionaire Mentor
Product Website: www.mymillionairementor.co
Product Cost: $49 + 19.95/mth + massive upsells to $29,997!
Product Owner: Matt Loyd
Opinon:  Not Recommended.
Update: My Millionaire Mentor and MOBE were shut down by the FTC. To learn more, read What is MOBE About?
What is My Millionaire Mentor?
There are several My Millionaire Mentor landing pages. Not all are identical, but they do share a similar theme.
The story is that a character named Ryan Matthews became a millionaire within 12 months by using a unique system and now he's offering to help a lucky few become millionaires too. What a guy!

Mr. Matthews claims he has dedicated his life to helping others, but apparently, before you can get his generous help you have to cough up $49. And as I'll explain in a moment, if you drink the Kool-Aid, it could cost you more than $50K!
It seems to me that Mr. Matthews has dedicated his life to taking people's money. But, I'm getting ahead of myself.
Is My Millionaire Mentor a Scam?
In the "My Millionaire Mentor" video I saw, there is an endless stream of luxury cars, mansions, yachts, planes, beautiful women, diamonds, cash, and exotic vacations. It is as if Mr. Matthews is rubbing our nose in all the trappings of wealth. He's trying to make us feel greedy.
Greed makes us stupid. If you fall under Mr. Ryan's spell, you may be rendered temporarily mentally impaired. That's the last thing you want when you're making a decision about money.
Interspersed in the parade of luxury and wealth, excited people tell about the big money they made with Mr. Matthew's system. One of the people giving a testimony is Fiverr actor "Jordan831." I've seen him giving testimonies on several other make money websites.
My Millionaire Mentor is a lie. You will not get rich with Mr. Matthew's system. If you join My Millionaire Mentor, you will probably go into debt.
My Millionaire Mentor leads to a globally entrenched Multi-level marketing company. Because My Millionaire Mentor uses lies and deception to trick you into joining an MLM, it fits the definition of a scam.
The My Millionaire Mentor Scam.
My Millionaire Mentor leads to MOBE, otherwise known as My Online Business Empire, My Online Business Education or My Top Tier Business. MOBE is a multi-level marketing company that specializes in selling very expensive training courses. These courses are supposed to teach you how to make money by promoting the same darn training to others. That's a lousy way to make money.
The training courses have little value and are nothing more than an excuse to take people's money.
There are 21 levels in MOBE. The first level costs $49, but as you go higher, each level becomes exponentially more expensive until you reach the 21st level which costs nearly $30K.
Before you can sell a level, you must first buy that level. According to the FTC, this practice meets the definition of a pyramid scheme.
The good news is there's a guarantee. MOBE guarantees you will make money or they will pay you $500. According to MOBE's terms and conditions, if you complete all 21 levels and don't make money they will pay you $500.
In other words, if you buy all 21 levels, which will cost you more than $50,000, and don't make money, MOBE will pay you $500. What a deal!
My Millionaire Mentor magical money making method is nothing more than paying big money for questionable digital training courses which you then sell to others for big money.
MOBE has professional telemarketers standing by to cajole, seduce and strong arm the victims you recruit. All you have to do to make this system work is feed unsuspecting people into the jaws of the beast. That's a lousy way to make money.
My Millionaire Mentor Reviews.
No doubt you will find many favorable My Millionaire Mentor reviews. The favorable reviews are from affiliates hoping to make a buck by selling you to the MOBE machine.
There are plenty of bad reviews from people who have suffered because of My Millionaire Mentor and MOBE.
My Millionaire Mentor Complaints.
You can find countless My Millionaire Mentor complaints online and even more complaints about MOBE. The complaint below which is filed with RipOff Report, is typical of the My Millionaire Mentor complaints I found online.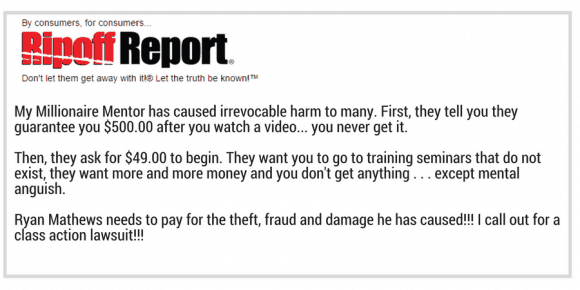 The Last Word on My Millionaire Mentor.
My Millionaire Mentor will not make you rich. You'll be lucky to break even and not go into debt.
A Better Option.
When you try to find an honest way to make money online, you are faced with a ton of false promises. It's a minefield of traps waiting to take your money for as far as you can see. That's why I'm devoted to helping anyone learn how to make money online the right way. And, I will help you.
Making money online is a lot like making money any other way. It takes skill and sustained effort. Fortunately, the internet permits you to leverage your efforts, so you can make more money faster.
However, this does not mean you can get rich quick. It means with the right training and support, and if you do the work, you can be financially secure in years instead of decades.
And it's not hard. I'm confident anyone who can send an email and surf the web has the capacity for building a profitable internet business, IF they are correctly trained and supported. That's why we suggest the FREE Starter Level of the Online Entrepreneur Certification. The FREE Program shows you the basics of digital marketing and will introduce you to a fantastic community of marketers who are eager to help you every step of the way.
When you sign up for the training through this website, I'll coach you one-on-one for FREE.
To Learn More, Click Here.
If you found this article helpful or have an experience with My Millionaire Mentor, please leave a comment below. Thank you.