Google Trader presents itself as the world's most powerful trading software, capable of earning thousands of dollars a day with extreme accuracy. However, my investigation reveals something much different.
Product Name: GoogleTrader
Product Website: gtradersoftware.co
Product Cost: Free (But there's a catch!)
Product Owner: Cannot be determined
Opinion: Not Recommended
What is Google Trader?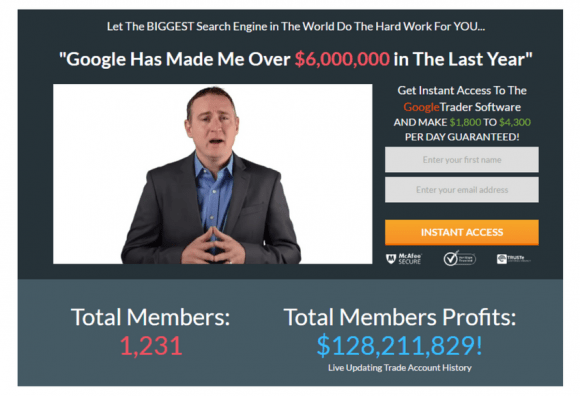 Google Trader presents itself as the world's most powerful trading software, capable of generating an average of $1,800 to $4,300 of pure profits for the user each day with 96.47% accuracy.
According to the Google Trader website, Google Trader gets it enormous power and accuracy from the Google search engine. And because Google knows everything, Google Trader only makes trades it knows will be profitable.
The Google Trader website states that the secret to Google Trader's success is that it uses the same original logarithm as the Google search engine.
On the Google Trader website, you'll meet the character Ben Williams who introduces himself as the CEO of GoogleTrader. Mr. Williams explains how he developed the Google Trader software and how it has been thoroughly tested and verified with beta testers.
The Google Trader software is said to be a fully automatic, set and forget binary options trading system capable of earning $350,000 a year.
Mr. Williams and the narrator of the Google Trader video promises that the average Google Trader makes at least $1,800 of pure profits each day and that you can make money the same day you sign up.
The Google Trader software is free, but there are conditions. Google Trader wants 2.5% of the money you make with the software each month. Plus, you must open a trading account with their broker and deposit a minimum of $250.
Now, let's get real.
What is Google Trader, Really?
Before there was GoogleTrader software, Google Inc., the search engine people, had a business program called Google Trader which they have discontinued. This review is NOT about the original Google Trader created by Google, Inc. headquartered in Mountain View, California.
The GoogleTrader software reviewed in this article has nothing to do with Google, Inc.
Google Inc. does not reveal or share their algorithm with anyone. It is probably the most guarded secret since the Manhattan Project of WWII. This fact alone discredits GoogleTrader who claims their binary options trading software is based on the Google Inc. algorithm. It isn't.
You will not make money with GoogleTrader!
The GoogleTrader website is a sales funnel that will direct you to an unregistered binary options broker. An unregistered broker does not play by the rules. They can say anything they want and do anything they want.
The United States Securities Exchange Commission has specifically warned against unregistered online binary options brokers. The SEC clearly states that online binary options brokers may be participating in illegal activities.
The Last Word on GoogleTrader.
The sole purpose of the GoogleTrader website is to convince you that you can quickly and easily make $1,800 or more per day on autopilot. If you believe this, GoogleTrader can get you to open an account with their unregistered broker and deposit at least $250 into the account. (They will try to talk you into depositing thousands of dollars.)
If you believe them, you might even borrow money to open an account. Many people do in scams like this.
Some people borrow thousands of dollars from friends and family and max out their credit cards. Or worse, they max out their friend's and family's credit cards.
Because the broker associated with GoogleTrader is unregistered, they can immediately freeze your account and take your money. There is nothing you can do about it. Your money is gone forever. If you borrowed the money, you might be paying for your mistake for a long time.
Or, GoogleTrader may simply let you give them all your money the moment you activate their magic trading software. When you try their software, it might automatically make a series of losing trades that transfers your money into the account of the broker. Again, your money is gone forever, and there is nothing you can do about it.
Maybe you read some positive reviews of GoogleTrader online. These reviews are from affiliates who will earn $300 if they can get you join Google Trader through them.
I wish we could make thousands of dollars on autopilot, but that just isn't reality. If you want to know how to earn a substantial income online legitimately, keep reading.
My Recommendation.
There are dozens, if not hundreds, of unregistered binary options brokers online. They all prey on people desperately searching for a way to make money on the internet.
If you are looking for an honest to goodness way to earn an income from the internet, you must first understand there is no magic program that will make you rich overnight.
However, if you're ready to learn a few new skills and are prepared to commit to your success and to persevere, I recommend you enroll in the FREE Starter Level of the Online Entrepreneur Certification Course. No credit card needed. The FREE starter level includes training, support, websites and mentoring.
To Learn More, Click Here.
If you found this article helpful or have experience with GoogleTrader, please leave a comment below.