Extreme Home Paycheck promises you can start making money in 5 minutes from the comfort of your home. That won't happen. Extreme Home Paycheck is selling a dream. If you buy their sales pitch, it can get very expensive. Follow me as I reveal the Devil in the details.
Product: A lousy eBook
Company: Cannot Be Determined
Website: extremehomepaycheck.com
Product Cost: $97 plus numerous upsells
Opinion: Not Recommended
What is Extreme Home Paycheck?
Extreme Home Paycheck is extremely deceptive. Depending on when you enter their sales funnel, you made see a webpage that looks like a news website. It's not. Somewhere, usually at the top in very small print, it will state that the website is an affiliate site and not a news source.

There is only one reason why Extreme Home Paycheck would hide behind what appears to be a reputable news site. You wouldn't trust them if you knew who they are.
If you don't land on the fake news website, you will be taken straight to the first page of the Extreme Home Paycheck site. That too is deceptive.
On the first page, Extreme Home Paycheck promises you can make money in five minutes from home and that there is a limited number of positions available in your area, regardless of where you live. This implies they are offering work at home jobs. They aren't.
Is Extreme Home Paycheck a Scam?
When you visit the Extreme Home Paycheck website, it does not tell you anything about the offer. Instead, it makes vague promises about immediately making money from home and something about a job position in your area. That's nonsense designed to hook you into the scam.
Extreme Home Paycheck is trying to sell you a dream, and that's all it is, a dream in the clouds. Nothing they offer is going to help you make money from home. If you trust them, if you allow them to plant a vision in your head of making lots of money, they will sell you tons of worthless "make money from home" products and charge thousands of dollars to your credit card.
How to Get Scammed.
Click the "Get Started" button on the Extreme Home Paycheck website, and you go to another webpage with a form. The logos of several well-known news companies plastered all over the website has nothing to do with Extreme Home Paycheck. The icons are another attempt to trick you into believing Extreme Home Paycheck is legitimate when it isn't.
On the Extreme Home Paycheck website, you must give them your name, email address, and phone number before you can learn any more about their offer.
Take a moment to let that sink in. You don't know a darn thing about Extreme Home Paycheck at this point. All you know is that they have made some outrageous promises and now they want your personal information including your phone number.
The reason they want your phone number is so their telemarketers can sell you more stuff. It never ends.
Lies, Lies, and Damn Lies.
If you filled in the form on the Extreme Home Paycheck website, please don't, but if you did, you'd go to a very long sales page.
On the Extreme Home Paycheck website, you'll see this curious phrase.
From time to time, this exact phrase pops up on scam websites. I don't know if all the websites with this phrase are owned by the same scammers or if scammers copy this phrase.
I do know that this exact phrase is mentioned in a press release published by the FTC when they investigated a massive scam operation in Utah. That scam operation hid behind several corporations and countless websites. For simplicity, I refer to this scam operation as Apply Knowledge, one of the corporate names they hide behind. Read the FTC press release here.
I suspect the scammers behind Apply Knowledge are also behind Extreme Home Paycheck because Extreme Home Paycheck is nearly identical to the scams investigated by the FTC. Some information in the Extreme Home Paycheck Terms of Service indicates they are now operating out of Nevada.
The First Extreme Home Paycheck Scam.
True to form, Extreme Home Paycheck uses a relatively small scam to set the hook. All the promises and hype on their pages leads to an eBook that costs $97.
If you try to leave the page, the price magically drops to $77.
It's curious to note that although the price of the eBook is no more than $97, Extreme Home Paycheck pays its affiliates up to $150 per sale. If you search for Extreme Home Paycheck at OfferVault.com, a directory of affiliate programs, you will see that affiliates earn a commission that ranges from $110 to $150 for each eBook sold. The payout varies because different affiliate networks promote Extreme Home Paycheck.
How can Extreme Home Paycheck afford to pay more in commissions than they are getting for the eBook? Because the eBook is just setting the hook. They plan to get more money out of you, a lot more!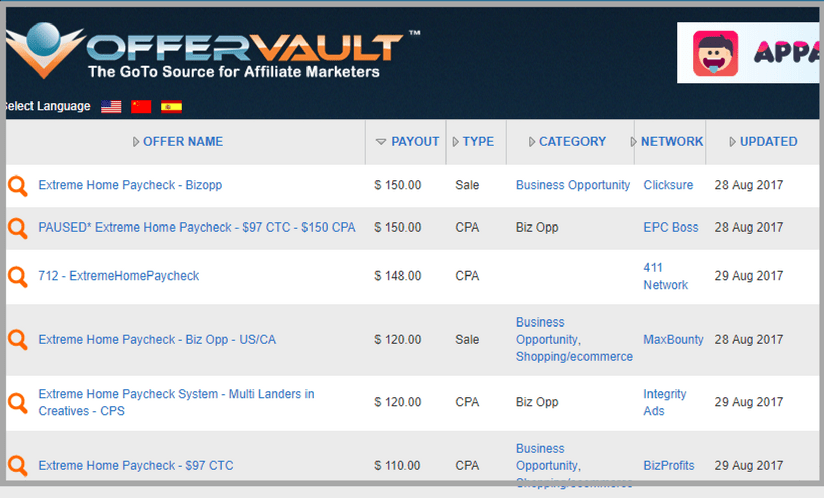 The eBook is the first scam, and it gives Extreme Home Paycheck your credit card info. Once they have that information, the telemarketers spring into action, and things get a lot more expensive. If you let them, they will talk you into buying one worthless product after another, all under the pretense of helping you make money from home.
I can't prove that Extreme Home Paycheck belongs to Apply Knowledge, the same scammers the FTC investigated in Utah, but the similarities are alarming. In their press release, the FTC charges that Apply Knowledge ultimately scams people for $12,000.
I am convinced that if you fell for the Extreme Home Paycheck sales pitch, you will be scammed to death.
The Final Word on Extreme Home Paycheck.
On the Extreme Home Paycheck website, you are promised and guaranteed many things. There is even an official-looking guarantee promising you have 60 days to try the system without risk. This guarantee specifically states that you must notify them within 60 days if you want a refund.
However, read the Extreme Home Paycheck Terms and Conditions, and you'll discover that you must use the product for a minimum of 60 before asking for a refund. Either way, Extreme Home Paycheck may be legally covered when they refuse to refund your money.
In other words, if you give Extreme Home Paycheck your money, don't expect to get it back.
A Better Option for YOU…
When you try to find a real way to make money on the internet, you are faced with a world of rip-offs. It's a minefield of traps waiting to take your money for as far as you can see. That's why I'm committed to helping anyone learn how to make money online the right way.
Making money online is a lot like making money any other way. It takes skill and sustained effort. Thankfully, the internet allows you to leverage your efforts, so you can make more money more quickly online.
However, this does not mean you can get rich quick. It means with the proper training and support, and if you do the work, you can be financially secure in years instead of decades.
And it's not difficult. I'm confident anyone who can send an email and research online has the capacity for building a profitable online business, IF they are properly trained and supported. That's why I promote the FREE Starter Level of the Online Entrepreneur Certification Course.
The FREE Starter Course shows you the basics of online marketing and will introduce you to a fantastic community of internet marketers who are ready to help you build an online business that will change your life.
When you sign up for the FREE TRAINING through this website, I'll mentor you, one-on-one, at no cost.
To Get Started, Click Here.
If you found this article helpful or have experience with Extreme Home Paycheck, please leave a comment below.