Crypto Builder promises to help you build wealth starting with only a $120 investment. Is Crypto Builder the path to financial freedom? And, can it repeatedly earn 200% as promised? A closer look reveals something entirely different. Follow me to see the Devil in the details.
Name: Crypto Builder
Website: crypto-builder.com
Founder & CEO: Hannes Jordaan
Price: $120 (Paid in bitcoin)(No Refunds)
Opinion: Not Recommended
What Is Crypto Builder?
Crypto Builder promises to help you reach financial freedom with their "step-by-step model." According to the Crypto Builder website, their mission is "…to empower you with a… life-changing opportunity to create… wealth for you and your family…" With an initial investment of $120, you can get you started.

The Crypto Builder life-changing opportunity appears to be based on a mysterious system that magically drives superior financial growth with a minimal investment. Although they do not use the word "investment" on their website, they imply that you will be investing and making extraordinary returns.
200% Returns?
Also, at the bottom of the Crypto Builder homepage, you are promised you can earn up to 200% over and over. It's not clear how you will earn 200% or what you will be earning 200% of. There is no mention of a legitimate investment.
How Crypto Builder Works.
If you're curious and want to know how it works, Crypto Builder has a page on their website about their plan. You'll find it in the top menu. Unfortunately, when you arrive on the "How it Works" page, you are confronted by a highly complex compensation plan.
The Crypto Builder Compensation Plan.
The compensation plan is explained in an extremely amateurish and annoying video. If you choose to watch this video, you will learn that the minimum cost of joining Crypto Builder is $120. The $120 is split $20/$100 to buy positions on the first and second level.
You can buy as many positions as you like. Each position permits you to have two referrals under you. In theory, the more positions you have, the more money you can potentially earn. Money is earned as you recruit referrals and they pay to join.
Hannes Jordaan Explains Crypto Builder.
Is Crypto Builder a Scam?
Unfortunately, the Crypto Builder "How it Works" video does not mention retail products or a legitimate investment process. All it shows is that money flows into the bottom of the organization and is distributed to levels higher in the organization.
The fact that Crypto Builder does not have a retail product, does not create value and does not have an investment process, suggests it may be a Ponzi scheme.
No Retail Products.
It is essential to understand that Crypto Builder does not offer a retail product. It only sells positions in their organization. Money is made by first buying a position and then selling positions to other people.
Nothing is Invested.
Although Crypto Builder promises a return on your investment of up to 200%, nothing is invested. Money is earned when a position is sold, and the proceeds from each sale are paid to those upline of that position.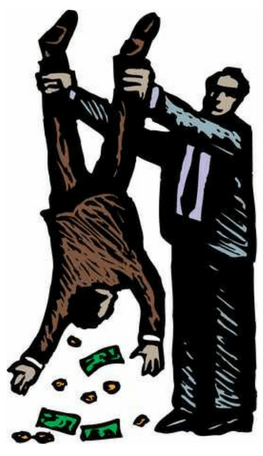 In other words, early investors are paid from money injected into the scheme from later investors. This detail is just as incriminating as the absence of retail sales. In a moment, you'll see why.
Who is Behind Crypto Builder?
There is no mention on the Crypto Builder website of who is behind it. This is a huge red flag. In a business relationship trust is essential. How can there be trust when one of the players is hiding? And, why is he hiding?
Although there is no mention of who is behind Crypto Builder on the website, there is mention elsewhere on the internet that Hannes Jordaan is the founder and CEO.
Also, you can see Hannes Jordaan narrating the Crypto Builder Compensation Plan video. He's the talking head on the top right.
Hannes Jordaan is also associated with Zarfund. Zarfund is, or was, a bitcoin-based scheme very similar to Crypto Builder. A commenter on BehindMLM.com stated that Zarfund collapsed in October 2016. However, the Zarfund website is still online and appears to be accepting signups.
The Zarfund website is almost identical to the Crypto Builder website. Also, a full bio of Hannes Jordaan is on the Zarfund website, see zarfund.com.
What Is Crypto Builder Really?
BehindMLM.com describes Crypto Builder as "Cycler Ponzi." The United States Securities and Exchange Commission defines a Ponzi scheme as "investment fraud that involves the payment of …returns to existing investors from funds contributed by new investors." (Source)
A Cycler Ponzi is a Ponzi scheme that pays members when a cycle is completed. According to the Crypto Builder Compensation Plan, "Payouts are calculated once you cycle a level. You get paid the Bitcoin value of the payout at the market value at the time of cycling."
A defining characteristic of a Ponzi scheme is the promise of high returns without a legitimate investment. Early investors are paid "returns" from money collected from late investors. No value is created. Money is merely shuffled from the bottom of the organization to the top.
A Ponzi scheme works by attracting investors with promises of a high rate of return, but the money is not actually invested. It's merely distributed among the upline. Crypto Builder promises returns of up to 200%, a stupendously unreasonable claim.
All Ponzi Schemes Eventually Collapse.
Instead of investing the money, the Ponzi scheme pays early investors with money received from late investors. When no more investors can be recruited to add money to the scheme, the scheme collapses.
At the time of the collapse, people at the top of the scheme walk away with most of the money. People at the bottom lose every penny they invested.
The Last Word on Crypto Builder.
In my opinion, Crypto Builder is indeed a Ponzi scheme. In the United States and most countries, participating in a Ponzi scheme is illegal. In the US, participating in a Ponzi scheme at any level is a Federal Offense punishable by fines and imprisonment.
The only people who make money with a Ponzi scheme are the people who create it and the few who get in early. The later you get into the scheme the more likely it is you will lose all the money you invest.
How to Make Money Online the Right Way!
You CAN make money online. You CAN work from home and support yourself and your family. You can even become rich.
However, you won't do it with a dubious scheme like Crypto Builder. Making money online is the same as making money offline.
Have you ever made money right after buying a make money product? Have you ever just stepped into a situation where you made money without knowing any skills? Me neither. Making money without skills or creating value doesn't happen. It won't happen offline, and it won't happen online either.
However, you CAN make money online. Millions of people do every day. Stick with it and you can even make a lot of money. First, you must learn the necessary skills. The place to start is the Online Entrepreneur Certification Course. The first 10 lessons are free too.
The Online Entrepreneur Certification Course will show you how to build an affiliate marketing business that makes money 24/7.
To learn more, Click Here.
If you found this article helpful, or have experience with Crypto Builder, please leave a comment below. Thank you!