AWOL Academy promises to teach you how to build an internet marketing business, for a price. But, what is AWOL Academy precisely and what does it cost? Continue reading to see the Devil in the details.
Name: AWOL Academy (aka Project AWOL)
Website: awolacademy.com
Owners: Kameron George & Keala Kanae
Price: $99 – $9,997
Opinion: Not Recommended
What Is AWOL Academy?
Not to be confused with the military acronym for Absent Without Leave, AWOL Academy is a multi-layered internet marketing training program that promotes AWOL Academy.
As far as I can determine, AWOL, aka "Another Way of Life," is a legitimate platform. Because they offer a 14-day money back guarantee, your risk in trying AWOL may be minimal. However, when compared to other internet marketing training available online, AWOL is insanely expensive.
I do not recommend AWOL Academy for several reasons. First, I do not recommend it because a beginner who follows the AWOL training can easily spend a small fortune before they make their first dollar.
The second reason I do not recommend it is that, in my opinion, AWOL exploits their members with excessive training costs and appears to extract as much money as possible from their members long before their members can turn a profit.
By charging so much for the training, AWOL may handicap their members with excessive debt. While this strategy enriches the upper echelons of AWOL, it puts the rank and file members at a huge disadvantage.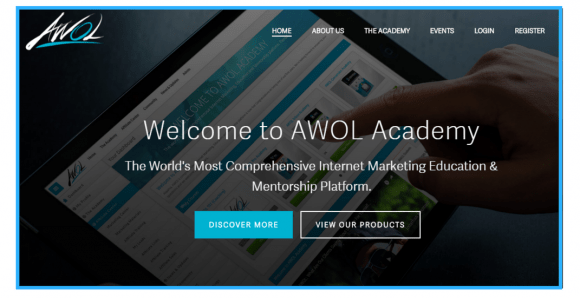 It's just too darn expensive. Most people will have to borrow money to pay for their training. Going into debt to start an online business is unnecessary and ill-advised when far better training is available at a fraction of the cost.
It appears that AWOL exploits the inexperienced aspiring internet marketer. An experienced marketer would never fall for AWOL's excessive pricing schemes.
The truth is, you can learn everything AWOL teaches, plus have all the tools you need to succeed online, for about $50 a month. Keep that figure in mind as I show you how much AWOL training costs.
Getting Started with AWOL Academy.
You can get started with the coaching package at $99. This is part of the beginner Pro Academy course.
Any time a program offers a coaching program, especially when they charge for coaching, I see red flags. Understand that regardless of what AWOL claims, their highest priority is to make as much money as possible from each member.
The purpose of the AWOL coach is to gain your trust and build rapport, so you will do as they suggest. Then they will recommend that you buy their expensive training packages. Because they have built rapport with you, you will probably continue to buy their training packages until you have spent many thousands of dollars.
Spending big money to learn internet marketing is completely unnecessary.
Does AWOL Academy Work?
When we look at the different courses offered, AWOL may indeed teach you internet marketing skills. You can get five different courses. The five courses are listed below. In the following text, I briefly discuss each course and state the price. As you read the prices, keep in mind that you can get better training for about $50 a month someplace else!
Pro Academy
Inbox Academy
Conversion Academy
Masters Academy
Traffic Academy
Pro Academy
Pro Academy begins with a step-by-step instruction booklet that sets you up with a sales funnel on how to get going with your website. You will also have lead-capture pages, email marketing campaigns and a conversion tracking system. This program will run you $297. You're expected to pay $297 for a booklet. That's insulting.
Conversion Academy
This course will teach you the power of storytelling and how to use persuasive language to make sales. This program costs $997.
I'm a storyteller. I've written fiction for over 30 years. My short stories have been syndicated and I have a novel on Amazon. You would be crazy to spend nearly a thousand dollars to learn how to tell a story. You can learn online for free.
If you want to learn persuasion, read "Influence: The Psychology of Persuasion," by Dr. Robert Cialdini. It will cost you about $15 on Amazon.
Masters Academy
The Masters Academy is probably the biggest course on the site. However, you will pay for it as this course will cost you a whopping $3,497.
This is insanely expensive. When you enroll in the Online Entrepreneur Certification Course, I'll show you where you can get all the training, support and tools you need to succeed online for about $50 a month.
In the Online Entrepreneur Certification Course, I'll show you that for the cost of the AWOL Masters Academy, you could get 6 years of better training, better support, and completely secure website hosting for 50 websites, plus all the tools you need.
Traffic Academy
Traffic Academy teaches you how to drive traffic to a website. Not only is this course expensive, but you will also have to pay for traffic. This course costs nearly $1000.
Paying for traffic is tricky and expensive. I recommend before you pay for traffic, first build your online business on free organic traffic. Then when your business is making money, begin to experiment with paid traffic.
Paying for traffic is not suitable for the beginner because it is so expensive beginners typically lose money.
The Final Word on AWOL.
As I mentioned, my biggest issue with AWOL is how darn expensive it is. Most people who try to learn internet marketing quit within the first month or two. This may be why AWOL tries to get all of their money up front before a new recruit quits.
While I do think the money back guarantee is solid, it is only 14 days. That isn't long enough. Anytime someone joins a new program, particularly if they spend a lot of money for it, there is a honeymoon phase. No doubt, the personal coach assigned to a newbie will do her best to prolong this blissful phase well past the guarantee deadline.
Also, there is a lot of information AWOL is not clear about. Such as, is their focus on recruiting as some former members allege? If there is a focus on recruiting AWOL may be structured more like an MLM than a learning platform.
If AWOL is structured like an MLM, you'll waste an enormous amout of time, money and energy building their business. That's a lousy way to make money. Read "The Heartbreak of MLM."
However, AWOL's secrets really don't matter.  What matters is they charge too much for what they deliver.
A Better Option for YOU…
When you try to find a legitimate way to make money via the internet, you are met with a ton of lies. It's a minefield of deathtraps for as far as you can see.
That is why I'm committed to helping anyone learn how to make money online the right way.
Making money online is a lot like making money anywhere else. It takes skill and effort. Fortunately, the internet allows you to leverage your work, so you can make more money more quickly.
But, this does not mean you can get rich quick. It means with the right training and support, you can be financially independent in years instead of decades.
And it's not hard. I'm confident anyone who can send an email and surf the web is capable of building a profitable online business, IF they are properly trained and supported. That's why we promote the FREE Starter Level of the Online Entrepreneur Certification Course.
The FREE Program will show you the fundamentals of digital marketing and will introduce you to a supportive community of online marketers who are ready to help you succeed.
When you sign up for the FREE Starter Course through this website, I'll coach you one on one at no cost.
To Get Started, Click Here.
If you found this article helpful or have experience with AWOL Academy , please leave a comment below. Thank you.