Can you really make $5,000 per day flipping ads with the Ad Profit System?  David Smith claims his free software can make you rich within a year. However, there's a lot he isn't saying. Follow me to see the Devil in the details.
Product Website: adprofitsystem.com
Product Cost: Minimum $250 deposit.
Product Owner: Cannot be determined.
Ranking:  Not Recommended.
What is Ad Profit System?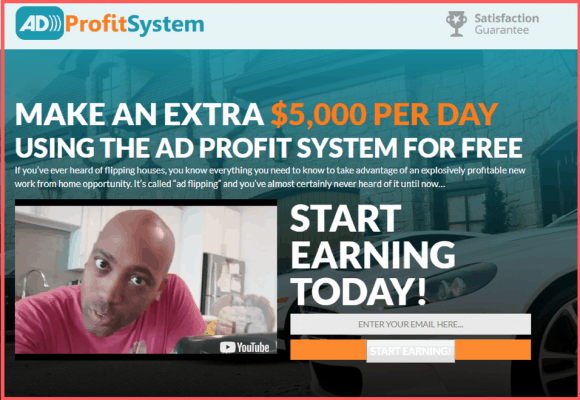 The first thing you notice on the Ad Profit System website is the bold promise "Make an Extra $5000 a day using the Ad Profit System for Free."
Ad Profit System claims to be an "explosively profitable new work from home opportunity." We're told if we understand the concept of flipping houses for profit, we know all we need to know to profit from flipping ads. Best of all, we can start earning today.
Meet David Smith.
The Ad Profit System video introduces us to the founder of Ad Profit System, David Smith. Listen closely, and you can hear a baby crying in the background, so you know Mr. Smith is a real father and would never lie to you. Not!
In the video, Mr. Smith tells us how he "cracked the code" and learned to make money flipping online ads. In his first year using this method, he earned $2.4 Million.
According to Mr. Smith, his free software tracks trends and analysis and makes it easy to profit from buying and selling online ads. Apparently, anyone can do it because no experience is required.
What it Costs.
All we have to do to make money with the Ad Profit System is fund our trading account and then decide if the cost of an ad will increase or decrease. This sounds a lot like trading binary options.
Although the Ad Profit System software is free Mr. Smith reminds us of two expenses, we must plan for. The first expense is "funding" our trading account. Funding is a polite way of saying put some of your real money into an Ad Profit System trading account. The minimum is $250.
Please notice that I mentioned "real money." In a moment you'll see why it is critical, you understand that you are giving them real money.
Later, after you have made your first $100,000 Mr. Smith insists that you donate 5% of your earnings to charity to help the less fortunate. He's such a nice guy.
Unfortunately, you will never make $100,000 with Ad Profit System, and you will never donate 5% of your profits to charity. The truth is, you will never make a dime with Ad Profit System.
Ad Profit System is NOT what it appears to be.
Is Ad Profit System a Scam?
The story we hear in the Ad Profit System video is exciting. Who wouldn't want to earn $5,000 a day by simply flipping ads? Maybe you've already done the math and figured out that if you made $5,000 a day, you would be a millionaire in about six months. Maybe you think you have nothing to lose because the Ad Profit System is free.
Actually, Ad Profit System is NOT free, and you have a lot to lose.
Ad Profit System is a new name slapped on the tired old auto-trading scam. If you take the bait and follow the process, you'll see that Ad Profit System is at least two scams in one and possibly three scams or more. Ultimately, you could lose thousands of dollars.
You will not trade ads with Ad Profit System. You will not make $5,000 a day with the Ad Profit System either, and you will not become a millionaire in six months.
If you join the Ad Profit System, open a trading account and fund it, you will lose money. The more money you give Ad Profit System, the more money you will lose.
Read the Earning Disclaimer!
Oh, wait, there isn't one. Okay, then read the website agreement. Nope, can't find it. Terms of Service? Privacy policy? Nothing but red flags.
How the Ad Profit System Scheme Works.
When you join Ad Profit System, you must give them your phone number. When you do, an "advisor" will soon call you and offer to walk you through the process of opening a trading account.
Joining Ad Profit System and opening a trading account is indeed free. However, before you can start trading, you must deposit at least $250 into your trading account. This is the first scam. There is at least one more and probably several more scams to follow.
Remember, every dollar you give Ad Profit System is gone forever.
Soon after you put $250 into your account, the Ad Profit System software goes to work. There is nothing special about the software. It's just a simple number generator and nothing more.
Fake Money.
By the hour, it will look like you are making money. You're not. All that is happening is the software is spitting out numbers. Within 24 hours, it will look like you made $5000 as promised. Except you didn't. It's not real.
The money you gave Ad Profit System went straight into the scammer's pocket. What looks like money in your account are just numbers the software churned out. It's not money. You can't take it out of your account, and you can't spend it.
The software has only created the illusion that you made a lot of money. If you fall for their trick, they will say you could soon be a millionaire if you deposited more money, say, $10,000 or more. This is the second scam.
If you give them more money, they will keep it just like they kept your $250. Once they have as much money as they can get from you, they will lock you out of your account.
That's the Ad Profit System scam. But, it doesn't stop there.
When you realize you've been scammed, someone will call you. Remember, they have your phone number. This person will pretend to be your new best friend and offer to help you get your money back from Ad Profit System.
All you have to do is pay them 10% of what you lost, in advance. They can't get your money back. All they can do is take more of your money. The scam will continue for as long as they can get money out of you.
No Shortcuts.
There are countless variations to the auto trading scam. Ad Profit System uses the ruse of trading online ads, which makes no sense, but binary options, cryptocurrencies, and FOREX are just as plausible.
There is no such thing as auto trading software that will make you rich with just the push of a button. Anyone who promises you can quickly and easily make a lot of money is preying on your greed and trying to scam you. If you fall for it, you will only lose money.
As long as you believe there is a fast and easy way to make money online, you will be vulnerable to scams.
Making money online is a lot like making money offline. You must either exchange work for it or exchange something of value for it.
A Better Option for YOU…
When you try to find a real way to make money online, you are faced with a ton of false claims. It's a minefield of traps waiting to take your money for as far as you can see. That is why I'm committed to showing people a sane, safe, and reliable way to earn an income online.
Making money online is a lot like making money any other way. It takes skill and effort. Fortunately, the internet permits you to leverage your efforts, so you can make more money faster online.
But, this doesn't mean you can get rich quick. It means with the right training and support, you can be financially independent in years instead of decades.
I'm convinced anyone who can write an email and research online has the capacity for building a successful online business, IF they are properly trained and supported. That's why we suggest the FREE Starter Level of the Online Entrepreneur Certification Course.
The FREE Program shows you the fundamentals of online marketing and introduces you to a fantastic community of digital marketers who are ready to help you.
When you sign up for the FREE Starter Course through this website, I'll mentor you one-on-one at no cost.
To Learn More, Click Here.
If you found this article helpful or have experience with Ad Profit System, please leave a comment below.