30 Day Change is presented as an auto-trading software designed by Professor Simon Crain and capable of earning $2 Mil a year. However, my investigation revealed a disturbing truth. Follow me as I reveal the Devil in the details.
Product Name: 30 Day Change
Product Website: thirtydaychange.com
Product Cost: Free, but there's a catch!
Product Owner: Cannot be determined
Opinion: Not Recommended
What is 30 Day Change?
30 Day Change is the brainchild of Simon Crain, who, according to the website, developed a highly successful trading software when he was a university professor in 2009. The software was so successful, the client who paid for its development claimed total and exclusive ownership for five years.
Meanwhile, the ever-industrious Professor Crain continued to improve on the software and to add additional features and trading strategies. After five years, when his "baby" was again available, the professor made the new improve version free to the public with one condition.
While the software is free, Crain proposes a 97% – 3% partnership. The 97% – 3% partnership allows you to keep 97% of the profit you earn and pay Crain 3% for using the software.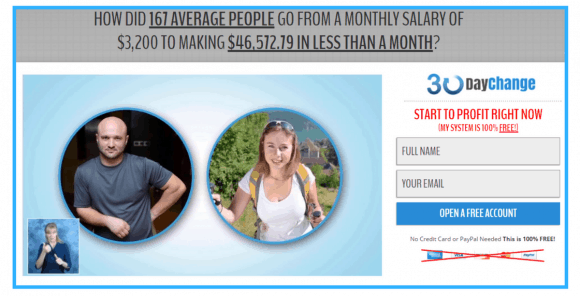 Professor Crain claims there is no risk to you and you get a solid 97% of the profit.
The 30 Day Change is his additional offer not to charge the 3% for 30 days. According to Professor Crain, you could earn thousands of dollars every day and easily earn $100,000 before you have to pay the 3%. Clearly, he wants you to believe that with his program your life will be radically changed in 30 days. I suspect he's right, just not the way you expect.
On the second page of the website, in the FAQ, it states "Users who stick to our guidelines average $8,467 a day, every day." Also, if you join 30 Day Change, you will be assigned a personal advisor to help you get started and to guide you in your trades.
It sounds amazing, doesn't it? Imagine a magic software program that will make you a $100K in a month and $2 mill in a year. And, as our good friend Simon Crain said, it requires no effort, no credit card and only a few minutes a day.
Not so fast. What 30 Day Change appears to be and what it actually is are two, very different things.
What is 30 Day Change, Really?
The 30-Day Change is a meticulously constructed sales pitch that leads to an unregistered binary options broker. It's a story brought to life by paid actors intended to dazzle you with visions of easy wealth.
The voice actor portraying Professor Crain and the parade of amateurs pitching emotional testimonies are all scripted to convince you that you can make a lot of fast, easy money, that your financial worries are over and your dreams have come true.
If you follow the 30 Day Change video, you will be told in various ways that there is no risk and that you don't need a credit card. That's not true.
The software is free and that's all it's worth – nothing. The truth is, if you get involved with 30 Day Change, you will be taking an insanely huge risk, and you will need a credit card.
On the second page of the 30 Day Change website, after you have entered your full name and email, Crain reveals the true purpose of his story.
You will need to open a trading account with their binary options broker. The website does not reveal the name of the broker, but you will be required to deposit at least $250. I suspect the personal advisor assigned to you will use all of his or her powers of persuasion to convince you to deposit much more.
To be clear, every penny you give this unknown and unregistered broker is at risk. It is highly probable you will never see your money again. You certainly will not make money.
The United States Securities Exchange Commission has issued an alert about unregistered binary options brokers. Most online binary options brokers are unregistered and unregulated. They say and do as they please and getting your money pleases them very much.
Here's an excerpt from the SEC's statement on unregistered binary options brokers:
The Commodity Futures Trading Commission's (CFTC) Office of Consumer Outreach and the Securities & Exchange Commission's Office of Investor Education and Advocacy are issuing this Investor Alert to warn about fraudulent schemes involving binary options and their trading platforms. These schemes allegedly include refusing to credit customer accounts, denying fund reimbursement, identity theft, and manipulation of software to generate losing trades. (Source)
On the second page of the 30 Day Change website, as the Crain character and his sidekick talk you into depositing $250 or more into your account, the sidekick says, it's just like putting money in the bank. That's a very dangerous lie.
An unregistered broker is NOT like a bank. An unregistered broker can and will keep your money. That's the whole point of the 30 Day Change song and dance. They want your money. If they get it, THAT is the change you will see in 30 days. Your wallet will be considerably lighter.
Read the 30 Day Change Disclaimer.
You can find the 30 Day Change disclaimer at the bottom of the website in dark, tiny print. It's almost hidden. Click on it and read the disclaimer. You'll notice the first half of the disclaimer is difficult to read because it is in all caps and a blur to the eye. About a third of the way down from the top of the first paragraph, you see this line.
In other words, everything the good professor promised you is false.
The Last Word on 30 Day Change.

Deception defines a scam. All the promises and guarantees made on the 30 Day Change website are nothing but deception. The intention is to manipulate you into putting money into an account with an unregistered binary options broker.
You will not make money with 30 Day Change. You will lose money, perhaps a lot of money.
Want to know more about binary options? I recommend this article.
A Better Option for You!
Want to earn an income online? I encourage you to consider affiliate marketing. Affiliate marketing is an easy and affordable business to get started. Also, the earning potential is unlimited.
The place to learn the basics of affiliate marketing without risk is the FREE Starter Level of the Online Entrepreneur Certification Course.
The FREE Starter Level training includes free training, support, websites and one-on-one mentoring.
To Learn More, Click Here.
If you found this article helpful or have experience with 30 Day Change, please leave a comment below.