Trade Tracker Pro guaranteed Derek Stone that he would make at least $80,000 in his first month of using their software or they would pay him his annual salary of $35,000. You won't believe what happened. Follow me as I reveal the Devil in the details.
Product Name: Trade Tracker Pro
Product Website: tradetrackerpro.org
Product Cost: $250 plus a whopper of a gotcha!
Product Owner: Cannot be determined
Opinion: Not Recommended
Trade Tracker Pro.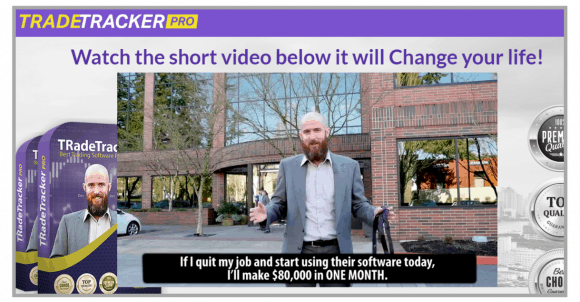 When you visit the Trade Tracker Pro website, you'll meet Derek Stone moments after he quits his job. As he strips off his necktie, Derek explains that Trade Tracker Pro has made him an offer he can't refuse.
Trade Tracker Pro has guaranteed Derek that he will make at least $80,000 in the next month or they will pay him his annual salary of $35,000.
In the first moments of the sales video, we are lead to believe that Derek has not used the Trade Tracker Pro software yet. However, he speaks about it with absolute confidence and even tells us how it will change our life.
Several times throughout the video we are told that Trade Tracker Pro has perfected risk-free binary options trading and that there is no risk. Derek even says that with Trade Tracker Pro losing is impossible! And, if we don't make as much money as we expected in the first 60 days we can get our money back.
And, if risk-free, impossible to lose trading wasn't enough, the software is free, totally free. The good people at Trade Tracker Pro have sweetened the deal for a limited time to allow you to trade ten times faster and make ten times more money.
As we follow Derek's progress, we watch as he makes $20,000 his first-week using Trade Tracker Pro. In his second week, he takes a vacation and gets the phone number of a lovely waitress. In his third week of trading, Derek buys a new Range Rover. And, finally, after a month of trading with the Trade Tracker Pro software, we see that Derek has made over $80,000!
It's amazing, except that it isn't real. Derek and his fast track to riches are no more real than an evening sitcom or a feature movie or anything else created with a script and actors.
If watching Derek's eyes shift left to right as he reads his lines from a teleprompter isn't enough to convince you it's all fake, stay with me. I'll prove to you that the Trade Tracker Pro video is fiction, their promises of making fast, easy money are meaningless, the software is dangerous and our bald-headed friend Derek Stone is an actor.
The Trade Tracker Pro Disclaimer.
At the bottom of the Trade Tracker Pro website, you will find a link to the Disclaimer. Before you sign up for Trade Tracker Pro, you must read the disclaimer. Below is a screen captured image of the top half of the Trade Tracker Pro Disclaimer.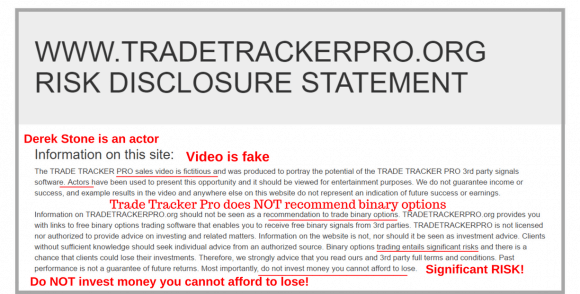 Read the Disclaimer, and you will soon realize that the video is fiction and intended for entertainment purposes only. Do you think the video is entertaining or misleading?
You'll also see that Derek is an actor. Keep reading, and you'll see that Trade Tracker Pro doesn't even recommend binary options. That trading binary options involves high risk and that you should not invest money you cannot afford to lose. Wow, what a downer!
What is Trade Tracker Pro?
Trade Tracker Pro is nothing but a sales video trying to trick you into opening a trading account with an unregistered binary options broker and depositing at least $250.
The Securities Exchange Commission in the United States has issued a warning about unregistered online brokers. I'll get into that in a moment. For now, it's important that you understand there are registered brokers and unregistered brokers.
A registered broker is licensed by the SEC or a comparable agency. A registered broker plays by the rules. If a registered broker cheats you, the SEC will help you get your money back.
An unregistered broker is not regulated in any way and DOES NOT play by the rules. If an unregistered broker cheats you, there is nothing you can do about it.
Actually, to refer to an unregistered broker as a broker is misleading. It's like saying the guys who broke into your apartment and stole your big screen TV are unauthorized movers.
The SEC has issued an alert stating that unregistered binary options brokers are suspected of taking people's money, stealing people's identity and faking trades to make people lose money. Read the SEC's warning here.
The Trade Tracker Pro Software is Dangerous.
If you sign up with Trade Tracker Pro with your email address, you will be taken to another page and asked for more information. They specifically want your phone number. If you give them your number, watch how quickly they call you.
The purpose of the Trade Tracker Pro video is to convince you that you too can easily make $80,000 in a month. When you give them your phone number, you will instantly be assigned a personal broker to help you get started.
The personal broker is NOT your friend, and they are not brokers. They are professional telemarketers who will make a lot of money off of you if they can get you to deposit a lot of money into your Trade Tracker Pro account.
The Trade Tracker Pro telemarketer will try to get you to empty your savings accounts, borrow against your house, max out your credits cards and borrow from friends and family. If you do, you will be in debt for a long time, because you will not make money with Trade Tracker Pro. You will lose money.
Every penny you put into the Trade Tracker Pro account is gone forever. You will never see it again.
If you put your money into the Trade Tracker Pro account, you are giving your money to strangers who have admitted their sales video is a lie.
Trade Tracker Pro is not about making you rich. It's about robbing you blind.
Trade Tracker Pro Reviews.
If you do an online search for more information about Trade Tracker Pro, you will find a lot of good reviews and a few critical reviews.
The positive reviews are from affiliates who will earn $350 if they can get you to sign up for Trade Tracker Pro through their affiliate link. Below is a screen capture image was taken from OfferVault which shows the $350 payout.
If you received a link to Trade Tracker Pro through an email, unsubscribe from that list. Whoever sent it to you is not your friend.
Most of the critical reviews of Trade Tracker Pro are pitching similar binary options offers with other unregistered brokers who are just as dangerous. The stories for these other unregistered brokers might be different, but they all want you to deposit at least $250 into an unregistered account. That would be foolish.
The Last Word on Trade Tracker Pro.
Trade Tracker Pro is a scam. The video is designed to make you feel so greedy to make fast, easy money that you give them every dollar you can beg, steal or borrow.
The only magical thing about Trade Tracker Pro is how efficiently it changes your money into their money.
You will not make money with Trade Tracker Pro. You will lose money, and possibly go deep into debt.
A Better Option for YOU…
As long as you search for magic software that will make you rich, you will be at the mercy of scammers like Trade Tracker Pro and the hundreds of other scammers who promise you fast, easy money. There is no magic software or magic button or secret formula that will make you rich. However, you CAN learn to leverage the internet to become financially independent. The key is to get the right training and support.
The internet IS the opportunity. I'm confident the internet is the greatest chance most people will ever have to be financially independent. And, it's not difficult. Anyone who can surf the internet and write and email can build a profitable online business.
If you want to learn how to tap into the internet to generate a phenomenal income for you and your family, I recommend that you begin with the FREE Starter Level of the Online Entrepreneur Certification Course.
The FREE TRAINING will show you the fundamentals of internet marketing and introduce you to a wonderful community of marketers who are eager to help you.
Also, when you signup for the FREE TRAINING through this website, I'll coach you one-on-one for FREE.
To Learn More, Click Here.
If you found this article helpful or have experience with Trade Tracker Pro, please leave a comment below.