On its website, Scentsy implies you can "make some extra dough" with its opportunity, but is Scentsy a good opportunity or just another multi-level marketing company spewing hype and delivering heartache?
Is Scentsy a Good Opportunity? According to the Scentsy Income Disclosure Statement, very few Consultants earn a profit, and most lose money. Scentsy, Inc. Policy and Procedures states Scentsy is NOT a business opportunity.
Is Scentsy a Good Opportunity?
Because Scentsy uses a multi-level compensation plan, in this article I will refer to it as a multi-level company or MLM.
Apparently, whatever Scentsy is offering, it's not an opportunity.
According to Scentsy Inc., Policy and Procedures, Section 4.1, when you become a Scentsy Consultant, you are an independent contractor and did not purchase a business opportunity.
In October 2016, then Chairwoman of the Federal Trade Commission, Edith Ramirez, told Direct Selling Companies, a legitimate MLM must accurately represent its business opportunity and what a participant is likely to earn.
It appears that instead of accurately representing its business opportunity, Scentsy chose to declare it is not offering a business opportunity at all.
And the numbers prove this. According to industry data and Scentsy, Inc. documents, most Scentsy Consultants lose money and quit.

Why You Can't Win with MLM (Video)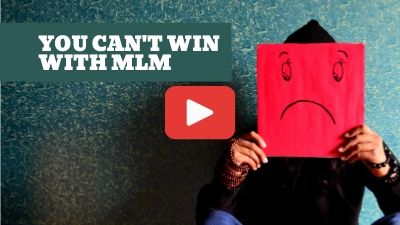 If you don't see the video, Click to Watch Why You Can't Win with MLM.
3 Secrets You Must Know about Scentsy.
1

Scentsy is NOT a business opportunity.

2

Most Scentsy Consultants earn less than $140 a YEAR!

3

Less than 1% of Consultants earn a full-time income.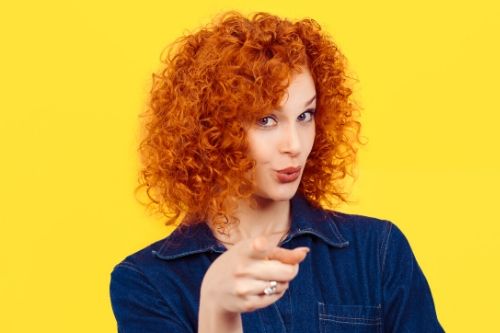 You Are the Customer.
Scentsy may dodge the opportunity issue, but the implications are clear. People expect to make money when they join Scentsy.
Scentsy does not directly promise an opportunity. The promise to make "extra dough," as stated on the Scentsy website, is not a promise to make money.
However, people are joining for a reason, and that reason is probably to make money. If people knew Scentsy did not offer an opportunity, why would they join?
Are they joining merely to throw money at Scentsy and buy over-priced products? That doesn't make sense.
In the case of Scentsy, perhaps it is the assumption of opportunity that motivates people to become Consultants.
Scentsy's secretive denial of "opportunity," is only half the story and half the deception.
Not only is there not an opportunity, but the assumption of opportunity turns most Consultants into customers.
Scentsy makes money with every transaction between the company and the Consultant.
Buy a starter kit? Scentsy makes money. The Consultant spends money.
Buy products to qualify each month? Scentsy makes money. The Consultant spends money.
Any Consultant who tracks how much of their money is going to Scentsy, Inc. will quickly see the truth. 
They are the customer.
Take away the emotional attraction of making money, and all Scentsy offers are overpriced products.
That's the dirty little secret of MLM. Consultants are first and foremost customers.
It's where most of the money earned by the company comes from.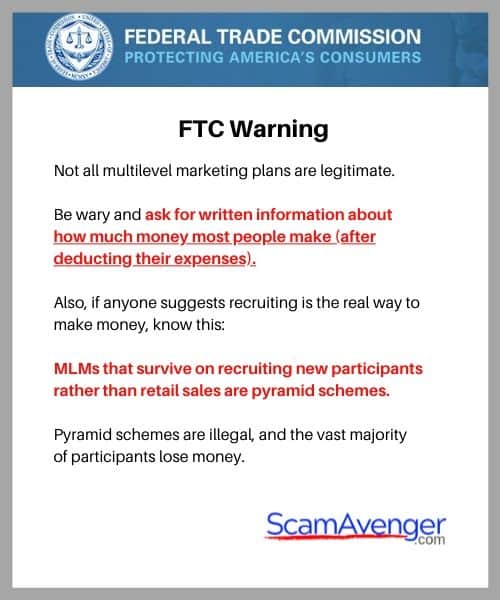 FTC Warning.
The Federal Trade Commission has a lot of information on its website about MLMs and how some may not be legitimate.
The FTC cautions us that there are two things we must know before joining Scentsy.
1

How much Scentsy Consultants are actually earning

2

Does Scentsy promote recruiting as a way to make money?
How Much Do Scentsy Consultants Earn?
In the Scentsy Income Disclosure Statement for 2018, we see that Scentsy divided its Consultants into 2 groups.
The first group was made up of all Consultants who were active throughout the entire year. This group was about 31% of all Consultants.
The average income for this group was $1,989 for the YEAR, and BEFORE expenses were deducted!
The second group was made up of Consultants who were not active the entire year. They either quit or were terminated. This group was 69% of all Consultants.
Let that sink in, about 70% of all Scentsy Consultants leave the company within a year.
Discover
Your Path to Financial Freedom!
Free Coaching & Training
The average income for the second group was $239 for the YEAR, and BEFORE expenses were deducted!
Note that the yearly income figures were before business expenses were deducted.
We know that every Consultant purchased a Starter Kit for $99. That means for the second group, they made no more than $140.
They probably made much less.
In his research published on the FTC's website, Dr. Jon Taylor estimates the average business expenses for an MLM business is about $2,500 a year.
If we deduct $2,500 from the average income of each group, it appears that nobody made a profit.
However, we can see in the Scentsy Income Disclosure that somebody earned nearly a million dollars. The problem is that so few made a profit that it is statistically insignificant.
In other words, only a tiny fraction of all Scentsy Consultants earned a profit.
Everyone else lost money.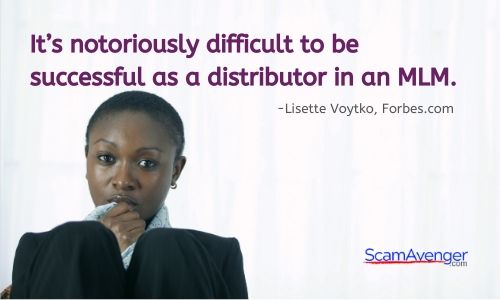 Does Scentsy promote recruiting as a way to make money?
The Scentsy Compensation Plan has 8 levels. Except for the first 2 levels, Escential Consultant and Certified Consultant, every level requires recruitment.
FTC Warning Revisited.
The Federal Trade Commission warns us that when we consider joining an MLM like Scentsy that we find out how much most Consultants actually earn.
In Scentsy's case, most Consultants lose money.
The FTC also warned that if an MLM promotes recruiting as a way to make money, it may not be a legitimate opportunity.
The Scentsy Compensation Plan shows recruiting is necessary at every level above the first two levels.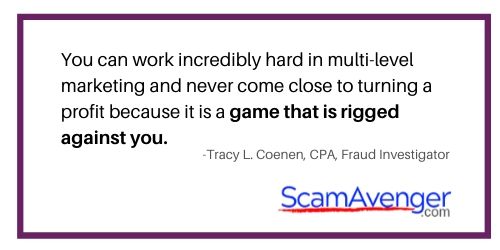 Scentsy's Unstated Objective.
Before you join Scentsy as a Consultant, understand that Scentsy was not created to help you make money. Orville and Heidi Thompson launched Scentsy as an MLM in 2004 to make money for themselves.
Mr. Thompson had a long history as an entrepreneur before founding Scentsy. By any standard imaginable, the Thompsons have been incredibly successful.
In less than 7 years, Mr. Thompson grew his business to over half a billion dollars in annual revenue, an accomplish any businessman would envy.
While I admire Thompson's achievements, the point is, Scentsy is not a charity. It's a business.
Like any business, Scentsy's primary objective is to maximize profits. While this is a legitimate objective, it achieves this objective by exploiting its salesforce.
And that's the rub.
One of the characteristics of MLM is that its salesforce is self-funding. In other words, instead of the company paying the expenses of a salesforce, the Consultants pay the costs.
The Scentsy salesforce costs the company little or nothing. Not only does the salesforce pay the expenses of the company, the Consultants probably buy most of the Scentsy products.
While Scentsy is shouldering its Consultants with expenses, it is channeling most of the profits to the company coffers and a few professional marketers at the top.
The company and a few at the top profit at the expense of everyone below them.
A Scentsy Overview.
Scentsy traces its history back to a sheep farm in 2003, where Kara Egan and her sister-in-law Colette Gunnell made wick-less candles.
In 2004, Orville Thompson, and his wife Heidi, purchased Scentsy and launched it as a multi-level marketing company. Kara Egan stayed on as a Scentsy Consultant and reportedly had over 42,000 in her downline in 2012.
Kara Egan's downline was 20% of the Scentsy salesforce for that year. This shows that people who join an MLM early have a huge advantage over those who join later.
Building on its flagship product, wick-less candles, the company now has an extensive product line, including personal care products, laundry care fragrance products, and scented greeting cards.
Company revenues peaked in 2012 at $560 Million and 218,159 Consultants. Since then, company revenue and the number of Consultants have declined each year.
In 2018, Scentsy earned $468 Million in revenue with only 131,000 Consultants.
As awareness grows about the realities of MLM, Scentsy's revenues will probably continue to decline.
Scentsy Income Disclosure Statement.
The Scentsy Income Disclosure Statement is misleading. 
However, with close examination, we can see it statistically proves a success as a Scentsy Consultant is nearly impossible.
By dividing the Income Disclosure into two groups, losers and winners, Scentsy makes the average income of the winners look substantially higher.
Manipulating the data is a violation of the DSA Code of Ethics.
Both the Direct Selling Association and the Federal Trade Commission implore MLMs to publish accurate and verifiable Income Disclosure Statements.
The DSA Code of Ethics states that prospective independent salespeople must be given enough information to enable them to properly evaluate the opportunity and income potential.
Edith Ramirez, former chairwoman of the FTC, demanded that legitimate MLMs accurately represent their business opportunity in a truthful, non-misleading, and substantiated manner.
Scentsy fails to provide this information and any means of verifying its accuracy.
In its Policies and Procedures document, Scentsy states that a Consultant is not buying a business opportunity.
This statement may shield the company from the requirement of providing accurate, non-misleading, and verifiable information.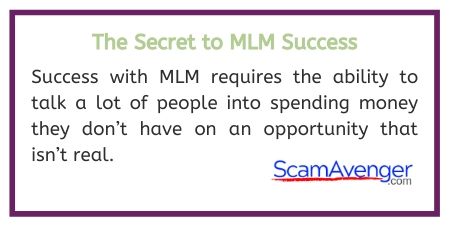 How the Scentsy Income Disclosure Misleads You.
Respecting Scentsy's copyrights, I will not reproduce the 2018 Income Disclosure here. You can open it in a new tab and follow along if you click Scentsy Income Disclosure.
The first and blatant manipulation of the Scentsy Income Disclosure Statement is that it is divided into two groups. Group 2 is the losers and low-income Consultants.
By "loser," I mean Consultants who obviously lost money.
By taking out the loser and low-income Consultants, it makes the numbers in Group 2 appear more substantial, creating the misleading impression that a lot of money can be made with Scentsy.
Remember, Scentsy terminates Consultants who are not active.
In other words, the Consultants who purchased a starter kit and purchased products but failed to "qualify" by selling $200 worth of product each month were "let go."
We don't know how many were "let go" or who quit. Industry averages suggest this would include most Consultants.
The largest pool of people who lost money with Scentsy is included in the Income Disclosure Statement as Group 2.
Group 2 is 91,813 people, and they earned an average of $239 for the year BEFORE deducting business expenses. The top earner in Group 2 made $18,002.
Scentsy's numbers are misleading because they include the majority who lost money and quit or were terminated, AND at least one person who made $18,000.
The $18,000 outlier dramatically skews the average income for Group 2.
Group 1 is skewed even more dramatically.
Group 1 is made up of Consultants who have been with Scentsy for a year or longer. In 2018, this was 41,571 Consultants.
The top earner made nearly a million dollars at $961,423, but the average income was only $1,989 for the year, BEFORE expenses!
Scentsy Median Annual Commissions.
More revealing is the Median Annual Commissions.
If the Median Annual Commissions and the Average Annual Commissions were the same, we would know that the commissions were evenly distributed from the lowest to the highest.
However, the Median and the Average are NOT the same.
In fact, there is a vast difference between the Median and the Average.
The Average Income in Group 2 is $1,989.
The Median Income in Group 2 is $697.
What does this difference tell us? It tells us that most of the income is concentrated at the very top of the salesforce.
Look closely at the median annual commissions.
You'll see that most Consultants who were with the company for a year or longer earned less than $697 for the year BEFORE expenses were deducted.
That's as good as it gets!
Is Kara Egan the Top Earner?
In 2012, one of Scentsy's founders, Kara Egan, had 42,000 Consultants in her downline.
A downline that size is about 32% of Scentsy's salesforce.
If Ms. Egan is not the top earner in Scentsy, she must certainly be among the top earners.
Ms. Egan became a Scentsy Consultant at the launch of the Scentsy MLM. Her success clearly shows the staggering advantage of joining early.
The Scentsy Compensation Plan.
Because the Scentsy Compensation Plan is copyrighted, I will not reproduce it here. You can open it in a new tab and follow along by clicking the Scentsy Compensation Plan.
The real purpose of the Scentsy Compensation Plan is to create the illusion that you can make money. It's the foundation of the Scentsy recruiting strategy.
As we've seen, the Scentsy Income Disclosure statistically proves that success as a Scentsy Consultant is nearly impossible.
Most Scentsy Consultants will quit their first year, after spending hundreds of dollars on a starter kit and products.
This fact is clearly shown in the Scentsy Income Disclosure Statement discussed above.
A danger of the Scentsy Compensation Plan, you must be aware of is the offer to "certified for life" by generating a $1000 worth of business.
In the first two levels, if you generate 1,000 PRV, you will be certified for life at those levels. It's not clear what this means.
However, the offer of life certification appears to be a desperate maneuver by Scentsy to product load its new Consultants.
Most Consultants will buy a starter kit and products, fail to make sales, and either quit or be terminated without ever earning a profit.
Scentsy knows this.
The offer of life certification looks like an attempt to entice a new Consultant to buy $1000 worth of products before they inevitably quit or are terminated.
It's pure exploitation.
Scentsy Complaints.
There are a lot of positive reviews of Scentsy online, but there are also a lot of complaints too. Many of the claims are about the high price and poor quality of the products.
The majority of reviews on SiteJabber.com were negative with 1 star.
Scentsy complaints on SiteJabber include headlines such as; Total Rip Off Products, Don't Waste Your Money, Total Crap, Garbage Company, and, Overpriced, China Made Crap."
One reviewer stated that "Many Scentsy products can be found at Walmart and Hobby Lobby."
Another reviewer on SiteJabber wrote, "I can get the same things for way less money, almost anywhere else."
Indeed.com has nearly 500 reviews with an average 4.3-star rating. Most of the comments on Indeed.com were from employees who worked for the company.
However, there are several harsh complaints in the mix from Consultants and customers.
One reviewer wrote, "the products are expensive."
Another wrote, "Too expensive, consultant harassment, too saturated and competitive."
A former Scentsy Consultant wrote on Indeed.com, "Too many consultants. My area was saturated. No help from the home office. If you didn't sell enough, you were let go."
Another former Consultant wrote, "Working for Scentsy will cost you more money than you will make. You'll spend hundreds of dollars on supplies for little pay. The company does not care about its consultants."
Still, another Consultant wrote, "can be difficult to sell because of so many consultants in an area."
A former Consultant wrote, "After Scentsy, I'm done with direct sales."
In a Q&A of Indeed.com someone answered a prepared questioned about how the CEO of Scentsy could improve the company. Her answer is very revealing about the realities of the business. Here's what she wrote:
"Stop pressuring salespeople and making them feel like failures. Take off the mandatory $200 in sales each month. Nobody can pull that off without going broke."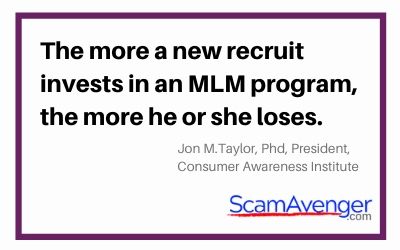 The Last Word on Scentsy.
In this article, we asked if Scentsy is a good opportunity and found overwhelming evidence it is not an opportunity at all.
It's clear that very few people earn a profit with Scentsy.
Scentsy is an MLM, an outdated and painfully inefficient business model that requires salespeople to pay the company for the privilege of making the company money.
It also requires that you trade your time for money. A minimum wage job is a better investment of your time.
The Truth About MLM Businesses and How They Hurt Troops, published on Military.com, reveals a sobering statistic about the Scentsy opportunity.
The article stated that after four years of trying, most Scentsy Consultants earn only the equivalent of three and half hours a week of minimum wage, BEFORE deducting business expenses!
Instead of earning more, they're making less and hustling more.
Because you must follow Scentsy's rules if you're a Consultant, you are in effect an unpaid employee, although you get none of the benefits of an employee.
There is growing awareness online, and in the media, about how difficult it is to make money with MLM.
For the past 10 years, the Multi-level Marketing industry has been in decline. We can see this decline in Scentsy's diminishing annual revenue and shrinking salesforce.
It will become increasingly difficult to host parties, make sales, and build a sales team.
Nothing Scentsy offers is unique. You can find similar products online and in the big box stores, often for a more affordable price.
Perhaps the most damning requirement of Scentsy is that it requires Consultants to exploit their most trusted relationships.
A Better Way to Make Money.
Making money is rarely just about making more. It's usually about living a better life with less pressure, more freedom, and more security.
Plenty of so-called "opportunities" promise you can earn more, but most are nothing but empty promises trying to take your cash. 
It doesn't have to be that way.
Fortunately, we now have the internet. Anyone who can surf online and send an email can build a website that makes money 24/7.
Yes, it takes work.
And, yes, it can be frustrating at times.
But, the rewards are phenomenal!
More money. More freedom. More peace of mind.
Let technology do the work. That's the smart way to earn more.
Instead of trading your time for money, leverage the internet to earn without ever leaving your home.
Through leveraging and the magic of large numbers, you can earn more with less effort.
Imagine the confidence you'll have when you know you can always earn money. That's security.
The place to start is Affiliate Marketing. It's easy to begin, and it's affordable.
Through Affiliate Marketing, you'll learn to create endless streams of income.
It isn't difficult. However, it does require patience and commitment.
I've been a digital marketer for over a decade. My passion is helping people become financially independent with an online business.
I don't charge for my coaching, but space is limited.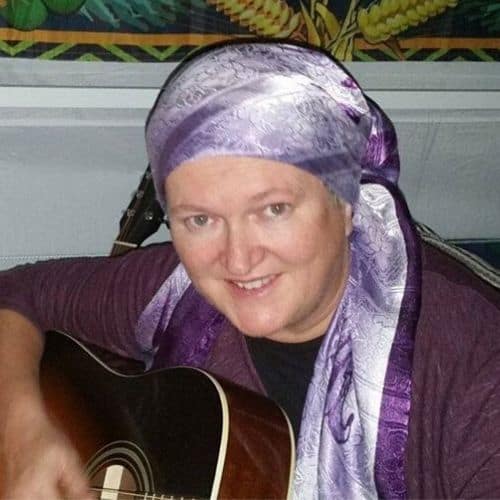 An amazing course. Go through all the training. If you get stuck, ask questions. Do each and every lesson. It's very interesting and very rewarding.
Hani

 

– 

Affiliate Marketer
My FREE coaching is only available on this website. It really is FREE. You don't need a credit card, just an email address.
As my gift to you, you'll also get FREE video training so you can learn the basics of Affiliate Marketing.
You'll discover how money is made online the right way.
And, you get two FREE websites to play with and a FREE trial membership in the largest community of digital marketers.
Signup and make yourself at home.
As an Affiliate Marketer, you're in control of your business.
It's yours. You own it.
With a few Affiliate Marketing skills, you can always make money.
It's fun, and it's rewarding. Discover financial security and the time to enjoy it.
The blue link below will take you to a signup page. Enter your email address and follow the prompts.
You don't need a credit card and nobody will ask you for money.
I'll be in contact to help you get started.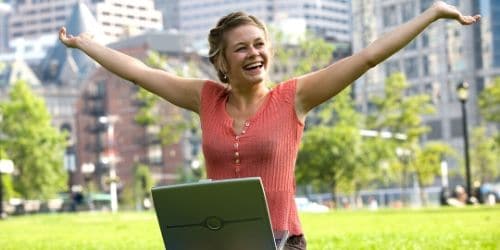 If you would like to contribute to the Scentsy opportunity discussion, please leave a comment below. Thank you.
Suggested Reading: