FashionSunglassInShop.com Appears to be a Scam.
FashionSunglassInShop.com appears to be a scam website based in China. At best, they are selling counterfeit sunglasses.
If you have had experience with fashionsunglassinshop.com, please leave a comment below. Thank you.
Counterfeit Sunglasses.
If FashionSunglassInShop sells anything, it's counterfeit.
Read the "About" page and you'll see this, "The products sold on this site are …designer inspired, alternatives to created by renowned designers."
In other words, although the products have the Ray-Ban Brand all over the place, all you'll get is a Ray-Ban knock off, if you get anything at all. I would NOT trust this site.
Also, read the FAQ and you see this…
Are your items Authentic?
All products are factory direct with big discount. Quality is 100% guranteed. As we can guarantee you: WHAT YOU SEE IS WHAT YOU WILL GET!! If you find any quality problem, when you receive the items, you can just send the items back to us, we will offer you a full refund.
In other words, NOPE, the products on FashionSunglassInShop.com are NOT authentic, unless you mean authentic fakes.
Non-English?
The text on the website appears to have been written by a non-English speaker.
No Physical Address.
There is no physical address anywhere on the FashionSunglassInShop.com website. The lack of a physical address is a big red flag and suggests that the website is a scam.
Also, there is no information about the company anywhere on the website. There's no there, there.
High Risk!
ScamAdviser.com describes FashionSunglassInShop.com as a new site involving a High-Risk Country. That would be China.
Whois Data Blocked.
Whois has no information about this website which suggests the data has been blocked. This behavior is consistent with a scam website.
The Last Word on FashionSunglassInShop.com
If you do business with FashionSunglassInShop.com, the most you can hope for is a pair of counterfeit sunglasses. However, if they choose to take your money and not send you anything there's nothing you can do about it.
ScamAdviser Says "High-Risk!"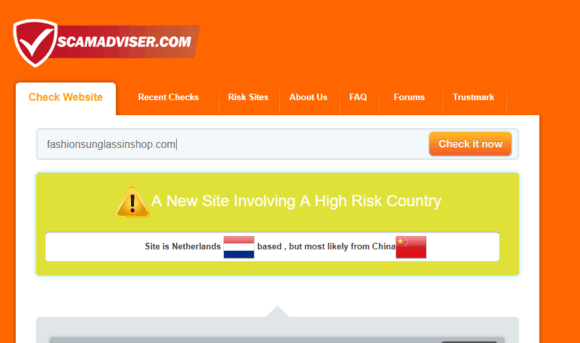 Whois Data Blocked.