The Auto Home Profits website claims that Auto Home Profits can offer you "a guaranteed home-based business job" that makes up to $379 per day. You are encouraged to "apply" immediately because there are "limited positions" in your area. Unfortunately, there is more to the story. Keep reading to see the Devil in the details.
Product: Auto Home Profits
Website: autohomeprofits.com
Product Cost: $97 plus multiple upsells
Opinion: Not Recommended
Is Auto Home Profits a Scam?
The Auto Home Profits system is not a job. It's not a business either. And it will not show you how to earn up to $379 per day with only an hour's worth of effort.
The Auto Home Profits website is 99% hype with only a sentence or two about what you are expected to do. In other words, they are selling you the dream of making a lot of money fast and with little effort. That just isn't real.
If you read the full sales page, you'll be treated to the heartwarming story of Shelly Davis, struggling single mother and how the Auto Home Profits system turned her life around. That's all a fairy tale. That Shelly Davis does not exist.
Her story is just an attempt to convince you that you too can be successful online with the secret methods disclosed in the Auto Home Profits system.
The product will supposedly teach you how to make money by posting links online. That's an old scam. You will not make money posting links.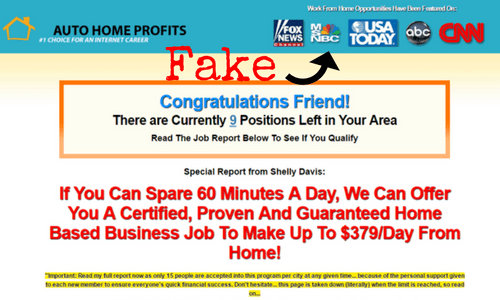 Auto Home Profits is a Trap.
By design, you have to dig to find the truth about Auto Home Profits. It is at the extreme bottom of the page in itsy-bitsy letters and hidden in the text that most people overlook. Stay with me, and I'll explain everything in a moment.
Let's start with the obvious deception at the top of the Auto Home Profits website. See those news network icons? They mean absolutely nothing. These networks never featured Auto Home Profits.
The Patricia Feeney video is misleading. While Ms. Feeney does talk about succeeding with a home-based business, she is not talking about Auto Home Profits. She's talking about an MLM company called Market America. Auto Home Profits edited the video to make it look like she was endorsing them. She's not.
This is the original video:
The Only Thing You Need to Know About Auto Home Profits.
The only thing that might keep Auto Home Profits legal also exposes their true nature. You'll find it in the last paragraph, but you have to look closely to see it.
"[The] purchaser does not make any money using this system."
Do you need to know more? Take a look at their guarantee.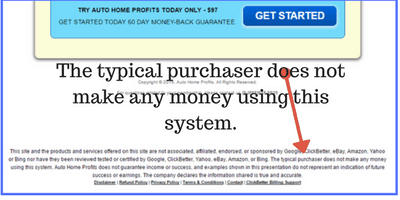 The Auto Home Profits Guarantee isn't worth spit.
ClickBetter backs the Auto Home Profits Guarantee. ClickBetter is a distributor of digital products that caters to companies with questionable business practices.
ScamAdvisor.com rates Clickbetter with a "Low Trust Rating."
The Final Word on Auto Home Profits.
Websites like Auto Home Profits are common. These scams hook you by selling you the dream of making lots of easy money and living large.
Once they have you hooked and believing you will soon be making millions, they will talk you into buying one stupid make money product after another until your bank account is empty and your credit cards are maxed out.
A Better Option for You.
If you are Searching for a Legitimate Way to Make Money Online, keep reading.
The few legitimate places on the internet that teach how to make money online do not charge anything to get started. The best doesn't even ask for a credit card. It's free. And, they don't sell you a dream of making easy money fast.
Making money online is easier than working a dead-end job, but you won't get rich overnight. However, with the right training and with consistent work on your part, you can make a full-time income and more.
The best place to learn how to build an online business the right way is the FREE starter level of the Online Entrepreneur Certification Course.
You can get started for FREE. To learn more, Click Here.
If you found this article helpful or have experience with Auto Home Profits, please leave a comment below.