AussieCamera.com probably isn't what you think it is. Can you really get good deals on cameras and electronics at AussieCamera.com, or is it just another scam website. Here's what we found…
Products: Cameras and electronicsWebsite: aussiecamera.comOpinion: Not Recommended, High Risk.
Is AussieCamera.com a Scam?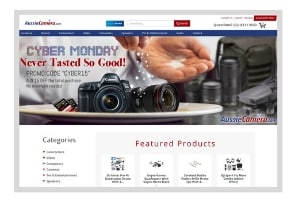 We received an inquiry about AussieCamera.com from a reader who was worried that the company was a scam. We first searched ScamAdviser to see what they thought of the website.
ScamAdviser Warning.
ScamAdviser.com gives AussieCamera.com a low trust score and warns it may not be a safe website. Keep in mind that legitimate websites go out of their way to prove they are safe. AussieCamera doesn't even try. Big Red Flag.
AussieCamera.com Complaints.
In addition to the complaint we received, we found three more complaints on the ScamAdviser website and posted a screen shot of these complaints below.
Here's snippets of complaints we found on ScamAdviser about AussieCamera.com
"Dodgy website. Don't Buy from these guys…Took my money despite transaction cancelled…Garbage grey importing company…They aren't in Australia" (Source)

If you purchase from this company do not expect to get what you see in the attached images or description. You will be very disappointed as I was. If you are after customer service with the Sydney number list on their web site and the same given to me by email it will never be answered just an annoying voice message to ring back later. Then if your frustrations run so high that you consider returning the goods, think again as its an American address with a list of requirement to even start a refund. My advise, find a genuine Australian supplier that you can ring and talk to. Buyer beware…..(Source: ScamAdviser.com)
AussieCamera.com Conceals its True Identity.
Whois shows the registration owner of the domain as simply a domain registration company. It's not unusual for a website owner to conceal personal data via a domain registration company. However, online retail companies also go out of their way to be transparent and to build trust. AussieCamera does NOT.
No Physical Address.
We have no way of knowing if AussieCamera is actually in Australia. There is no physical address. It's possible that AussieCamera is really operating out of China.
Whois shows that the domain is registered in Arizona, however the country where AussieCamera is based is hidden. ScamAdviser calculates a 89% probability that the AussieCamera is outside of the US.
Our guess is they are operating out of a country where they are not regulated and where they cannot be prosecuted for online crimes.
A New Website.
As of this writing, AussieCamera.com is less than three months old. It's a new website. This is a typical tactic among scam websites, particularly around the holidays.
It's interesting to note that the on the About Page of AussieCamera.com they claim to have been selling cameras and electronics for over 20 years. This can't be true.
The Last Word on AussieCamera.com.
Don't do it! If you attempt to buy anything from AussieCamera.com, we believe you will only lose money. If you order a product and IF it arrives, it will NOT be the product you expected OR the quality you expected. If you then attempt to return it you must pay shipping fees PLUS a 20% RESTOCKING fee. See the AussieCamera.com refund policy.
However, if you order from AussieCamera.com you probably won't receive anything at all.
'Tis the Season for Scammers.
During the holidays, you will see ads and emails for incredibly low prices. Scammers use ads and emails to drive customers to their websites. Don't be tempted. If it sounds too good to be true, it is.
The Best Deal of Cameras and Electronics.
If you're searching for cameras and electronics, buy from Amazon. Suppliers naturally compete on Amazon so you can easily find the lowest price. Also, if you have an issue with the product or the supplier, Amazon will help you sort it out or refund your money.
If you found this article helpful or have experience with AussieCamera.com , please leave a comment below. Thank you.