Did you get an email or see an ad that linked back to amouis.com? Were they selling tools, power tools, kayaks, sewing machines or something else for an insanely cheap price? Is it a scam?
Several websites are associated with amouis.com, either directly to the root domain or a subdomain. It doesn't matter. If you see the domain amouis.com anywhere in the URL, it's a scam website. If you give them your money, you will not get the product you paid for. You'll only lose money.
Is Amouis.com a Scam Website?
Actually, Amouis.com is two scam websites at least. At the time of this writing, two websites are associated with amouis.com. Both use the same methods to scam people.
One is linked to the root domain and has the name "Kayak Store" in the header. It claims to sell kayak and kayak related products. This website also has a phone number and an address in New York City. However, the phone number links to Germany and is associated with several scam websites.
The address, 27 Roweland Dr, New York, NY 11434, is associated with several scam websites. If you Google the address, you find a couple of pages full of defunct websites listing this address. However, what you won't find is a physical location. Google maps can't find it. I suspect it doesn't exist.
Most of the websites linked to that address are no longer active. This isn't surprising because scammers burn through websites at a high rate of speed.
The other website associated with this domain is found at amouis.com/tol has the name "Power Tools" in the header. It claims to sell tools, power tools and automotive tools. This website does not have a phone number or physical address.
Scam Phone Number
1-145-266-6688, the phone number found as a contact number for the Amouis.com "Kayak Store," is linked to several scam websites with a long list of complaints.
It's worth noting that there is no 145 area code in the United States. Once source said that area code is "spoofed." Another source listed the origin of the number in Germany.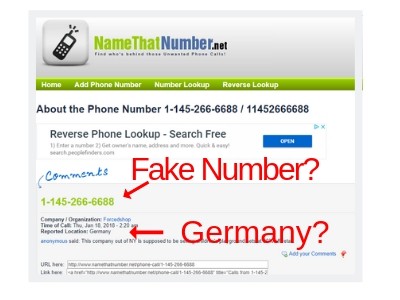 If you do a Google search for this number, you'll find a long list of complaints that people have purchased sewing machines, embroidery machines, canoes, playground set and kayaks which were never delivered and that this number was the number on the website.
To make matters worse, the number is non-operational. It's probably just a fake number!
Low Trust Rating.
ScamAdviser reports that amouis.com is a new website with a low trust rating, and that it may not be safe to use. They also report that amouis.com is probably based in Canada. We believe that it is not based in Canada or any English-speaking country because much of the text of both websites reads as if a non-native English speaker wrote it.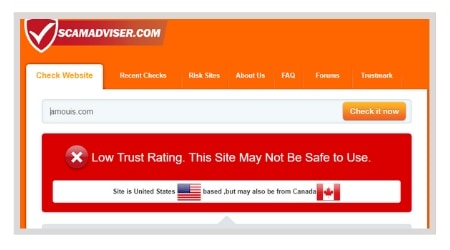 Although the phone number appears to be linked to Germany, we conclude that amouis.com is owned and operated from China because the scam strategy employed is consistent with scam websites from China.
To be fully transparent, we cannot prove amouis.com is based in China. Honestly, it doesn't matter. The thing to know is if you do business with amouis.com you will lose money.
Nonsense Domain.
If a website has an odd name and no reputation, it's probably a scam.
The first visible red flag warning that amouis.com may be a scam site is the domain name. It has nothing to do with the products they are selling and, as far as I can tell, it doesn't mean anything.
Using odd domain names is typical scammer behavior. They buy used domains with good reputations to fool the software programs designed to protect you from scam sites.
A legitimate business wants you to remember their name and the products they sell. A scam business just wants to get your money and disappear.
A legitimate business will do everything in its power to gain your trust, so you buy from them time after time. A scammer doesn't expect ever to see you again.
And, a legitimate business knows they must protect their online reputation. A scammer doesn't care. They will run their website into the ground and build a new one.
No Trust Earned.
The scammers behind amouis.com have done very little to earn your trust. They lure you with the promise of buying expensive products cheaply.
Exploits Emotions.
Some people will fall for it because it triggers an emotional reaction in them. They become greedy.
I'm not criticizing anyone for feeling greedy. We all have that emotional trait. However, the point I want to make is that scammers use our greed to steal from us.
We humans cannot be emotional and logical at the same time. Emotions come from our primitive brain and are linked to our freeze, fight or flight response. This mechanism is essential to survival, but it works against us when we need to make a logical decision. Scammers know this.
A scammer knows if they can make us feel greedy for the thing they are selling, we cannot make a logical decision about it. In other words, they have us on the hook.
The same thing happens when we see a $600 kayak on sale for a $100.
Not Ranked in Google.
If you search Google for "amouis" without the .com, you won't find the website. In other words, the website is not ranked in Google anywhere near the first page. It appears that Google knows the site is a scam and keeps it off the Search Engine Results Page.
Spam or FB Ads.
You probably discovered amouis.com through an email or from a Facebook ad. Scammers like amouis.com love to use Facebook ads because Facebook lets them target their ads with laser accuracy.
You got the kayak ads because you mentioned your interests in kayaks on your Facebook profile. Or, you got an ad for power tools, because you mentioned that.
Scammers can also scrap emails from Facebook and link unique interests to specific email addresses that way.
Complaints.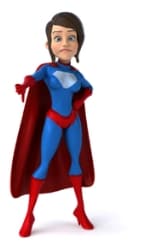 We were made aware of the amouis.com scam because a visitor to this website told us that they had lost money there.
Because the name in the header of each website associated with amouis.com resembles legitimate businesses some of the complaints are misplaced.
However, if you Google the phone number associated with the Kayak website, 1-145-266-6688, you will find several complaints. You will also discover that the phone number is linked to several other websites that are promising to sell products at a steep discount. It's easy to see the scammer's modus operandi.
The Best Way to Buy New Stuff Cheap.
As I mentioned earlier, expecting to buy something extremely cheap from an unknown website is a recipe for disaster.
Anytime you spend money, you want to know what recourse you have if the transaction goes wrong. Ideally, you want a third party to get your money back for you if necessary.
Paying with a credit card or through PayPal is one way to have recourse if the transaction goes bad. However, ensuring you get what you pay for begins with doing business with a well-established reputable business.
An easy way to get a very good price on a product with minimum risk is to search Amazon for the lowest price. Often several competing vendors are selling the same product and battling to sell at the lowest price. The Amazon price is probably the lowest price you'll find from a legitimate source online.
Conclusion.
Amouis.com is indeed a scam website. If you do business with them, you will lose money.
If you found this article helpful or have experience with Amouis.com, please leave a comment below. Thanks!