2n2pd.com appears to be a scam website based in China. If you have had experience with 2n2pd.com, please leave a comment below. Thank you.
2n2pd Domain NOT Related to Products.
The domain name 2n2pd.com is not related to the products the website is promoting, shoes and boots. This is a typical tactic of scam sites.
Scammers will purchase a used domain with a good reputation and then build a retail website on that domain. Scammers do not care what the domain is as long as it has a good reputation. A legitimate website that sells shoes and boots will either have a domain name that suggest their product or have a brand name. 2n2pd has neither.
No Physical Address.
There is no physical address anywhere on the website and the About Page has no specific information about the company. Also, the text appears to have been written by a non-English speaker.
"Suspicious and probably based in China."
ScamAdviser.com describes 2n2pd as "Suspicious and probably based in China."
Whois shows that the domain is registered in Beijing, but little else.
Not Secure.
2n2pd.com is NOT a secure website.
2n2pd.com Complaints.
A reader reported her experience with 2n2pd.com in our Scam Website comment thread. Also, a screen shot of 2 complaints from ScamAdviser.com is posted below.
Re: 2n2pd.com

This seems to be a scam site. I ordered two pairs of womens boots on October 21, 2018. The website said I would be sent a tracking number and that the boots would be shipped in 8-10 business days. After two weeks I sent them an email from their site asking them for the tracking number.

On November 5, 2018 I sent them an email from their site telling them that I had not received the boots. Then I did some further research and found that there had been numerous complaints from others and they stated it was a fake site. I have not received any replies from the site. On November 7, 2018 I reported the order as fraud to my credit card company, they are doing a fraud investigation and they cancelled my card and are sending a replacement one. Thank goodness I put it on my credit card!

Finally on November 12 or 13, 2018 I received a shipment of no name athletic shoe. I notified them right away of the error, and or course, no response.

I will be shipping back the wrong shoes this week. (17Nov2018 – Christine G.)

2n2pd.com Complaints Found on ScamAdviser.com
ScamAdviser: "Suspicious Website Based in China"
Whois Has Very Little Information on 2n2pd.com.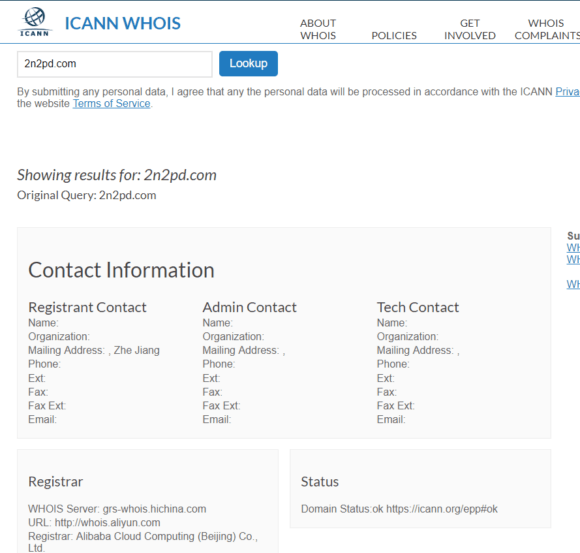 2n2pd.com is a Fake Store Scam.
Fakes store scams like 2n2p lure people in with promises of extremely low prices for name brand products. The truth is, 2n2p does not have the products in stock and cannot deliver them for the prices advertised.
The product images on the 2n2p website are taken from legitimate websites that actually do have the product in stock.
You can easily determine that the product images were stolen from other websites. While in Google, go to 2n2p.com.  Right click on any image. A window will open, click on "Search Google for Image."
This will show you search results which include where the image was taken from.
2n2p.com is just a website. It's designed to take your money  under the pretense you will get a brand name product at a steep discount. However, you will probably only throw your money away and get nothing at all. If you receive anything from 2n2pd it will either be counterfeit or a very cheaply made imitation.