Coffee Shop Millionaire, the brainchild of Anthony Trister, is presented as an internet marketing training program that claims to teach the fundamentals of building an online business. The truth is, Coffee Shop Millionaire is little more than a thinly veiled scheme designed to lure the unsuspecting into a very expensive ordeal.
Click Here – We Can Teach Anyone How to Build a Successful Online Business!
Name:  Coffee Shop Millionaire
Website:  TheCoffeeShopMillionaire.com
Price: $27 – $37 per month initially, plus numerous upsells
Owner: Anthony Trister
Opinion: Not Recommended.
BBB Coffee Shop Millionaire.
Coffee Shop Millionaire is not a member of the Better Business Bureau, but there are several complaints registered against Coffee Shop Millionaire with the Southern Nevada Better Business Bureau. Coffee Shop Millionaire is incorporated in Southern Nevada. Incidentally, that BBB gives Coffee Shop Millionaire a big fat F.
Does Coffee Shop Millionaire Work?
The Coffee Shop Millionaire is marketed as an education product that teaches the fundamentals of affiliate marketing. Unfortunately, Coffee Shop Millionaire isn't all it promises. It is essentially a slick offer to get at your credit card. Once you buy in, you'll be relentlessly pressured to buy upsell after upsell. It quickly gets expensive.
I'll admit the name is clever, but it creates an unrealistic expectation. Anthony Trister in his sales pitch video builds on this unrealistic expectation by blatantly asking the viewer to imagine sitting in a coffee shop as you watch the money roll in on your laptop. Building an online business takes time and effort. It's not the easy money Coffee Shop Millionaire wants you to believe is possible.
If you have been taken in by Coffee Shop Millionaire and want a refund, your best chance of getting a refund is to contact ClickBank customer service directly.
The Good and the Bad about Coffee Shop Millionaire.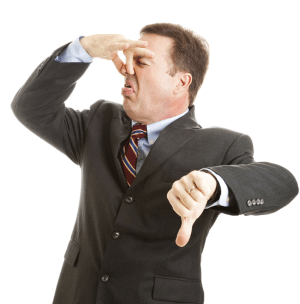 I tried to find some good in Coffee Shop Millionaire, but honestly, this is a real stinker. Everything that appears to be good about it leads to something bad. Take the initial price for example. It is nothing but bait to lure the trusting into entering their credit card info. Then the aggressive upsells begin. This is unethical.
Even the positive online reviews are suspect. They all seem to be from people selling Coffee Shop Millionaire or otherwise associated with Coffee Shop Millionaire.
Members have additional required expenses each month.
It's doubtful the Coffee Shop Millionaire will produce very many true millionaires. Most people will be lucky to earn back what it cost them.
Support is dismal.
Coffee Shop Millionaire complaints: There are a lot of complaints about Coffee Shop Millionaire online. As you can see from the top image, the BBB gives Coffee Shop Millionaire an F.
Much of the training is outdated which indicates the Coffee Shop Millionaire is really not about helping anyone build an online business. It's about Anthony Trister making as much money as possible.
Who would benefit from Coffee Shop Millionaire?
Really, I can't see how anyone can benefit from it, except Anthony Trister, although Coffee Shop Millionaire tries to sell to everyone. This is unfortunate but indicates how Coffee Shop Millionaire is not really a viable way to learn how to build an online business. In fact, from what I have seen of the training, it appears Anthony Trister assumes his students have some Internet Marketing experience or is simply careless in how he teaches. Probably, the training is just a minimum attempt by Mr. Trister to maintain the illusion of a legitimate product. It's not.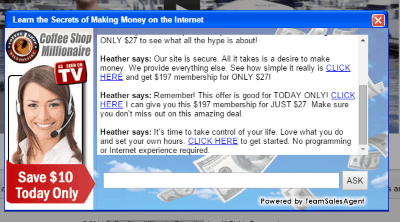 Coffee Shop Millionaire Tools and Training.
In his sales pitch, Anthony Trister says that every member gets a cheat sheet that details the Coffee Shop Millionaire system. He claims that with this cheat sheet it's possible to make $21,000 in just a few weeks. This is doubtful.
Coffee Shop Millionaire includes 12 training modules which cover the basics to getting started. There are also additional videos and a forum where members can get help.
There is a section called "Cash Machines" that includes training material on email marketing, video marketing, article submission and local marketing. Unfortunately, the material is not detailed enough to be helpful. And, in the case of using articles to drive traffic, it's all but useless. That method no longer works. Local marketing has changed dramatically too.
What about support?
The support at Coffee Shop Millionaire is less than genuine and quite limited. The stellar support that Anthony Trister promises in his sales pitch just isn't there. A stroll through the forum will reveal many basic internet marketing questions that have been ignored. And, if you go to the Coffee Shop Millionaire Facebook page you will find an abundance of unaddressed complaints too.
What does Coffee Shop Millionaire Cost?
The basic membership starts at $27 to $37 per month, but the upsells are relentless.
Once you buy in, you will be confronted with an upsell to purchase the "Six Figure Success Club" for another $297.
Upsells are unethical. It's the online version of bait and switch. Anyone who pulls this trick can't be trusted. Do you really want to give your money to someone you can't trust and open your mind to his training?
If you're not careful, it will cost you over $300 before you are even inside the Coffee Shop Millionaire! Don't fall for it.
But wait! There's more…more upsells!
Coffee Shop Millionaire is going to wring every last dollar out of you before you learn a darn thing about internet marketing.
You will still have to pay for website creation, domain names and more before you are actually inside the Coffee Shop Millionaire program. You will also be pressured to immediately buy hosting through Coffee Shop Millionaire. This can cost as much as $100 which puts your initial investment well over $400. That's a lot of  money and you haven't even started yet.
I know of an ethical place to learn internet marketing that costs much less than this for a full year! And you can get started there for FREE!
BIG RED warning flags.
1. You have to pay a lot of money upfront before you get to see what you're buying.
2. Anthony Trister's merciless pressure to squeeze every last dollar out of you before he delivers anything he promised. This is despicable.
3. There is no "try before you buy." A legitimate product will let you see the value first before they ask you for money. The reason Coffee Shop Millionaire won't let you try it before you buy it is because there is no value in it.
My Final Opinion of Coffee Shop Millionaire.
It's a stinker.
Unfortunately, positive reviews for an online product, particularly in the make-money-online niche, cannot be trusted. In the case of Coffee Shop Millionaire, these positive reviews are from people who are business associates and affiliates of Coffee Shop Millionaire. They routinely give each other great reviews or are trying to earn commission from selling Coffee Shop Millionaire.
My final opinion is that Coffee Shop Millionaire is nothing more than a SCAM. Steer clear. If you want to really learn how to make money online read this article: How to Really Make Money Online and Never Get Scammed.
All the best…