CashBack Research is not what it appears to be. At best you can expect to make about a dollar an hour. At worse, it can cost you a bundle of money and your privacy.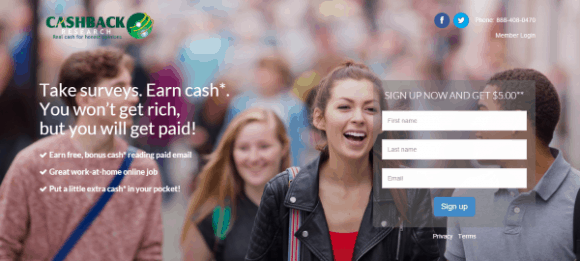 Product: CashBack Research
Website: CashBackResearch.com
Price: Free
Owners: Michael Hetzer
Rating: Not Recommended
Cashback Research Scam.
CashBack Research is not a research company. It's a marketing company.
While it may appear to be a survey membership website where members are paid to complete surveys, it is actually selling your information and earning commissions when you buy products.
Here is an excerpt from CashBack Research Terms of Service.
CashbackResearch Program ("Program") members ("Members") may earn Points for taking surveys; taking advantage of Point-earning opportunities on the Program and other third party Web sites; responding to offers from participating advertisers and partners via email, postal mail or telephone; and complying with the terms of other offers or programs from CashbackResearch.com or other participating companies. (Read the full TOS here.)
Does Cashback Research Work?
CashBack Research pays about twenty-five cents per survey on average. It may take 20 minutes to complete a survey and when you finish you may be told you aren't qualified to take that survey and will not be paid.
Also, you may only be able to complete a few surveys a day, or none at all. You must first earn a minimum of $30 before you are paid.
You can redeem your earnings in the Survey Dashboard. Points are redeemed in increments of 25,000. Cash payouts are made when balance exceeds $30 in US; $20 in CA and AU; 10 GBP in the UK. Cashback Research pays in two ways: Paypal and Gift Cards. Gift card payouts are made when balance exceeds $30 in US; $25 in CA and AU. It must exceed 15GBP in UK. Please allow 30 days processing time. ( CashBack Research TOS)
Keep in mind, that CashBack Research is compensated for your information at a rate much higher than they are paying you.
While you might make a quarter for completing a survey and revealing your private information, CashBack Research will make several dollars.
What CashBack Research is really doing is buying your information at wholesale and selling it to other companies at retail.
Unfortunately, like most survey companies online, CashBack Research has a reputation for not paying at all. They address this in their Terms of Service.
Though Cashback Research does its best to ensure that users receive all the rewards they deserve, from time-to-time earnings do not track. This can happen for many reasons, many of which are outside of our control. Users should contact the Cashback Research help desk if they feel they have not been properly credited. If we determine that this occurred through our error, then Cashback Research will issue credits. When Cashback Research offers Bonus rewards, we are sharing a commission. Obviously, Cashback Research cannot offer bonus rewards if we have not received the commission in the first place. If this is due to Cashback Research's error, then we will correct the problem and issue a credit. But if the error is with the user or advertiser, Cashback Research is not responsible for making a reward payment. (Read the full TOS here.)
In other words, you might not get paid. Did you notice the statement about CashBack Research earning commissions? CashBack Research is a marketing company.
Also, as is typical with online survey websites, after completing the surveys, you will begin to receive waves of spam in your inbox.
Cashback Research Complaints.
Here are a couple of CashBack Research complaints I found online.
What BS. I've only qualified for 1 survey so far. Every one that I click on to take, I spend 10 minutes or more answering questions and then I'm told I don't qualify. Come on now….every one of those WAS a survey but they get out of paying because they say I don't qualify. That's several hours of my time wasted, but I'm fairly certain that these companies are getting the information they want. Beth (Source)
In reality, CashBack Research entices people in with promises to pay them for each survey they complete. In reality, you will probably only make a dollar an hour at best. Your time is worth more than that. And you will be giving away your privacy. Your privacy is worth even more.
Many people have complained that they have completed surveys with CashBack Research only to be told they do not qualify and will not be paid.
I am a member of this site, I have had so many problems with the site, I started off getting 50p per survey and now for some reason this is now only 25p, sometimes I am not even rewarded for the surveys I have completed and it is difficult to assess on your account page which have been paid and which have not. It really is not worth the hassle, there are lots of other weaknesses, too many to relay here. Catherine (Source)
CashBack Research is not really a place to make money. It is a mechanism for capturing personal information and selling that information to companies who will then use it for marketing. In the course of completing surveys you will be encouraged to buy things and, when you do, CashBack Research makes a commission. It's hard to make money when you're actually spending money.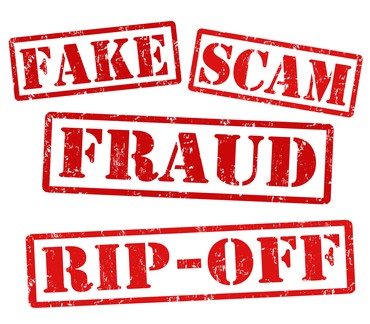 Cashback Research BBB.
CashBack Research is owned by Michael Hetzer and Tamara Hetzer of Myrtle Beach, South Carolina. The Myrtle Beach Better Business Bureau gives CashBack Research an A+ rating. This is the BBBs highest rating.
Indeed, in the past three years, there has only been 4 complaints. This is remarkable given the many CashBack Research complaints found online.
You can see the BBB report on CashBack Research here.
How the Cashback Research Scam works.
Before you can take a survey, you must be evaluated. This means you have to jump through some hoops before you are permitted to participate in the survey. This will take time and you will not be paid for it.
For example, you might try to qualify for a survey regarding a debt consolidation company, but to qualify you must apply for their service. This will probably cost you money. So you fill out the survey only to learn you must pay for the service before you can qualify to get paid. It's a losing proposition.
Another example is a survey that requires you to join Netflix before you qualify to take the survey. You will have to spend $10 and 20 minutes of your time to fill out a survey before you can earn a couple of dollars. Yet, another losing proposition.
CashBack Research tries to get you to buy stuff so they make a commission. CashBack Research is a marketing company. The survey ruse is just their way of suckering people in.
Last Word on CashBack Research.
If you still want to try CashBack Research, I suggest you create an email account just for that, because that account will be spammed without mercy.
And don't give out your credit card info or enter into any contracts just to make a few dollars. It's not worth it.
At best, CashBack Research is probably just a waste of time. You might make gas money, that is, if they pay you. But, in the process of completing surveys, you will have given away your privacy and opened your email account to spammers.
Your privacy is too valuable and your time is worth far more.
For the time you will have to spend jumping through hoops for CashBack Research hoping to make a couple dollars, you can build a real online business that pays a full-time income. All you need is a few new skills, a little support, and encouragement. I can help you with that.
To learn more, read my article How to Really Make Money Online and Never Get Scammed.
I'm here for you,