Can you build a business promoting SeneGence International beauty products and the opportunity? Or, is SeneGence just another MLM selling a dream and taking your money?
Product: MLM Business Opportunity
Website: senegence.com
Opinion: Not Recommended.
A SeneGence International Review.
This review focuses on the SeneGence business opportunity and whether it is a genuine chance to build a profitable business.
Known for their most popular product LipSence, SeneGence is a multi-level marketing company in the cosmetic niche. Their trademark products are said to be more durable than most cosmetics. However, there are complaints online that some of the products irritate the skin.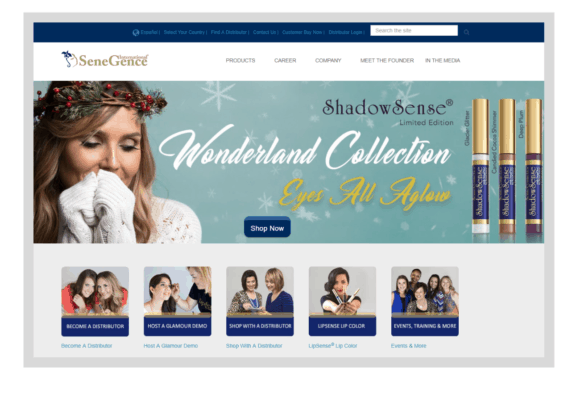 While the company might not ring a bell initially, you may have seen them on social media.
Remember those women online using their finger to wipe their lips after applying lipstick? They were SeneGence distributors.
Meet Joni Rodgers-Kante.
Many people are unaware that the company was founded in 1998 by Joni Rodgers-Kante. As a former successful Mary-Kay consultant, she understood the ropes of MLM, which is why she was inspired to create SeneGence.
Read Why Affiliate Marketing is Better Than MLM
Due to Rodgers-Kante's crystal clear vision as well as the increasing popularity of social media, the current LipSense-mania trend continues to reach new heights. Based in California, the company proudly employs 80 full-time workers in more than 12 countries worldwide.
$55 Gets You A Lot of Paperwork.
If you want to be a SeneGence distributor, you must first pay a $55 signup fee. In exchange for your $55 you'll receive marketing and training materials, but no products.
Essentially, you are paying SeneGence International for the privilege of selling their products.
That's insane. There are thousands of companies that will PAY YOU to sell their products.
Product Kits.
The best way to obtain some products is to purchase one of the kits. The Lip Kit is $95 and includes select lip product whereas the Glamour Demo Kit is $295 and includes a sampling of the best-selling products.
The company's flagship lipstick is not the only long-lasting product they offer. The company has formulated all of their cosmetics to last longer than other makeup products on the market. Such long-lasting products include ones for the body, face, eyes, and lips.
While the company's makeup is most known for their long-lasting qualities, many people enjoy these products because they are semi-permanent and water-resistant.
Expensive Products.
Given the many impressive qualities of these products, it's not surprising that the cosmetics are expensive.
If you are going for the Kylie Jenner look, which is also known as the infamous bloated lip trend, you are going to have to invest a lot of money upfront as a distributor.
Product Discount.
One of the only advantages to joining this company is that you are eligible for a pretty hefty discount on the products. The discount is so incredible that it's the only reason why some people join.
Depending on the amount of product that you sell, the discounts can range between 20 percent to 50 percent.
Along with obtaining a generous discount, some people also choose to join the company because of the high commission rates. For example, if you sell at least 750 PV per a month, you receive a 50 percent discount, which ultimately equates to a 50 percent retail profit on your sales.
Pay to Play?
The company's compensation plan isn't all good though.
Whether you intend to consume/resell the products or not, the company's compensation plan states that its affiliates must purchase product to earn commissions.
After learning this information, I would be extremely wary about joining this company as per the FTC, this "pay to play" business model is strongly indicative of a product-based pyramid scheme.
Recruit Five.
In addition to purchasing product, at the core of the SeneGence business model is a requirement that affiliates must recruit five others who do the same. Based on this fact, the company may fit the Federal Trade Commission's (FTC) definition of a pyramid scheme. The SeneGence business opportunity is essentially flawed.
Even if the company offered a refund policy, I would not recommend this business opportunity.
But if you are still into trying the SeneGence products after reading this detailed review, it may be worth joining the company for the discounts.
Very Few People Succeed with MLM.
As a business opportunity though, remember that very few people succeed with multi-level marketing.
Unless you are already a pretty well-known beauty blogger or a YouTuber with thousands of loyal followers, hitting it big with a company like SeneGence is virtually impossible.
Not Recommended.
To be completely clear, I do not recommend this business opportunity. However, if you find value in the products it might be worth joining for the discount.
Another Angle on SeneGence International.
Regardless of the product, Multi-level Marketing is more about capturing a market with the promise of making money rather than providing a realistic business opportunity. SeneGence is a classic example of how this angle works.
Cosmetics and looking beautiful are infinitely popular with women. Purchasing cosmetics can get expensive in a hurry and SeneGence products are thought to be costlier than most.
How can a woman justify spending so much money on non-essentials? She tells herself it's a business opportunity.
Perhaps all the SeneGence business opportunity is meant to do is provide logical justification for an emotional decision.
Nothing wrong with that, except if you expect to make money you will probably be disappointed.
The Distributor is the Customer.
Because most people who join an MLM for the business opportunity never break even, they end up being captured customers forced to pay for over-priced products. I suspect this is true with SeneGence too.
SeneGence Complaints.
By far, the greatest number of complaints I found online about SeneGence related to stocking issues. Apparently, in the past some distributors sold products that were not available at the time.
Other complaints have to do with how the business opportunity is structured such as the following complaints I found on SiteJabber.
"My upline recommended I put all my stock purchases on a credit card… Yes, they actually recommend you go into debt to buy their product. …You have to purchase stock or get a SeneGence approved website, which costs $300…. This company is crap. …start your own business. You'll make more money." (Diana S. SiteJabber)

"I felt scammed getting into this business. …Do it if you just want the discount, otherwise don't waste your money. Every time I see someone new sign up I cringe… Wish I'd never started with Senegence…" (J.D. SiteJabber)
The Last Word on SeneGence International.
If you love the SeneGence products that's one thing. If you join thinking you'll have a profitable business, that's something else.
The problem with MLMs is the best you can hope for is to build a business inside their company. Ultimately, the company controls everything about your business.
You aren't in business for yourself. You're an unpaid employee.
MLM is a highly inefficient business model. It's lousy for the people at the bottom and pure profit for the few people at the top. You can learn more about MLM in my article The Heartbreak of MLM.
A Better Option.
There is a market for cosmetics and I believe there is a growing need for women to help women look their best.
However, MLM is the least efficient way to meet that need.
Injecting multiple levels into your business makes it unnecessarily complicated and expensive.
The MLM business model is outdated by several decades. It started in the 1940s when most homes didn't even have a TV.
The internet has changed everything.
Now everyone has direct access to the global marketplace. With a few marketing skills you can have your own global business. You can sell anything you wish directly to your customers. And, you don't have to share your commission with multiple layers of upline.
A Business You Control.
If you want a business you completely own and control, and that has unlimited earning potential, affiliate marketer might be for you.
With the proper training and support, you can start and maintain an affiliate marketing business on a shoestring.
The key to your success as an affiliate marketer is proper training and support. That's why I recommend the FREE starter level of the Online Entrepreneur Certification Course. The FREE Starter Training will show you the basics of internet marketing and introduce you to a community of marketers who are eager to help you succeed.
Also, when you signup for the FREE Starter Training through the link on this page, I'll coach you one-on-one at no cost.
To Learn More, Go Here.
Related Articles:
Why Affiliate Marketing is Better than MLM
How to Evaluate an MLM Company
If you found this article helpful or have experience with SeneGence International, please leave a comment below.